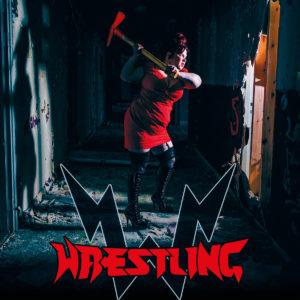 Band –  Wrestling
Album – Ride On Freaks
Country of Origin – Finland
Genre – Heavy Metal
Release Date – September 14th, 2018
Label – Inverse Records
Author – Johnny The Fox
Are you ready to RUMBLE? This famous rhetorical question invokes the notion of such rambunctious entertainment forms as demolition derby, monster trucks, and yes, professional wrestling. As far as bands go, few other than Chris Jericho and Fozzy have attempted to meld old-school metal with the bombastic and theatrical wrestling world. Just don't tell that to Wrestling — the band, that is.
This hysterical quintet from Oulu, Finland clearly takes both playing metal and celebrating  wrestling's glory days quite seriously. They just don't seem to take themselves all that seriously. While on the surface their unusual band concept may seem just like a Spinal Tap-esque circus freakshow, Wrestling manages to transcend mere gimmickry on Ride On Freaks. Not only is this some riveting and high-octane melodic metal, it's also about as much fun as one can have this side of a WWE pay-per-view card.
Wrestling deftly blends '80s speed metal, hardcore punk, melodic riffs, and downright goofy lyrics and vocalizations. Unsurprisingly, sheer adrenaline is the name of the game on tracks such as opener, "Let's Get Born"; here a deliberate, robotic voice chants "Heavy…metal" as a prelude to a Powerslave-era Maiden riff. On debut single "Surreal Killer," by contrast, pummeling palm-muted speed is juxtaposed with a bluesy chorus riff. Throughout the album, the vocals are a centerpiece: the joyfully-eccentric (to say the least) lead vocals churn and bubble between falsetto shrieks, raspy barks, and general Zappa-like weirdness. Yes, the histrionics do sound pretty weird, but they effectively cement Wrestling's quirky vibes.
That's not to imply that Ride On Freaks is all adolescent fun and games. On the contrary, there's a genuine melodic sensibility to the guitar parts that recalls 'iconic '80s players such as Jake E. Lee, George Lynch, and Warren DeMartini. The songs themselves, too, deliver plenty of emotional peaks and valleys; from the driving, hair-metal throwback of "Venom Makes Me Stronger," to the resonant arpeggios of quasi-ballad, "Drunk and Alone," Ride On Freaks never feels predictable or contrived. Obviously, the album's tour de force is "Wrestlemania VI," a rousing, marching tribute to the Ultimate Warrior.
So, to answer the aforementioned rhetorical question: yes, we ARE ready to rumble.
Highlights: "Surreal Killer," "Venom Makes Me Stronger," Wrestlemania VI," "The Solution to All Your Problems."
Rating – 4/5