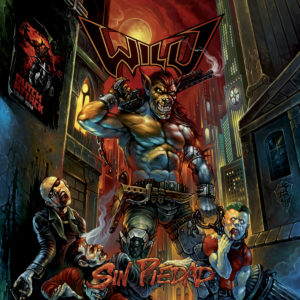 Band –  Wild
Album – Sin Piedad
Country of Origin – Spain
Genre – Heavy Metal
Release Date – August 22nd, 2018
Label – Fighter Records
Author – Johnny The Fox
"Sin Piedad" translates to "Without Mercy" in English. Rarely has there been a more aptly-named album than this record by this equally appropriately-monikered band; for those crusty old headbangers who were needing some sort of brief respite from their heavy metal addiction, no mercy is shown here. Wild destroy necks, and invoke fist-pounding and awkward air guitaring with reckless abandon. Their exuberant brand of melodic speed metal leaves the listener breathless — yet still craving more.
Formed by guitarist Javier Pastor way back in 2002, this Spanish (and Spanish-singing) quintet has paid their dues in spades. Wild has endured numerous lineup changes and toured with the likes of Raven, Vicious Rumors, Cauldron, Jaguar, and Skull Fist. This vast vault of experience manifests itself beautifully on Sin Piedad, their third full-length album and first for Fighter Records. Fans of classic melodic speed metal such as Painkiller-era Judas Priest, German legends Accept, Running Wild and Helloween, Vicious Rumors, and late-'80s Riot will go "Wild" over this — a blistering and irresistible slab of molten metal.
Wild seamlessly meld the realms of aggression and melody throughout Sin Piedad's 10 tracks; they manage to remain melodic and anthemic without delving into cheesy-and-bombastic power-metal territory. Sure, this album is predictably chock full of hyper-speed tempos, and the ubiquitous, rigorously palm-muted and galloping guitar riffs. But the riffs are infinitely catchy, and the lead guitar melodies — as well as counter melodies — are masterfully interwoven by the tandem of Pastor and Jaime Núñez. The vocal melodies, courtesy of the dynamic and clear-throated José García, are phenomenal and sing-able throughout; the production, too, is top-notch.
Needless to say, choosing favorites is a major challenge, whether it's the raging title track; the crunchy groove of  "Accoralado; the blistering speed attack of "Venganza"; or the galloping ecstasy of "Pesadilla." Of course, originality is not in the cards when it comes to bands like Wild. But when it comes to promoting bilingualism — and old-school, screaming heavy metal — Wild have delivered a masterwork.
Keep an eye on those Best of 2018 lists, folks.
Highlights: "Sin Piedad," "Accoralado," "Venganza," "Madre Tierra."
Rating – 4.5/5