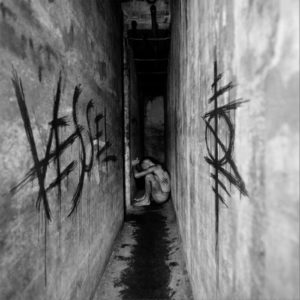 Band – Theories
Album – Vessel
Genre – Deathgrind
Release Date – April 12, 2019
Label – Corpse Flower Records
Author – JGilbert
Ferndale, Michigan, is full of rad things. In addition to the quirky shops, myriad craft breweries, and music venues, there's an independent record label called Corpse Flower Records who specialize in special and limited edition vinyl releases. One of Corpse Flower's most highly anticipated releases this year is Vessels from Seattle grind veterans Theories. The guys in Theories have been busy since their 2015 full length debut pursuing other projects, most notably Samothrace and Black Breath, but they've left plenty of rage in the tanks to make Vessels an uncompromising exhibition of fury.
Vessels is a relentless album. From the very beginning, it doubles down on the tried-and-true Swedish style of HM-2 guitars and punky drums with the intensity turned all the way up to make modern deathgrind with classic ingredients. The result is at once punishing and strangely familiar; like sitting down for your fifth or sixth tattoo. Theories set the pace somewhere between "dizzying" and "breakneck" and they keep it there for the entire duration of the record. The musical intensity stays pinned at redline, too. There's not really any variety or dynamics among the songs, just an unflinchingly dedicated focus to doing their one thing extremely well. 
An album this mercilessly intense can easily become too noisy or chaotic to make for an enjoyable listening experience, but Vessels benefits from the expertise of renowned doom producer Andy Patterson (Visigoth, Subrosa, etc). The sound Andy captures is ferocious but clean; never muddy. Other standouts on the album include the crushing guitar tone and Joe Grindo's always spectacular drumming. Between this and Tomb Mold, it feels like 2019 is leaning into extreme metal's rhythm-centric philosophies hard to the delight of drummers and fans everywhere. Is there a new Meshuggah coming this year? That would be all the proof I need. What's that, you say? New Meshuggah next year? Close enough.
Vessels is not an album I can listen to casually; it's too much. It's not an album that I can recommend to newcomers or outsiders. It's not going to solve world peace or change people's minds; but it's not supposed to be any of those things. Vessels is what happens when a group of incredibly talented artists come together to pursue an idea that's been focused down to a needle's point. It's savagely good, and the way it refuses to dial anything down even a little bit until the very end is one of the more admirable things about the record. That, and the moment in the finale when the music fades out and it feels like it's finally over… only for the music to fade back in and kick you one last time.
Recommendation: Fans of Misery Index and Full of Hell will be delighted by this wall of pulverizing sonic aggression. Outsiders will be crushed and their remains thrown over the other side.
4/5