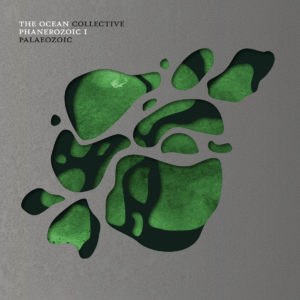 Band – The Ocean
Album – Phanerozoic I: Paleozoic
Genre – Post Metal/Progressive Metal
Release Date – November 2, 2018
Label – Metal Blade, Pelagic
Author – JGilbert
"Paleozoic is a masterclass in grandiose songwriting. Ambitious ideas are tenaciously pursued to captivating depths and the whole thing just sounds brilliant… but taken by itself, it doesn't add up to the sum of its parts. How can you judge a book from only reading the first half?"
Robin Staps and The Ocean Collective have big plans. Released in part this year, Phanerozoic I: Paleozoic (henceforth Paleozoic) is the first of a double album follow-up to 2007's post metal marvel Precambrian. Attempting to revisit a career highlight is a daunting task for anybody. For chronic over-achievers The Ocean, the obvious answer to an epic double album is, of course, another epic double album. This time, however, the two movements are separated by more than vinyl. Harkening back to the Fluxion/Aeolian where one more melodic piece of music was released in anticipation of another heavier "disc 2", Paleozoic is said to be the first and most melodic installment of the Phanerozoic double project with a heavier conclusion in the next year or two.
The album begins with a combination of dark synthwave and out-of-tune piano playing with variations on melodies from the end of Precambrian. Analog synthesizers by Peter Voightmann and Paul Seidel's brilliant drum sound, recorded at Sigur Ros' famous studio in Iceland, are the particular features which consistently make this album stand out from other Ocean releases. Otherwise, it sounds much like you'd expect from a group this ambitious at this point in their career. That may sound somewhat bland, but The Ocean have never been about flash and excess. They make massive songs which are perfectly crafted in every way, but the execution is deceptively simple; in some ways minimalist. The two-part intro track presents a sound deep as the group's namesake and carries an even deeper message about the inescapable repetition of all things. Lyrics contain passages from Nietzsche's "Notes on Eternal Recurrence". The Ocean show some signs of their influences here with the first movement reminding me of Traced in Air Cynic and the second of Gojira and plays with rhythms reminiscent of "Isla del Sol" from Fluxion. Next, the awesomely-named "Silurian: Age of Sea Scorpions" has something of a "euro-Dream Theater" vibe to its main verse and a bombastic orchestral accompaniment. The passion and theatrics at the end of "Silurian…" set a fitting mood for the massive and dramatic album highlight. "Devonian: Nascent" is truly The Ocean at some of their absolute best. Melodic and pensive; jarring; discordant; crushingly heavy; and full of dramatic sing-along moments. All due respect to Islander and the crew at NCS, but the return of clean singing to metal has brought us some great sing-along moments. Plus, there's something to be said for a band that can make you contemplate geological time-space and still deliver the "bangers & mosh". The Ocean's Loïc Rossetti's scintillating vocal performance throughout the album is reinforced here by Jonas Renkse of Katatonia. Following this monster of a track, "The Carboniferous Rainforest Collapse" introduces captivating harmonies that feel influenced by high-profile prog acts du jour, but by the time the song kicks into gear the sound is 100% Stapps. The final track "Permian: The Great Dying" is something of a reminder; both in the deeper sense that climate change and mass extinction are not new phenomena to our homeworld, and in the more real sense that Paleozoic is half of a double album. The track ends on a cliffhanger moment that leaves a listener in 2018 without closure. The album flows well and sounds amazing but ends so abruptly and without conclusion that it's difficult to give a fair score. Time will tell if Paleozoic is a front-loaded flash in the pan; but I suspect that halfway through, Stapps & co are just getting started.
Recommendation: Check out this "halfway tease" of the new Ocean project and then play "Devonian: Nascent" on repeat until the other half comes out.
4/5