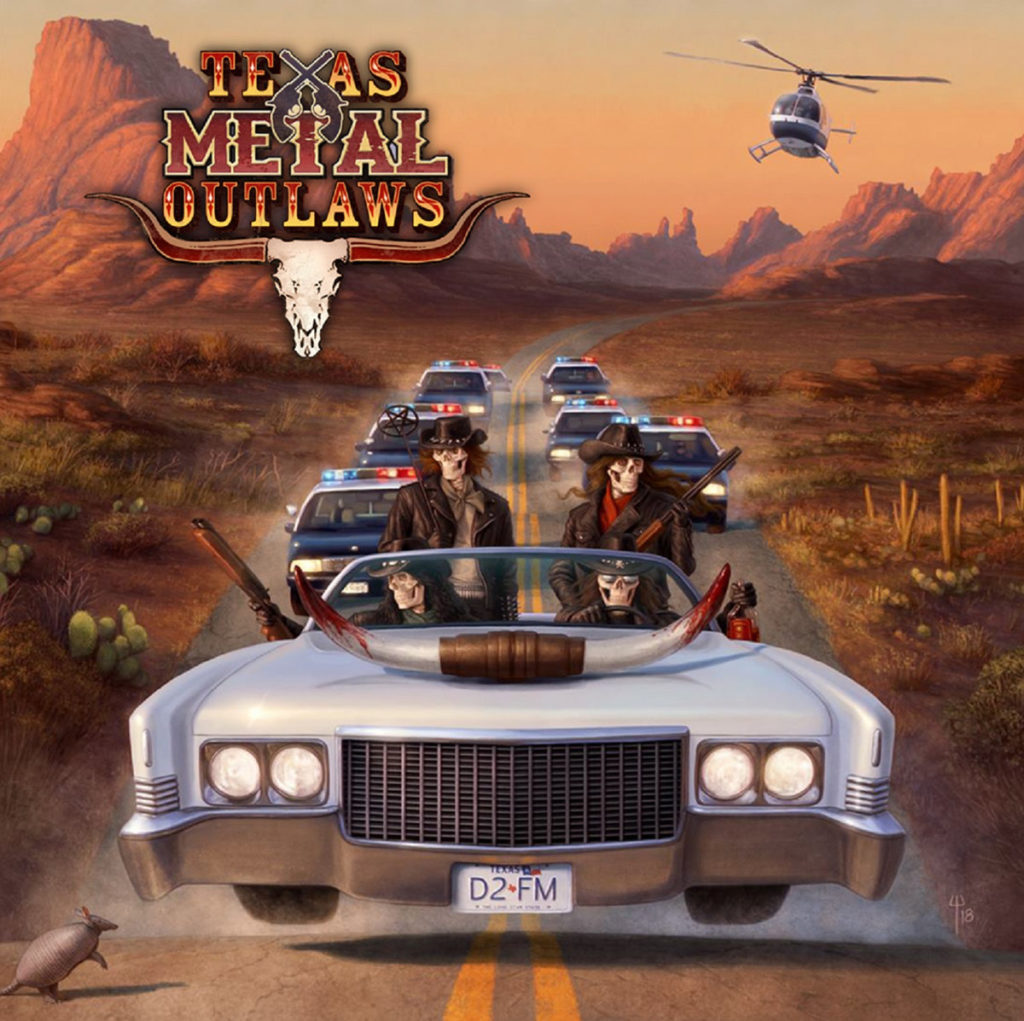 Band – Texas Metal Outlaws
Album – Texas Metal Outlaws
Country of Origin – USA
Genre – Metal/All-star Lineup
Release Date – October 26th, 2018
Label – Heaven and Hell Records
Author – Johnny The Fox

Hard-drinking, heavy metal hell-raising, and Texas. These things all go together like French bread and fine wine; contrary to popular depictions of Texas' musical culture, there's a hell of a lot more going on down in the Lone-Star State than that country twang, giant Stetsons, and rodeos. Just ask the Texas Metal Outlaws.

From Buddy Holly, to Waylon Jennings, to Stevie Ray Vaughan, to Helstar and Pantera, rock and roll — in all its rich and varied iterations — runs deeply within the musical veins of Texas. Continuing in this storied tradition, an intrepid, merry band of about two dozen veterans of the Texas Metal scene have united to present a sort of "all-star" tribute to all things old-school metal. Sure, this may not be groundbreaking stuff; but the Texas Metal Outlaws is a hell of a mega-partying metal blast, at least.

Obviously, trying to list all the musicians and their associated projects here would be a pointless and cumbersome task. But some of the most noteworthy contributors include: guitarist Ross "The Boss" Friedman (Manowar, The Dictators, Death Dealer), singer Jason McMaster (Watchtower, Dangerous Toys, Ignitor), drummer Felix Griffin (D.R.I., Bat), bassist Donnie Van Stavern (Riot, S.A. Slayer), and singer James Rivera and guitarist Larry Barrigan (Helstar). Additionally, Stuart Lawrence (Agony Column, Ignitor) and Robert Williams (also of Ignitor, Witches Mark) provide consistency of quality by playing the majority of the album's guitar tracks.

Now, one certainly can't expect a distinctly unifying or unique musical vision on such an all-star project. Nor is there much to be found in way of songwriting innovation or technical complexity. But Texas Metal Outlaws is exactly what it is — good, obnoxious, melodic, screaming, traditional heavy metal — and it's a hell of a good time. The sleazy, pounding "Malt Liquor Maniac" perhaps best summarizes the album's overriding ethos. "So, I see you're drinking light beer/do you think that's funny?" It's as if AC/DC, Accept, and Tankard gave birth to this rousing tavern shaker.

Opening track "Texas Metal Outlaws" is a fun Motörhead/Raven-styled speedster, featuring the super-shrill shrieks of McMaster. Other tunes offer more nuance, such as the lead-guitar harmonious "Rebel Years," which also showcases a killer solo by Ross the Boss. The crunchy cover of the unsung Riot anthem "Running from the Law" is a clear highlight; likewise, "Echoes of Memory," featuring operatic singer James Rivera and guitarist Larry Barrigan of Helstar, is clearly the album's most dynamic and epic tune.

Given this veritable heavy-metal smorgasbord, it perhaps is fitting that Texas Metal Outlaws ends with an amplified version of Burt Bacharach/Dionne Warwick's standard, "That's What Friends Are For." If that's not a bonafide Malt Liquor Maniac-sized metallic party, I don't know what is.

Highlights –  "Malt Liquor Maniac," "Texas Metal Outlaws," "Echoes of Memory," "Running From The Law."
Rating – 4/5