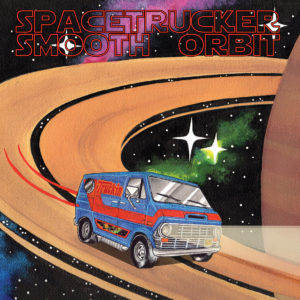 Band –  Spacetrucker
Album – Smooth Orbit
Country of Origin – U.S.A.
Genre – Stoner Metal
Release Date – August 17th, 2018
Label – Independent
Author – Johnny The Fox
Fuzzed out. Sludgy. Heavier than 20 pounds of blueberry pancakes settling within a munchies-ravaged belly. All these descriptors and more are apropo for Spacetrucker, an entertaining stoner hard-rock trio from St. Louis. Unsurprisingly, these dudes know how to rock out the leaden, Sabbath-inspired doom riffs with abandon; but they also intersperse enough groove to make their songs as danceable as they are headbang-friendly.
On Smooth Orbit, Spacetruckers' second full-length release, this natural-sounding combination of bludgeoning heaviness, rock-solid groove, and infectious melodies is a fun 50-minute joyride — for the most part. Seasoned stoner/doom fans will find plenty to enjoy here: from the crushing, downtuned intensity of early Sabbath, to the fuzzed-out sludginess of dirty grunge (think early Nirvana, Melvins, or Rust Never Sleeps-era Neil Young), to the somber atmospherics of Soundgarden or Temple of the Dog. Most of the songs are well-written, too, and the band — Mike Owen, Bryan "Del Toro" Weitekemper, and Rob Meat-Wagoner — certainly perform ably and tightly enough for this style. The melodic, mid-range vocals are effective and even at times resemble the timbre of the late, great Chris Cornell.
Sure, this young band still shows some room for growth. The lead guitar melodies and solos, while usually adequate, also tend to sound choppy and questionable in terms of tonality and intonation. Also, for all the great tunes on Smooth Orbit, Spacetrucker has also included some rough throwaway tracks that are perplexing choices ("Breach," "Cat March").
But the good stuff, starting with the grindingly slow groove of "Sample of a Sample," goes down oh-so-smoothly. "Not As Hung," for instance, mixes a fuzzed-out stoner riff and catchy chorus to hypnotizing effect. The irresistible "Meat Wagon," with its sparkling arpeggios and grooving, melodic main riff, just might be the best track here; the dynamic, elaborately-arranged, and über-infectious "Vanishing Piece of Us" is another prime contender.
Like their classic Deep-Purple namesake song, Spacetrucker provide one fuzzed-out mother of a fun — and spacey — trip. Come on!
Highlights: "Sample of a Sample," "Not As Hung," "Vanishing Piece of Us," "Meat Wagon."
Rating – 3.5/5