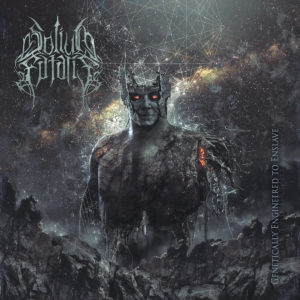 Band – Solium Fatalis
Album – Genetically Engineered to Enslave
Country of Origin – USA
Genre – Melodic Blackened Death Metal
Release Date – October 13th, 2018
Reviewer:  Credible
Solium Fatalis starts their album Genetically Engineered heavy and stays that way throughout the album.  They are described as a Melodic Blackened Death metal band and they do not disappoint. Their mix of black and death metal is apparent in their songs.  They throw in their own splice of melodic feelings throughout and they make it sound good. It is an album that would be good with a villainous mind and a brooding darkness.
One thing I really like about the music is how the drums drive through every song.  They are strong and set the tone of the album from start to finish. Through the melodic playing and the obvious death metal feel, the drums remain driving through every song.  The melodic sound presented by Solium Fatalis has a presence within all of the songs. The lead guitar makes some sweet lyrical sounds within every song that is played. These tones stick out in the songs and reverberate within the confines of your mind.  It brings a certain deep down darkness and sadness to the music that you can relate to. One of my favorite songs on the album, A Gathering of Storms, mixes these melodic tones with a heavy background music that makes you feel the darkness within you for every second of the song.  It is a great dynamic for the band in my mind.
The blackened death sound of the band is really shown in the deep growl and screeches of the vocals.  The singer has quite the essential death metal growl that he likes to show off in the songs. There is a nice gravel in the vocals that is a great compliment to the melodic feel and the blasting of the drums in the tracks.  It is intense and aggressive throughout the album. There is even a little bit of gravel in his black metal screeching which adds a different level and even a different flavor to the music. Not only that, he mixes the two styles very well and the dynamic between the two are wonderful to hear throughout the album.
Overall, the album is good.  I like the mix of the black metal and death metal vocals over the melodic tracks and blast beats.  It is an album I will keep in my rotation and listen to when I am feeling particularly evil. Give it a listen this October and let me know what you think.
Overall Score:  3/5