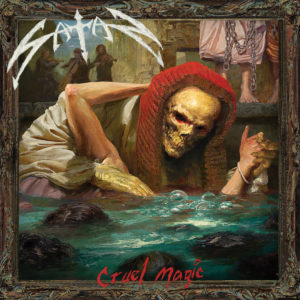 Band –  Satan
Album – Cruel Magic
Country of Origin – UK
Genre – Metal
Release Date – September 7th, 2018
Label – Metal Blade Records
Author – Johnny The Fox
Much ado has been made recently about the New Wave of Traditional Heavy Metal (NWOTHM), and with good reason. A plethora of younger acts have been keeping the flag of melodic, high-energy, British-influenced heavy metal alive and well: from Canada (Cauldron, Striker), to continental Europe (Wild, Iron Hunter, Witchfyre) to right here in the U.S.A. (Night Demon, High Spirits, Haunt, Savage Master). But let's not begin to count out the original British maestros, such as Newcastle, England's Satan. Much like their infamous namesake himself, these legendary British speedsters continue to capture souls and captivate metalheads in 2018.
First, a quick background check: back in 1983, Satan released Court in the Act, an album many consider a landmark in the proto-speed/thrash realm. Following numerous name changes, personnel shifts, and the obligatory breakup, the original lineup successfully reformed and released the fantastic Life Sentence platter in 2013. Now on their third post-comeback album, Satan will keep pleasing both their cult fanbase and interested newbies with Cruel Magic.
Fans of melodic, aggressively guitar-based, ultra-catchy, and yes, speedy heavy metal will probably invite Lucifer over for dinner. Not only does the quintet maintain their vintage tightly-picked, highly-harmonized riffing style, but they also subtly include elements of black metal (lots of octaves and rigorous tremolo picking), as well as the bluesy licks, retro tones, and standard tuning of late '70s Pentagram, Budgie, or Judas Priest. Additionally, the clean, no-frills, and distinctly Cockney vocals of Brian Ross secure the prevailing old-school vibe.
Satan — featuring the 100-percent classic lineup of Ross, guitarists Steve Ramsey and Russ Tippins, bassist Graeme English, and drummer Sean Taylor — have created 10 dynamic and invigorating songs. Indeed, the primary emphasis on Cruel Magic is on "songs," as opposed to a merely arbitrary collection of blitzkrieging riffs and technical wizardy. For instance, opener "Into the Mouth of Eternity" is a nifty mid-tempo cruncher, but it's also bookended by exhilarating laser-speed, tremolo-picked octaves. The catchy title track is an intricate web of galloping triplets juxtaposed with a relaxed shuffle groove, while "The Doomsday Clock" and "Death Knell for a King" are rapid barn-burners. Other highlighted tunes, such as "Ophidian" and "Ghosts of Monongah," incorporate straight-forward arrangements but are elevated by the superbly infectious vocal lines and guitar melodies.
This album might not quite match the enthusiasm and intensity of Court in the Act or even Life Sentence. No one would accuse the band of trying to reinvent the wheel here, either. But that's not at all what their fans want. To do so would be cruel magic, indeed.
Highlights: "Cruel Magic," "Legions Hellbound," "Ophidian," "Ghosts of Monongah."
Rating – 4/5