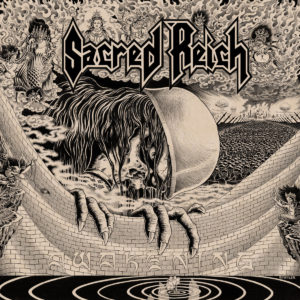 Band –  Sacred Reich 
Album – Awakening 
Country of Origin – U.S.A.
Genre – Thrash Metal 
Release Date – August 23rd, 2019
Label – Metal Blade Records 
Author – Johnny The Fox 
"From desert plains, I bring you love." Way back over yonder in 1981, Rob Halford and Judas Priest sang a soaring classic about contemplation and yearning while roaming the desert highways of the American Southwest. While this certainly is a comforting sentiment, later in that decade Arizona-based thrashers such as Flotsam and Jetsam and Sacred Reich sowed much faster and more aggressive desert metal fields. In the case of Sacred Reich, their Awakening is long past due. 
The long-dormant Phoenix quartet has been, quite literally, awakened. In fact, it's been 23 years since vocalist/bassist Phil Rind and co. have released a proper studio album. The state of the worldwide thrash scene has evolved and resurrected itself multiple times since, but Sacred Reich remains thrash metal's equivalent of a meat'n'potatoes dinner. In short: Sacred Reich still play straight-forward, groove-based thrash with occasional bursts of pummeling speed. The choruses are generally catchy, the vocals singable, and the crunch factor is high. This Awakening may not convert many new recruits, nor will it likely offer much musical evolution for the more adventurous thrasher. But it is solid, and sometimes that's enough to satisfy. 
Certainly, there can be no denying the sheer quality of the musicianship and production value on display here. Aside from Rind, original guitarist Wiley Arnett, and longtime drummer Dave McClain, Sacred Reich has enlisted the services of 22-year-old shred wiz Joey Radziwill. Radziwell's sparkling leads shine throughout, as evidenced on the grooving title cut. The über-crunchy, palm-muted riffs are performed with maximum precision, as are the intricately-locked grooves of Rind and McCain. Still, there's something missing here, and pinpointing that absent intangible isn't easy. As stated earlier, Awakening is not a flawed album as much as it is a missed opportunity to create a new spark — of musical innovation, exploration, creativity. 
That's not to imply a lack of enjoyable tunes on display. "Divide & Conquer," for example, delivers punishing speed and memorable vocal lines with equal aplomb. The triplet-driven "Salvation" is an infectious headbanger, and the ferociously-fast "Manifest Reality" recalls Slayer at their best. Sacred Reich even offers one genuine surprise in the shuffling groove of "Death Valley," which almost recalls heady southern rock ala Molly Hatchet (replete with cowbell). 
Flaws aside, Awakening is well worth a listen or two. Perhaps Sacred Reich will brush off some of the residual dust and create a masterpiece next time around. 
Highlights – "Divide & Conquer," "Salvation," "Death Valley," "Salvation."
Rating – 3.5/5