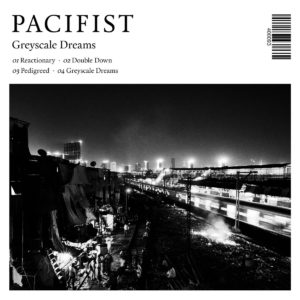 Band – Pacifist
Album – Greyscale Dreams
Genre – Melodic Hardcore
Release Date – June 16, 2019
Label – Independent
Author – JGilbert
"Thank you, Mannerheim, for showing me that the best hardcore comes from Asia"
Once in a blue moon, my editor will email me out of nowhere asking if I'm interested in reviewing the new (insert band I've never heard of) and I almost always say "of course I do!" as if I know what I'm talking about. Usually these exchanges work out well for me because Mannerheim is a chill dude and has great taste in music. This time was something special, though. I'd never heard of Pacifist before, and since they're an unsigned band from Mumbai, India, I figure a lot of you haven't heard of them either. That's fine, but now that I know what we've been missing, it's time you heard all about this unexpected treasure from the Asian subcontinent. 
Pacifist are a five-piece outfit who punch far above their weight in terms of composition, arrangement, and production. Especially production. Recorded and mixed by guitarist Apurv Agrawal at Funhouse, Mumbai, Greyscale Dreams sounds like something that could have come out of GodCity Studios. Every aspect sounds professional and well thought out. There's more here to remind a listener of Kurt Ballou than just the production value; the songs sound somewhere between At the Drive In, Glassjaw, and Converge, with maybe a bit of Dillinger Escape Plan. Being my favorite flavor of hardcore already, I was predisposed to enjoy this without all of its standout merits, like the perfectly blended vocal styles that never get too nasty nor too nice, the fierceness of the drumming, or the delightfully crunchy distortion on the strings. 
As a project, Greyscale Dreams seeks to capture and convey snapshots of the city they claim. The angst of grinding out a miserable life in a sea of apathetic people who can't seem to stop their urban bustle and see each other as human. Far from the socio-political aspirations and optimism of other urban hardcore groups; Pacifist portray a colorless existence; black-and-white photographs of a "world which gets farther from the light with each passing day." It's the sound of being lost and forgotten in the middle of 19 million people. It's ferocious and beautiful. Greyscale Dreams is as much about anguish as it is about anger, and there's a surprising amount of musical variety on display within.
There's not much to say in criticism of Greyscale Dreams. It's so well-rounded in its composition and well-delivered in its packaging as to make a reviewer like me have to reach abstractly for shortcomings. The most glaring is the length: at just four tracks, each less than four minutes long, the album is too short. If they had been able to deliver the same energy and production value for even another three or four songs, I would be seriously considering a 5/5 rating; as is, I've scored it just shy of perfect… but I definitely listened to the whole thing again while debating those marks.
Recommendation: There are plenty of bands out there who make single songs longer than Greyscale Dreams entire run time, so just listen to the whole thing. Then message your local venues/booking people and demand they bring this exceptional group of artists to the States!
4.75/5