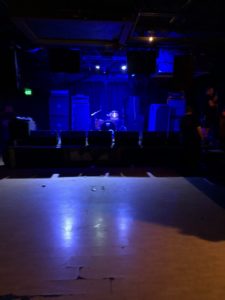 (The Highline stage after the end of NWTF)
NORTHWEST TERROR FEST 2019: AN INSIDER'S PERSPECTIVE
Photos and words by JGILBERT
PART 5
I wrote earlier about how much work and preparation goes into getting NWTF off the ground every year, and I saw just the tip of that proverbial iceberg. I did get to see intimate details of how those preparations pay off in the execution of the fest, and what I observed has stuck with me since. A well-engineered machine wants to run, even when individual components begin failing. It felt like all elements involved were pulling in the same direction to make the fest happen, so when any one of those elements experienced complications: equipment failure, last minute scheduling mixups, human error, the rest of the weight of NWTF's operation just dragged along regardless until the problem was fixed or solved itself. I want to emphasize again: this was only possible because of the hard work and good will involved. NWTF is gathering a reputation as one of the best festivals to perform at, partly because of the organizer's eye for hospitality and positive client relations.
There's not much to tell about take-down day. We got there a bit early to find other members of the crew had already found somebody to open the doors. One truck was already loaded with Worshiper cabinets and the only things left were the NWTF drumkit and the remaining merch. Meeting up later at Seattle favorite tap room The Pine Box, we had time to sit and talk as a crew about what went well this year, what could have been better, and what we want next year. Overall, people seemed to think Vastum, Pig Destroyer, and Dorthia Cottrell had the best performances of the festival. Many still wanted to talk about Acid Witch, Demon Lung and Khorada as well, and suggestions began flying for acts to book next year. It seems like a reality of the festival business that next year's lineup is largely decided at this year's festival. Many bands that performed this year share a common member with acts slated to play next year, and others were add-ons that had been brought forward on previous nights. 
Everybody contends with the fatigue; this festival life is easy on no one. Most of the higher-ups at the festival aren't exactly young anymore, and all of them have full-time jobs apart from NWTF. I afforded myself a couple days off in Seattle after the fest to unwind and sightsee, but most of my fellow fest crew were returning to their real lives tomorrow. Around the table, eyelids hang low and postures slump with exhaustion. This life can really get to you, and there's only a few people on earth who can stand to do this sort of thing more than a couple times per year. Judging by the excited conversations about next year; the energetic suggestions, the imagined fantasies so full of life… it seems like most of us would be willing to try to become one of those select few. Here's to Northwest Terror Fest; 2019, 2020 and beyond.