NORTHWEST TERROR FEST 2019: AN INSIDER'S PERSPECTIVE
Photos and words by JGILBERT
PART 3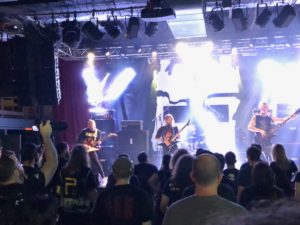 (Vitriol)
Friday proved to be less demanding than the first day of the festival. With no need to arrive early, I met with Joseph for a 9am coffee and breakfast sandwich (egg, tomato, & basil on a pesto bagel; very tasty, very Seattle). After returning to Neumo's and getting the green rooms set up for the evening, we turned to greet the arriving bands and help them load in. Mainstage openers Vitriol were visibly moved by the level of accomodation NWTF provided them, saying with amazement that they've "never been treated this well at a festival". Enjoy it, guys, and please: tell all your friends. The evening began with local space-themed death metal goofballs Xoth. They played a blistering set that was perhaps too high-energy for so early on a Friday, but they managed to win over Barboza's attendees make some new fans along the way. Upstairs, Vitriol continued the high intensity action with their technical brand of blackened death metal. Their set was razor sharp and delivered with all the measured calculus of a band who regularly post John Stuart Mill quotes on their Facebook, and after they were finished they once again thanked the NWTF crew profusely for all our help. Seriously, guys, it's what we're here for!
Vouna played a mesmerizing set of synth-y blackened doom that left a wake of impressed faces and new fans. For a fairly new act, Vouna punch far above their weight and I wouldn't be surprised to see their name on more West Coast tours in the future, I couldn't stay for too much of their set, however, as I needed to check in with the Neumo's stage manager before one of the more hyped performances of the weekend: Vastum. "They're like the gay Bolt Thrower" explained Joseph, "they were supposed to play 2nd to last, but their flight leaves soon so we had to move their set earlier." You might think you have all the puzzle pieces sorted out beforehand, but there's always last-minute finagling to do when it comes to pulling off something as complicated as a 4 day music festival. Vastum whipped the still-growing Neumo's crowd into an absolute frenzy; inciting mosh pits, stage dives, and other acts of debauchery sure to make Georges Bataille and Jean Laplanche howl with delight. After polling several members of the NWTF crew after the festival, most of them agreed that Vastum was one of the best performances of the whole weekend.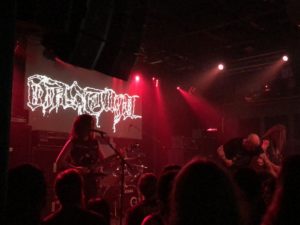 (Vastum)
Northwest Terror Fest 2019 had the pleasure of serving as a date for two different and very exciting 3-band tours: Saturday would host Immortal Bird, Cloud Rat, and Gadget; tonight Thantifaxath, Wayfarer, and Inter Arma on their way through to the midwest. Thantifaxath made a buzz on the internet with their 2014 full length Sacred White Noise; a title which describes their live set fairly poignantly. Next at Barboza, Wayfarer put on a dazzling set of atmospheric rocky mountain black metal. Inter Arma ripped through songs from their strong 2019 release Sulphur English and capped off the night for the Barboza stage. By the time Inter Arma finished, the bar was crammed with bodies all the way to the merch tables.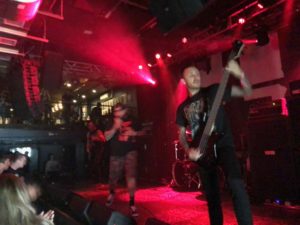 (Pathology)
Upstairs, between Thantifaxath and Wayfarer, a select few Neumo's guests were treated to a blistering death metal assault from San Diego brutal death band Pathology. For reasons we at NWTF can only surmise, the Neumo's crowd thinned conspicuously after Vastum finished tearing the house down. Maybe people were at dinner? Going home to get more friends? They weren't where the slam party was at; Pathology put on a killer set and sounded great. While helping the band load out, I tried to apologise for the sparse turnout, but the great guys in Pathology were in good spirits and didn't seem upset. Joseph, on the other hand, was having problems: the Neumo's staff kept throwing out the hard copies of our guest list for each night, and people who were expecting a wristband were finding it difficult to get one. In spite of my long and close relationship with Joseph, or perhaps because of it, I was tasked with updating and copying the guest list for each night–Neumo's has many things, but a printer isn't one of them. In all honesty, I was glad to accept an unglamorous but important job that afforded me a good excuse to sit somewhere quiet and out of the way for 20 minutes. Which brings me to the second hardest part of working NWTF: finding a place to sit, stand… just a place to be that isn't directly in someone else's way.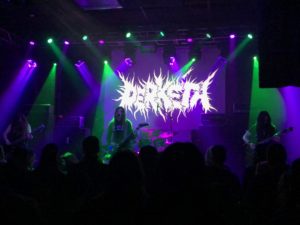 (Derkéta)
The best place to be, once I'd finished, was on the Neumo's floor for Derkéta; the first all-female death metal band formed all the way back in 1988. Their playing was tight and the sound was everything you want from old school American death metal. It's fierce, never fuzzy; murderous and never muddy. A number of the women performing in or working for the festival had starstruck moments interacting with the ladies of Derkéta who couldn't have been more kind. Once Inter Arma were finished, it was time to load in for Wolfbrigade's first US show in 20 years. The wolf pack filled Neumo's to near capacity and absolutely destroyed all of us. I've always had a soft spot for the punk-y side of metal, and Wolfbrigade are exactly the kind of crossover I enjoy most. After their incredible set, Wolfbrigade made it clear that they came to party, and proceeded to get absolutely wasted–as is their right, having just wasted all of us. Speaking of after parties, NWTF was hosting another one just like the night before; and all the merch needed to be at The Highline before the end of Wolfbrigade's performance.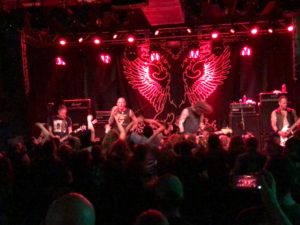 (Wolfbrigade)
Some last-minute rescheduling meant that STAHV would play the after party before Indian. I must admit, the alterations changed the vibe of the evening significantly; STAHV is much more relaxing doomgaze compared to Indian, which I equate to a musical bludgeoning. I enjoyed both performances, and made sure to note Indian as an artist to look into further when I got home. As with Thursday, however, I spent most of the after party out on the patio getting fresh air and a chance to sit down. I also used the time to catch up with various friends I was too busy to talk to earlier in the day; the topic on everybody's mind was Vastum's unbelievable performance. By the time I caught my breath and nursed my aching legs, it was time to move merch back down to the van for the night, with plans to meet at Neumo's the next day for load in.