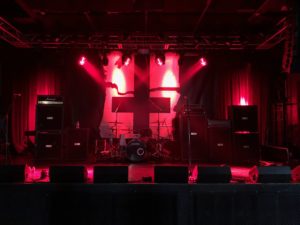 (Neumo's mainstage)
NORTHWEST TERROR FEST 2019: AN INSIDER'S PERSPECTIVE
Photos and words by JGILBERT
PART 2
The pre-party finished, the merch packed up, and the front half of the bookwork taken care of, all that was left to do was heavy lifting. Meeting early in the morning at an inconspicuous storage unit a short drive from the venue, we loaded the festival necessities into a huge white van: banners, posters, house drum kit, boxes and boxes of festival merch, and an entire backline of custom speaker cabs supplied by festival sponsor Worshiper Cabinets. With another quality drum kit dropped off at the venue by a local instrument rental service, there was plenty of serviceable house gear for bands to use. In the end, these preparations paid for themselves many times over as most bands were happy to use the equipment NWTF provided; resulting in  very few gear changeovers between bands and a very happy stage manager at Neumo's. Keeping the people who support you happy is a crucial yet often overlooked aspect of this–or any–business.
By noon, all the merch was loaded in and the backline was on the stage. That left only a few hours to decide how the green rooms would be distributed and to supply them accordingly. Fortunately, none of this year's bands have ridiculous rider requests, a blessing absent from previous festivals. The long-time crew can tell you lots of stories, but I'm not going to name high-profile names here. Carrying sponsor-provided stacks of beer and water to the various green rooms was a treat compared to hauling the enormous Worshiper cabinets from the parking lot to the stage, and once the task was finished there was time to grab some lunch. Heeding a local's advice, I took the short walk to local sandwich legend Honey Hole. I've actually been there before on my last trip to Seattle, so it didn't take much to convince Joseph and I to head over for some hot eats and a chance to cool off after a hectic morning. 
We returned to Neumo's to greet the performers as they arrived and make sure they had everything they needed. I worked ahead on my tasks to ensure some time to catch parts of the opening sets: first local Cascadian Black Metal staples Addaura, at the subterranean Barboza stage, and then California metal trio Castle. I've had the privilege of seeing both bands before, but the added excitement of a huge metal festival setting amplified the experience and their performances tonight. Especially Castle; they were nothing short of incredible despite a lower than expected turnout on a Thursday night. Even after the whole fest was done, people were still talking about Castle's set. Along the line, it's discovered that Cirith Ungol need clamps for their banner and a crew member is dispatched on what would develop into a several hour wild goose chase all across town looking for a hardware store that wasn't closed yet AND had the needed equipment in stock.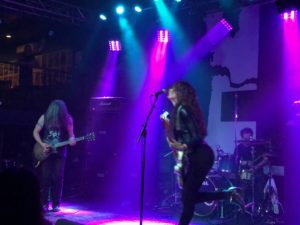 (Castle)
With most of the day's hard work behind me for now, I took the opportunity to see what Dead to a Dying World and their mainstage counterparts, Demon Lord, were bringing to Terrorfest. I immediately understood what Joseph meant earlier when he told me that the fest tried to discourage Nazi shitheads from coming by booking bands they don't want to see; these two acts were thrilling to yours truly, but I can't imagine some tertosterone-poisoned skinheads enjoying any of it. Too many violins; too many women onstage. For me, though, this was an exciting pair of bands to look into more extensively when I got home. Outside, I stopped to mingle with the fest regulars and get a sense of how the crowd are enjoying the evening. In talking to some nice folks who say they've never missed a Terrorfest, I got way too high on their legal Seattle weed. This turned out to be the best possible move to get the maximum enjoyment out of the punishing sonic assault of Sutekh Hexen; which might have been too much for me under normal circumstances. Blackened Noise bands are a particular kind of extreme; I admire the true fans, but find that I personally enjoy them more the further I am from my "right" mind.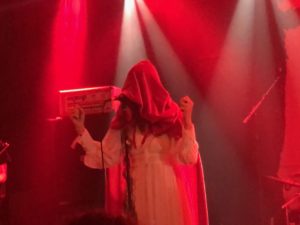 (Demon Lord)
I managed to catch a little bit of Spirit Adrift and snap a few photos, but there was need for another run to festival sponsors and Seattle legends Sizzle Pie to satiate the hungry bands and crew members. By the time we sorted out the enormous order and returned to the venue, it was time to help the Barboza stage managers get ready for KEN Mode. My friends were excited to see them play, and I was excited to see if their music goes as hard as their merch–which included a picture of a guy with his face slashed open printed on a shirt. KEN Mode lived up to all expectations, performing with all the ferocity promised by any of metallic hardcore's greats. A moment of improvisational noisecore pushed the band through a spot of technical difficulties with professional aplomb; not one ounce of momentum was lost from their chaotic onslaught in the process. On our way upstairs, my friend buys the aforementioned graphic t shirt. We all want to make sure we get good spots for Detroit horror metal act Acid Witch. Several of my friends here have seen them before at the now-defunct Ogrefest in Lansing, and Joseph is a particular fan of their side project, NUKE (about whom I've also written before). Acid Witch is a bit of an oddity; their "year-round Halloween spirit" schtick can either go over really well with a crowd or else fall flat if the people in the audience are "too serious". Fortunately, Seattle seems to know how to get goofy and Acid Witch played an exceptionally good set that was probably the most fun anybody had the whole festival. If you get the chance to see them here in Michigan, don't miss it; especially if it's one of their famed "in costume" performances.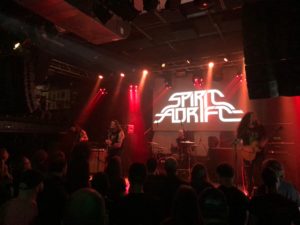 (Spirit Adrift)
After helping Acid Witch load out, I rushed downstairs to see Dawn Ray'd; the first of three bands on the bill shared with this year's Black Flags Over Brooklyn. Dawn Ray'd play a unique style of anit-fascist black metal interspersed with passionate speeches about the importance of direct action against tyranny. The band came all the way from Liverpool, UK, to sing us their "battle hymns for the class war" and Barboza couldn't have been more packed with sympathetic onlookers. I sent some messages to friends in London to give these guys a listen and by the next morning they had become new fans. When Dawn Ray'd had finished, it was time to get everything ready for the first headliner: seminal metal pioneers Cirith Ungol.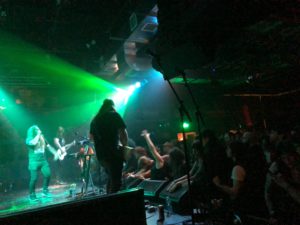 (Acid Witch)
This is probably a good time to talk about the inflatable beach toys. NWTF has an unofficial mascot in the form of a huge inflatable orca nicknamed "Slamu", after the controversial SeaWorld prisoner attraction. Slamu usually only makes one appearance per festival at the start of the most high-energy headliner, but this year we tried to get enough floaty toys to spread across the three headlining dates. Earlier in the day, under the utmost secrecy, a select few crewmembers were sent on an errand to obtain about $60 in dollar-store inflatables; including a giant pool raft in the shape of a pegasus for Cirith Ungol. It's important to tell that part of the story to contextualize the part when we threw the first wave of beach balls into the Cirith Ungol crowd and… they were not happy. Instead of inspiring a mosh out of the energetic but motionless Neumo's crowd, the Cirith Ungol fans instead delighted in destroying the pool toys with boot heels and car keys until we gave up on having that kind of fun with them.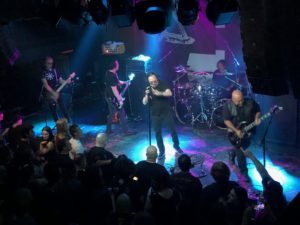 (Cirith Ungol)
Cirith Ungol played very well, especially for a group that formed in 1971. Singer Tim Baker can still hit his notes with ample power to sound great, and the band as a whole were clearly excited to be playing to a packed Neumo's crowd. The revival of 70's metal is at full force in 2019 and nowhere was that more evident than the final headliner of NWTF day 1. Unfortunately, I couldn't stay for the end of CIrith Ungol because the festival merch needed to be back at The Highline for the first afterparty show. We arrived with everything to find local sludge/grind duo POUND playing breakneck riffs to an enthusiastic bar crowd. As busy as I was, I had to take notice of POUND's exceptional style of sonic brutality. They were a standout band for the whole weekend in my opinion, and that was before they brought out Lindsay O'Connor of Coma Cluster Void to do guest vocals on their last songs, and her raw hardcore attitude got The Highline moshing furiously before it was time to switch over for Bongzilla.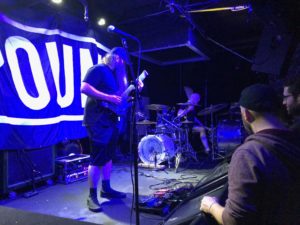 (POUND)
I was hoping to tell you around now that Bongzilla played an amazing set of fat stoney riffs that fuzzed out my brain and made the room spin. Or something. Instead, I'm going to tell you about the hardest part of working an event like NWTF: dealing with the fatigue. The fact is, by 12:30 when Bonzilla went onstage, I was exhausted. I spent most of their set on The Highline's patio talking to Cirith Ungol and the festival organizers. Mostly we talked about how the current lineup joined Cirith Ungol in the first place and what that's meant to their development as musicians. "I was hired to sound like Jerry [Fogle]" said Jimmy Barraza, who joined the band in 1988. "I learned his solos note-for-note; I studied his playing techniques until I could almost think like him," he continued, wondering how different his style could be now if he hadn't spent so much time emulating someone else. His bandmates insist that he's taken Fogle's sound well beyond where it was in the 1980's and in the process become something unique himself. When the time comes, I volunteer to carry merch back to the van as The Highline staff attempt to send everybody home. Seattle bars close at 2am, and we're all going to need our rest for tomorrow.