NORTHWEST TERROR FEST 2019: AN INSIDER'S PERSPECTIVE
Photos and words by JGILBERT
PART 1
The international music festival has long been an institution in our contemporary music culture. The more widely recognized among them have become sites of pilgrimage for enthusiasts; eager to day drink, sleep in questionable conditions, and see more acts in one place than you can shake a Shure SM57 at.  It's not unusual for sizeable media outlets to send some well-meaning silver-tongued talent to help share the experience with curious readers who either couldn't attend the event or perhaps with others who were there but still can't stop reliving their crazy weekend. At Moshpit Nation, we do things a little differently sometimes. Like now. So this isn't a review of what it's like to attend Northwest Terror Fest; this is a review of what it's like to WORK at one of these events.
Although Moshpit Nation tends to focus on issues related to Michigan, it should go without saying that our metal music world is one where the diversity of participants is matched only by the density of its social networks. That's a fancy corporate way of saying that a lot of us know each other, and there's often less than six degrees of separation in this scene. I'll take this time to note that I was far from the only Mitten Man in attendance; with one other member of the festival crew hailing from Pontiac, other essential staffers having lived in Kalamazoo for years, and three of the mainstage artists based out of the greater Metro-Detroit area. Other parts of the midwest were well represented, too, with Chicago and Madison, WI also featured prominently onstage.
2019 marked the third year of Northwest Terror Fest (NWTF), a pet project of one of my Kalamazoo College roommates and his former employer at No Clean Singing (among other ventures). This time the festivities spread across four days and three venues: The Highline Bar, Neumo's, and Barboza. While every effort is made to establish and preserve NWTF as a yearly celebration, building the required foundations can be an arduous undertaking; and that work often goes unappreciated. Many of these festivals become annual staples of their community, running for years until they become something of a "given", but if those same people taking their local metal fest for granted don't actually show up, and better yet bring all their friends, the self-justification of these events becomes a matter of increasing uncertainty. Of course everyone still gets excited about Wacken, but could you imagine if the event tried to skip a year? The end of Ozzfest was a sad reminder that the era it represents is coming to a real and definite close. The fact is, most of these festivals struggle to make any money at all, and NWTF is not immune from this paradigm. The exact numbers are an industry secret, but last year, NWTF made the kind of profit you could lose in one night at a cocktail bar, and that was considered an astonishing success in this business.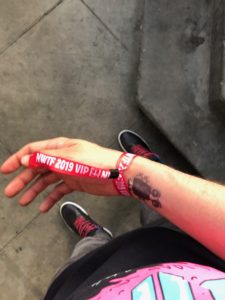 I arrived in Seattle a day early, and already there was a mountain of accomplishments behind the permanent NWTF staff. The scheduling, booking, coordinating logistics and accomodations… all of this and more was long since taken care of. I'll repeat myself for emphasis: the amount of preparation, planning, and hard work that had to happen just to get to square zero was staggering. The next time you're on your favorite band's Facebook and see people bugging them to "come play ________ city" or "come back to _______ venue", remember that to make it happen, somebody has to pony up the cash for that performance; they might have to be willing to fly the band out & maybe get them a hotel for the night, too. That same person also has to convince the venue owner that the band will draw a big enough crowd that everyone can make money at the end of the day; and preferably will draw a bigger crowd than any of the other dozens of acts who want to perform that same night. The next time that rare act comes through your town, make sure to bring more friends to the show with you. If they sell a lot of tickets, that "worth it" conversation gets much easier. 
The festivities kicked off with a pre-party at The Highline; a metal culture bar that sits above an axe-throwing business because Seattle. A logistics meeting is held with the bands and house sound engineer. Festival organizer Joseph Schafer can't walk three steps without someone calling his name from behind; needing this or that. New and old acquaintances mingle and exchange greetings; many having just seen each other at the recent Maryland Deathfest, but others have not seen each other since last year's NWTF. Introductions are made; an enthusiastic attendee with a "NWTF Special Guest" wristband instantly recognizes Joseph; the guy proudly announces that he's come all the way from Netherlands for the festival. Also from Europe is Max Rotvel from MetalBandcamp.com, who has never missed a NWTF. While doing the journalism rounds, I'm also introduced to Cody Davis of Metal Injection. Returning from the patio, we find Detroit's Slasher Dave crafting dark electronics through a mist so thick that he appears as a disembodied arm distended from the fog: attending to his music console and playing songs that my notes described as "for Cthulhu Goths who are actually as hardcore as they look". The crowd doesn't really know what to make of the performance, but by the end they applaud enthusiastically as Joseph informs me that the turnout is already better than expected.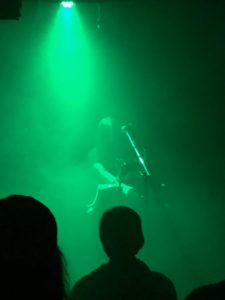 (Slasher Dave)
The theme of the pre-party show was "lower energy" performances; we'd need all we had for the coming weekend. After the spooky soundscapes of Slasher Dave, we were treated to an exclusive acoustic set from Panopticon. Austin Lunn played a mix of rearranged Panopticon songs, folk and country covers, and unreleased Lunn originals. Austin is a soft spoken man whose emotional integrity is nothing short of infectious.  Feels are had in abundance all around, with many moved to tears by parts of Lunn's deeply personal performance. Maybe I was one of them. A number of the more extreme types weren't really feeling "acoustic"-con's vibe, but I think the idea of American folk metal is interesting. Especially interesting to our demographic is Panopticon's label, Bindrune Recordings, which is based in Traverse City and specializes in black, dark, and doom metal artists, many of whom have a distinct "naturalist" flavor. As an extra special treat for the pre-party crowd, Marisa Janke of local blackened folk wizards Isendoral joined Lunn onstage for a violin accompaniment to his final few songs. Panopticon fans: remember her name; I can't reveal anything yet but she'll be important later.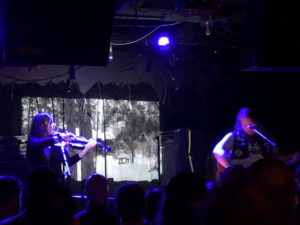 (Marisa Janke and Austin Lunn)
Before Thou could take the stage to perform their acoustic set, we had a Fest Crew meeting to discuss the unfolding situation on social media regarding the fest's newly expanded anti-harassment policy. The policy, a first of its kind for big metal festivals, now includes a ban on "nonverbal or symbolic representations of hateful ideology". It was posted on Facebook the day of the pre-show and generated a massive response from the internet. Roughly 90% of those responses were some variety of "good, thanks for doing this", with the remainder being jerkfaced alarmists claiming the fest intended to kick you out over your Pantera shirt and whiny crybullies trying to convince the NWTF social media team that metal is somehow hate speech against Christians. Laughable as the Religious Right™ are in their victim complex, I would love it if metal culture had 2.2 billion members worldwide and the governments of several developed nations in their pockets. As is, we're a bunch of poorly-dressed, slightly smelly folks making loud noises in dive bars; I fail to see any convincing threat to global Christianity. To address the other internet whiners: I spoke to event coordinators and venue security after the final day and both told me that nobody was refused entry nor ejected for their shirts/patches/etc.
Thou played a mesmerizing "quiet" set of acoustic entries to an enthusiastic Highline bar. You can hear part of their set on their NPR Tiny Desk performance, but there's nothing comparable to being physically present for such a unique and captivating experience. Aside, a crew member tells me that last year he met up with Austin Lunn for "a beer" that turned into a 7 hour conversation about his family coming together and starting a business to fund his young son's medical expenses related to a heart problem. The sense of community here is astounding; everyone seems to know each other and have stories for and about one another. Newcomers like myself are quickly brought into social circles and introduced around until it seemed like I knew everybody there as well. "So much happens at once" chant Thou's frontline, and it couldn't be more true for the Terrorfest Crew.