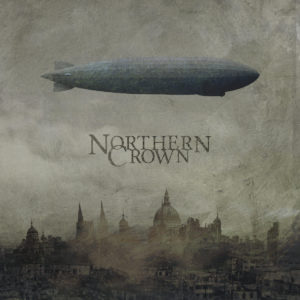 Band –  Northern Crown
Album – Northern Crown
Country of Origin – USA
Genre – Metal
Release Date – October 12th, 2018
Label – Independent
Author – Johnny The Fox
Sometimes a band's sound and identity belies its physical roots. Case in point: Northern Crown, hailing from sunny Ft. Lauderdale, Florida. Their locale might invoke images of heat, humidity, and sunny beaches, but the music oozes doom 'n' gloom and good old-fashioned sorrow. In fact, they might as well be rehearsing in an isolated log cabin outside Helsinki.
Yes, Northern Crown play epic doom metal, a niche sub-genre that breathes rarefied air these days — perhaps it always has. Although early Sabbath still is a basic reference, archetypal epic doom bands largely eschewed the blues-based stomp and drug-addled haze of stoner metal. Bands such as Sweden's Candlemass and Sorcerer, England's My Dying Bride, and Texas' Solitude Aeturnus embraced lumbering tempos, neo-classical leads, operatic tenor vocals, and oppressively dismal lyrical themes. Northern Crown certainly are no barrel of laughs themselves, but they depress everyone in their own distinctly entertaining manner.
For one, this multifaceted power trio fully incorporates the airy and varied sonic atmospheres of '70s heavy rock and proto metal ((think B.O.C., Uriah Heep, Deep Purple, and Pentagram). A huge chunk of the credit for their unique sound should go to Zachary, whose intricate guitar work and dense Hammond organ textures breathe life into these somber arrangements. Then there's lead singer Frank (remarkably also manning rhythm guitar and drums); his raspy-yet-lovely vibrato carries these sincerely ponderous melodies. Leona's understated basslines, meanwhile, interlock perfectly with the band's straightforward grooves.
With song titles such as "I Am Your Slave," "Merciless, They Let You Suffer," and "By Demons Bidden," Northern Crown offer no cure for seasonal affective disorder. They do, however, deliver plenty in the way of deliberate and crunchy groove, dynamic usage of riff and tempo changes, and compelling vocal melodies that rival their doomy forefathers. The result is a a captivating juxtaposition of darkness and light, irresistible beauty and stifling oppression.
This is authentic doom metal for all of us introspective and pensive metalheads out there. Go ahead, wallow away — and doom on.
Highlights – "I Am Your Slave," "Chasing the Sun," "The Desert and the Wind," "Your River" (My Dying Bride cover).
Rating – 4.5/5