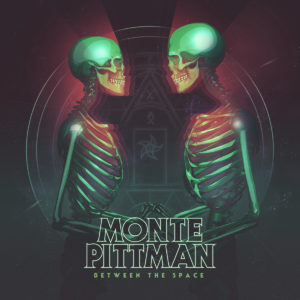 Band –  Monte Pittman
Album – Between the Space
Country of Origin – USA
Genre – Metal
Release Date – August 31st, 2018
Label – Metal Blade Records
Author – Johnny The Fox
Never judge a musician by his/her album cover. Of the numerous iconic names associated with Metal Blade Records (Metal Massacre, Slayer, Armored Saint, Omen, Lizzy Borden, Fates Warning, Gwar, etc.), Madonna isn't usually one of them. Yet, a connection with one of the biggest pop singers of all time is what you get with Monte Pittman. Not only is Pittman a prolific songwriter and über-talented multi-instrumentalist, but he's also been Madonna's studio and live guitarist since 2001. Make no mistake, however; his roots are swathed in metal, and Between the Space — one of his two new simultaneously-released solo albums — stands as a solid bridge between metal's past and future.
A veritable musical renaissance man, Pittman mixed, recorded, sang, and played every instrument on Between the Space. His talent and versatility shines brilliantly, as does his innate intimacy with metal in all its varieties; he previously performed guitar duties alongside Tommy Victor in Prong, as well as in Adam Lambert's pre-American Idol solo band. This promising pedigree would be rendered meaningless without the quality songs to back it up, and here Pittman primarily has baked a catchy and uplifting batch of meat'n'potatoes metal tunes.
Those who dig their metal straight-forward and groovy should find plenty to enjoy on Between the Space. Yes, this is modern, slow-to-mid-tempo groove metal in the vein of the aforementioned Prong, Corrosion of Conformity, Pantera, and Black Label Society, interspersed with flashes of '80s hard-rocking exuberance. Pittman's riffs often are downtuned and brooding, featuring lots of syncopation and staccato picking; conversely, they also can be fleet-fingered, exuberant, and melodic, recalling the vibrant air-guitar heaven of an Ozzy, Dokken, Ratt, or White Lion. More importantly, the songs are well-written, and Pittman convincingly sings inspirational lyrics about persistence and resilience in the face of human suffering.
Sure, Between the Space isn't perfect. Pittman's limited, mid-range vocals can be bland and tedious, the album's monolithic pacing could use more pep, and the opener, "Evidence," is rather lackluster. But in a world dominated by sub-genres, the best tunes here reiterate the telltale brilliance of dynamic, no-frills, and melodic heavy metal. Cheers to that.
Highlights: "Changing of the Guard," "Once Upon a Time," "Reverse Magnetism."
Rating: 4/5