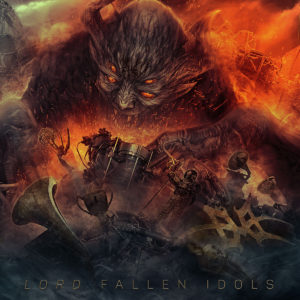 Band – LORD 
Album – Fallen Idols
Country of Origin – Australia 
Genre – Power/Thrash Metal 
Release Date – August 1st, 2019
Label – Dominus Records
Author – Johnny The Fox 
Prepare for impact. There's nothing quite like being blown away in one's seat when putting a new album on; that's exactly what hearing "United (Welcome Back)" for the first time feels like. A galloping, stuttering, eviscerating juggernaut of thrashy riffs and double-bass bombardments, the opening cut off Fallen Idols is a blissful neck-wrecker. But it also soothes the savage beast with an uplifting and lush chorus melody. Hmm, what exactly is going on here? 
The answer is: LORD, a veteran Aussie quartet whose energetic brand of melodic metal defies easy categorization, much to their credit. Formed out of the ashes of Dungeon in 2003, LORD began as the solo brainchild of vocalist/guitarist extraordinaire "Lord Tim" Grose. The band has since released five studio albums, as well as several EPs and miscellaneous recordings, including Live at Prog Power USA XVII — the documentation of their long-awaited, debut American performance. With Fallen Idols, their first full-length album since 2013, LORD have created a masterful metallic brew that will thrill fans of both the more aggressive forms of metal (i.e. THRASH) and stirring sing-a-long power metal anthems. In short: this is the real deal, folks. 
There's something enigmatic about LORD's hybrid style that transcends lesser work by other modern power-metal acts. One of these remarkable qualities is their uncanny ability to combine seamlessly aggressive and high-precision aspects of extreme metal with infectious and anthemic choruses that border on AOR  levels of sweet melodicism; that said, the choruses never devolve to the bombastic, overwrought, and cheeseball depths of most European-style power metal. Another is the superlative vocal performance by Lord Tim, who always delivers his high-range melodies with a pristine tone and pleasant vibrato. This coincides perfectly with the technically tight, harmonically rich, and ambitious performance by the rest of the band — longtime guitarist Mark Furtner, and LORD co-founding member Andy Dowling (bass) and Darryl Murphy (drums). 
But as impressive as Fallen Idols is from all-encompassing musical standpoint, it's still all about the tunes, man. Choosing favorites is virtually impossible, but one simply cannot ignore the propulsive pull of galloping crusher, "Immortal". After severing the listener's neck completely, Lord Tim and co. stir and inspire the warrior's soul with this infectious chorus: "Fall to shadow/the inferno/roaming black six centuries/curse eternal/the immortal/prays for death to be set free." Other up-tempo, more straightforward numbers such as the title track and "Nod to the Old School" feature stellar harmonized and solo leads, alongside the stunning singable choruses. "The Edge of the World" perhaps exemplifies LORD's amalgamation of extremity and melody. After opening with a deliberate, tribal drumbeat, they unleash one of the fastest and most intricately brutal riffs this Aussie side of Carcass. But once again Lord Tim sings his heart out to the point where ours drop to the floor. 
"Chaos Raining" is another standout, with its catchy, tasty main riff (ala Dio or mid-period Ozzy) and a lush and irritable chorus that recalls obscure prog metallers Shadow Gallery and, yes, Kansas or Styx. The ballad "Counting Down the Hours" is gorgeous and dynamic in not dissimilar fashion to bands like Dokken or Warrant. Even the leads and twin guitar harmonies are tearjerkers. 
The bottom line: perfect records are few and far and far between. Fallen Idols fits that bill, and is easily a prime Album of the Year candidate. 
P.S. The CD bonus tracks "Break The Ice" and "Touch the Fire" have more in line with the AOR of Survivor's Rocky III and IV Soundtracks. These tunes are still a lot of fun. Hey, if he dies, he dies, right?
Highlights – "United (Welcome Back)," "Immortal," "Nod to the Old School," "Chaos Raining," "Counting Down the Hours," "Master of Darkness"
Rating – 5/5