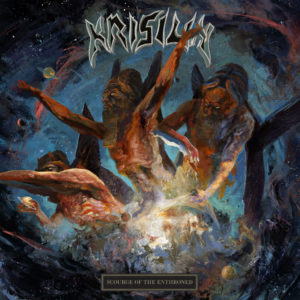 Band – Krisiun
Album – Scourge of the Enthroned
Country of Origin – Brazil
Genre –  Death Metal
Release Date – 9/7/2018
Label – Century Media
Author – The Great Mackintosh
As always, the boring stuff must come first. An early nineties beginning, first full length release coming in '95 with "Black Force Domain", and roughly ten or so releases up until this date. Busy bunch of dudes, and just for interest's sake they also happen to all be brothers. No mean feat at all to last so long with family as we all know. Things can get awfully heated real quick. These fine chaps must just have the right balance and temperament to keep it all together, and kudos to them for doing so. The results speak for themselves.
As with any band that has had a career lasting more than a decade or two, Krisiun have had their fair share of ups and downs, and the usual fans dropping off like flies when they don't get to hear exactly what they presume the band should be releasing. As for me? I don't give a rats arse about any of that shit. Bands grow, people change, and life goes on. We are at the moment living in an exceptional set of circumstances where Death Metal just seems to be getting better and better by the minute. New bands are reinventing the steel, so to speak, and the old gods have risen to the challenge to show them the way, and in some cases, put them right in their fucking place.
Krisiun have decided to remind us that they do rightly deserve their place in the halls of eternity, and you will see why. Opener, and also title track "Scourge of the Enthroned" starts off with a bit of a wind up, gets the feet stomping, and then POW! You are being subjected to a throat punching of the highest calibre here. No Toto, we are not in Kansas anymore, so to speak. You are hard up against a wall being battered senseless. Things don't continue this way for too long. They give you a breather, show some excellent mid paced riffery, and pretty much show that they have a fine sense of how to pace a beating so as not to wear out the victim.
It has to be said that, although labelled as Death Metal, these fine chaps can also thrash the shit out of a riff, and the short but succinct solo work is superb. I suppose what I am getting at is that they may have a supposed 'genre', but they don't stick wholly to it, and this makes it all the more interesting.Track two "Demonic III" is a classic example of this. It's all over the shop in a good way, with more twists and turns than any Tarantino film. Get your crayons out and draw some comparisons by all means. Doesn't bother them, nor me. And the show, as always, goes on.
Heavy is the word of the day here. "Devouring Faith" brings with it a classic late 80's sort of vibe for mine, a damn fine set of riffs, and a damn fine intro solo leading into an almost Slayeresque landscape, which in itself dissolves into another brutal pounding. The pacing is so perfect you cannot resist the urge to move. I've said it a thousand times about many a band, but if this shit doesn't get your body moving, you may as well be a corpse. Yep, it's that damn catchy and infectious.
"Slay the Prophet" is as fun as it sounds, an almost martial drum beat leading you onwards into the fray, the quality of the riffs these guys produce is just astounding. No rest for the wicked at all here, just pure head beating goodness. "A Thousand Graves" intro would make Dave Mustaine raise an eyebrow such is its intensity, and the rest of the song is just an exercise in sheer fucking enjoyment. Roll on the rest of the songs, and you get the picture. Krisiun are not here to make friends, they are here to kick you right in your sorry arsed looking butt. Pick of the crop? "Abysmal Misery", Morbid as an angel with a penchant for old school Death this one. Such aggression, such mastery.
You will not find a bad track on this one, if you are so musically inclined. The talent on display is remarkable. Yes, after a long time in the field they have picked up an influence or two you may say, but I ask you this. Have you ever heard a band that hasn't? I also pose the question that they may well have had a great influence on many a band. I know that for a fact, because excellence breeds excellence, and this is quite simply, EXCELLENT.
Fucking exceptional Metal at it's finest. The type of album that needs no explanation to the purist, it just needs to be played over and over until you are exhausted. Then get up, and play it again. So much great in one package that it makes my eyes all misty when I think about it, and then I weep tears of a blood shaped colour as it plays. Yes, you need this. Nuff said.
Rating: 4.5/5