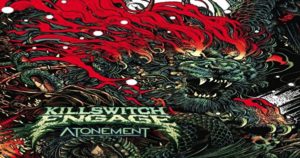 Band – Killswitch Engage
Album – Atonement
Country of Origin – USA
Genre – Metalcore
Release Date – August 16, 2019
Label – Metal Blade Records
Author – Longstretch
Metalcore, yep I said it, the elephant in the room, the genre everyone loves to hate but this isn't just Metalcore, this is Killswitch Engage and their new album "Atonement" and if you're an old fan like me you will love it. Now, although KsE may be "classified" as Metalcore, here you'll also hear ample mixtures of thrash, nu metal even some death metal type vocals so if you pressed the back button on your screen then you've missed out on reading about a prodigious metal band who have more than earned their chops in the metal world. 
Even with all the music I've listened to over the years, I still go back to "End of Heartache" released in 2004, and I still love it because of the sweet memories of joyous times that the album brings back. Hell, I even got to see them with Parkway Drive about a year ago and they tore the place apart.
"Atonement" is pure KsE and nothing else. As soon as you hear the first few bars of "Unleashed" right through to the final "Bite The Hand That Feeds" you'll have that, yep this is KsE and that is somehow very reassuring that for all the change and craziness in the world, "Atonement" is like coming home.
KsE are proven experts in bringing screaming vocals, dynamic blast beats, well-crafted guitar solos and riffs but none of this is overused and along with the production, which is crisp and clean, the album still has an authentic and powerful feeling which allows for the 11 skilfully crafted tracks to develop their own personality. 
"Atonement" has an inspirational theme and nature to it and tracks like "Bite the Hands" and "Us against the World" have choruses that fist pumping was designed for. Then there's the singalong anthems like "Signal of Fire" and "I Can't Be the Only One". We all know that every metal album needs a good ballad and "I'm Broken To" brings it in spades. This is a beautiful track, loaded with emotion that is superbly delivered through the vocals. 
In my humble opinion, "Atonement" will help cement KsE's place in metal history. For a band that's been around since 1999 delivering brilliant music and all this through break ups, line-up changes and through to now, it just shows that perseverance, hard work and the love of making metal records is truly what keeps a bands durability and still have their fans love them. 
Recommendation: They're back baby. Yea!!
Rating – 4/5