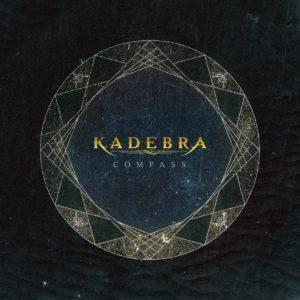 Band – Kadebra
Album – Compass
Country of Origin – U.S., Russia
Genre – Atmospheric Djent
Release Date – June 15, 2018
Label – Independent
Author – Mannerheim
Chelyabinsk, Russia and Indianapolis, Indiana? Two places that no one thought would be mentioned in connection with each other, let alone by such an excellent piece of cooperative heaviness. Indianapolis native, and all around accomplished vocalist,  Katelyn Thompson teams up with Russian based Kadebra to showcase what true international diplomacy should be about. Complicating matters, these eight songs are based on the influence of the Frank Hubert book series Dune, adding a concept tinge to the musical majesty set forth by this multinational effort.
Super crunchy guitar hooks abound, as the musicians take you on a melodic cruise through the fantasy world. Proving they are more than proficient, the musicality shines through and keeps the listener not only engaged, but engrossed with the double stop riffs, intricately plucked accent notes, and the weaving of textures throughout the soundscape. The stand out, however, is Katelyn's vocal performance. She not only sings, but uses and thinks of her vocals as an instrument. Throughout the album the vocals are infinitely layered in a thick tapestry that shows off the true talent of both the singer and the engineer as they team up to add an entire depth of orchestration using only the sound of air and vibrating vocal chords. The background is filled with her musical musings, all vocally, as she adds whispers, screams, harmonies, and hums to the vocals that are on the top. Occasionally, she is also joined by one of her bandmates to make the screams that much more powerful. In fact, the only detractor is that the vocals could be considered too busy in sections, as it distracts from the greatness of her natural voice. I truly do not understand why more people are not aware of her, or this band.  It is refreshing to find a fully rounded band where all the artists, including the vocalist, are committed to their craft and expanding how they use them for expression.
Recommendation – Keep track of Kadebra, and Katelyn, as they are definitely on the edge of breaking big. Check out their music video that was filmed here in Michigan. What? A Russian band filmed a music video in Michigan? Yes!
Rating – 4/5