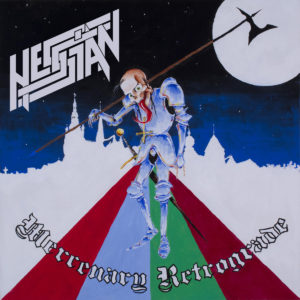 Band –  Hessian
Album – Mercenary Retrograde
Country of Origin – USA
Genre – Metal
Release Date – September 14th, 2018
Label – Urtod Void
Author – Johnny The Fox
Copycat acts are a dime-a-dozen these days. Take any given sub-genre and one will discover hundreds, if not thousands, of redundant bands that are seemingly copied and pasted from the unofficial template of heavy metal. From the clichéd band names and lyrical themes, to the often uniform and predictable musical styles, a pervasive sense of safeness clouds the current metal scene.
Thankfully, there are happy exceptions, such as Portland, Maine's Hessian. Formed way back in 2008, this veteran traditional-metal act gets lumped in with the ascendant (and, in many respects, triumphant) New Wave of Traditional Heavy Metal movement. While this association is not exactly inaccurate, Hessian has succeeded in being old-school without sacrificing originality and artistry. In fact, their sound is legitimately unique — a seamless blend of classic U.K. metal and rock (Maiden, Angel Witch, Thin Lizzy), weirdo/occult U.S. metal (Slough Feg, Pentagram, Cirith Ungol) and bonafide, punkified zaniness (Zappa, The Dictators, Ramones).
Yes, tongue-in-cheek sense of humor is key to Hessian's distinctive recipe. When Angus McFarland — their indomitable singer/bassist/co-founder — screams, "I wish I was dead/I wish was never born," his maniacal histrionics belie any semblance of earnestness. Or when he rallies the troops in "Rock and Roll Soldier" for the "fight against the jive," one feels the joy of being transported back to a cloud-cloaked basement rock show in 1973.
More importantly, the songs on Mercenary Retrograde are unique, invigorating, and fun. "I Wish I Was Dead" showcases some of the best guitar harmonies and rollicking basslines this side of Thin Lizzy; Hessian counters that with an unexpected and peppy lounge-jazz interlude in the dynamic "Skull Ring." The heavily-syncopated "Dude Messiah" and the halting, serpentine "The Viper" deliver oodles of buzz-drenched stoner riffs. But McFarland and co. also know how to step on the throttle, summoning the spirits of Priest, Motörhead, and Ramones with equal aplomb.
King George V would certainly hire these mercenaries. So should metalheads everywhere. -Highlights: "I Wish I Was Dead," "Skull Ring," Rock and Roll Soldier," "The Viper."
-Rating – 4.5/5