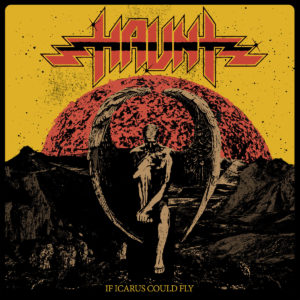 Band –  Haunt
Album – If Icarus Could Fly/Mosaic Eyes EP
Country of Origin – U.S.A.
Genre – Heavy Metal 
Release Date – March 15th, 2019
Label – Shadow Kingdom Records 
Author – Johnny The Fox 
Trevor William Church, vocalist/guitarist/founder of Haunt, is a man on a mission. Simply put: that mission is Heavy Freaking Metal! Church's steadfast dedication to the metallic arts should be no surprise to fans, either; his father is none other than veteran bassist Bill "Electric Church" Church, best known for his work with Sammy Hagar, Montrose, and Van Morrison. Growing up under the tutelage of such a talented and inveterate professional musician in his father undoubtedly sparked an unquenchable passion in young Trevor. 
That inherent and ardent enthusiasm for heavy rock and roll manifests in Haunt, Church's classic metal tour-de-force. Make no mistake, Haunt — based out of Fresno, California — is mainly Church's baby, dating back to 10 independently-released EPs as Beastmaster. In the span of less than three years, Haunt have already released two full-length albums, two EPs, and one seven-inch flexi single (2019's "Ghosts"). Now they have unleashed two new releases simultaneously, and both the full-length If Icarus Could Fly and the Mosaics EP serve as outstanding follow-ups to last year's wickedly-awesome Burst Into Flame. 
As with Burst Into Flame, Haunt's new output won't disappoint fans of traditional, melodic heavy metal one iota. Their music proudly flies the flag of the kind of tasty and balanced metal made famous 40 years ago by the likes of Iron Maiden, Saxon, Riot, Raven, Angelwitch, and Diamond Head; it also closely aligns with newer old-school acts such as Traveller, Cauldron, Striker, and the mighty Night Demon. Forget such newfangled tropes as arbitrary innovation, mindless brutality, and esoteric weirdness; Church and co. deliver speedy, melodic, aggressive, and concise tunes that are catchy as all-get-out. Their songs, as a rule, showcase plenty of precision-picked, intricate and thrashy riffing; über-harmonized, ripping guitar solos, and melodies; dynamic and driving basslines (via bassist Taylor Hollman), and an uplifting vibe conveyed by infectious vocal lines and inspirational lyrics. 
Choosing favorites is no meager task, particularly with the rapid-fire bursting "Run and Ride" as the album opener, which finds Church exhorting his listeners to make their detractors "run and hide." This fantastic tune features a blistering, palm-muted main riff, a riotous, furiously-galloping chorus, and guitar harmonies via Church and Tucker that would make Thin Lizzy and vintage Maiden blush. Haunt dials down the tempo slightly but not the energy on the pounding cruncher, "It's in My Hands; the interlude riff and lead breaks are nothing short of breathtaking. Spellbinding harmonies and neck-wrecking power riffing dominate "Cosmic Kiss," and its intro confirms that brisk rhythms need not impede harmonic content. 
As for the vocals throughout, Church's nasally monotone remains an acquired taste. Perhaps he could work on not falling flat at the end of phrases, a mistake a vocal coach would likely be able to correct. Incidentally, his tone is not dissimilar to Kevin Heybourne from Angelwitch and Jason Decay of Cauldron. 
If Icarus Could Fly concludes with the 1-2-3 suckerpunch of "Wings of Destiny," the phenomenal title track, and "Defender." Each of these tunes epitomize the glory of melodic power riffing, infectious, singable choruses — superlative harmonies. 
The "Mosaic Vision" EP is also quite strong, if not as essential. The title cut, with its deliberate and beautiful introductory harmonies (ala Thin Lizzy's classic loner anthem, "Wild One") stands tall here. 
All kneel before the Haunted Church of Church. 
Highlights – "Run and Hide," "It's in My Hands," "Cosmic Kiss," "If Icarus Could Fly," "Defender," "Mosaic Vision."
Ratings – If Icarus Could Fly 4.5, Mosaic Vision 4.