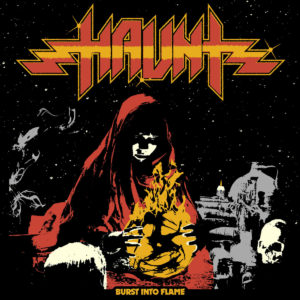 Band –  Haunt
Album – Burst Into Flames
Country of Origin – U.S.A.
Genre – Heavy Metal
Release Date – August 10th, 2018
Label – Shadow Kingdom Records
Author – Johnny The Fox
Sometimes one must go to church to receive a good haunting. In this case, the "church" in question is one Trevor William Church, a sort of heavy metal jack-of-all-trades. Auspiciously born as the son of Montrose/Sammy Hagar bassist Bill "The Electric Church," Church had previously forged a musical path for himself as the vocalist and guitarist for doom-metal act Beastmaker. Haunt, which initially was conceived as his classic-metal solo project, takes fans of '70s hard rock and '80s metal on a thrilling and inspiring journey. On Burst Into Flames, Church and Haunt don't take the dark overtones of their moniker too literally; rather, they deliver nine tracks of guitar-driven, melodic metal that simply are a ton of fun.
Guitar-infused hypermania — the crucial component of Haunt's music and its top selling point. The surging twin-guitar riffs of Church and new second guitarist John William Tucker (also of Beastmaker) are as hyper-melodious and über-harmonious as they are well-constructed and interwoven. This guitar tandem shifts between palm-muted speed metal, stuttering Maiden/Iced Earth-like gallops, and beautiful Celtic harmonies with exacting finesse. These exhilarating guitar parts lend these songs an uplifting atmosphere, without ever delving into the saccharine depths of modern-day power metal. Indeed, fans of the faster New Wave of British Heavy Metal bands (Angel Witch, Raven, Dragster), Iron Maiden, Slough Feg, Armored Saint, and especially Thin Lizzy, should find plenty to love on Haunt's debut full-length. Opening with the blazing title track, Haunt's tunes are consistently uplifting and fist-pumping.
That's not to imply that Burst Into Flames is a perfect record; the mix is a tad muddy at times, with the bass and drum parts (courtesy of Matthew Wilhoit and Daniel Wilson, respectively) sounding buried in the background, and Church's mid-range vocal lines, while solid, tend to dip flat at the end of phrases. That said, there is a ton to love about Haunt's retro brand of metal: from the catchy and anthemic choruses ("Reflectors," "Heroes"), dynamic arrangements ("Frozen in Time," "Looking Glass,") and a plethora of killer riffs throughout, Haunt dares listeners to avoid bursting into harmonious, air-guitaring balls of flame.
Highlights: "Burst Into Flames," "Frozen in Time," "Heroes," and Looking Glass."
Rating – 4/5