Ghost Bring Their Ritual to West Virginia and Bewitch The Big Sandy
By: Brian Francis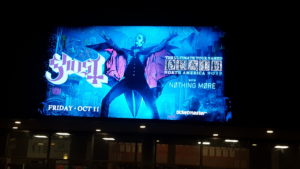 Ghost has been building a name for themselves for the past 6 years. High profile opening gigs for Metallica and Avenged Sevenfold helped the Swedish import seal a spot as one of rocks most unusual bands. Blending dark theatrics, occultism, religion and eccentricity, Ghost shows are unlike any other. On a warm October evening, "The Ultimate Tour Named Death" made a stop in Downtown Huntington.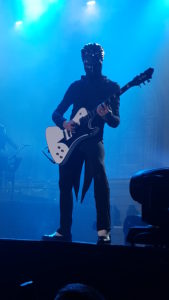 Opening band Nothing More was energetic to say the least. Lead singer Johnny Hawkins runs around like a madman. He bolts at top speed from stage left to right, drum riser, front barrier, this guy can be a blur at times. They hold nothing back, pouring blood, sweat and tears into their performance. With monster riffs and tight grooves, the grammy nominated band burns through "Christ Copyright", "Go to War" and fan favorite "Jenny". Nothing More set the precedent for the mystical experience that was yet to come. As the stage empties after Nothing More's set, the Gregorian chants commence as the smell of incense permeates the air. The ritual is soon to begin.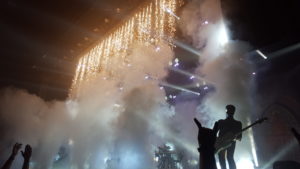 An ethereal energy is building as the haunting intro "Ashes" lets everyone know the time is nigh. The curtain falls exposing a stained glass cathedral backdrop adorned with angels, devils, and papas in their various forms.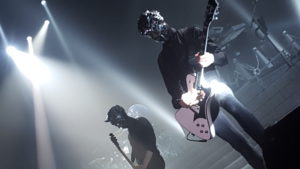 The ghouls and ghoulettes start their descent of the ivory stairs as the drum beat for " Rats" begins to pound. Cardinal Copia (trading his persona of Papa Emeritus) takes the spotlight . Looking more like a shady porn store owner versus a religious figure, the Cardinal is in control.
An unholy communion is bestowed on an eager congregation " Absolution" , " Faith", and new song "Mary on a Cross" are played to perfection with unparalleled musicianship . The ghouls start into Pink Floyds "Shine on You Crazy Diamond", going back and forth in a guitar battle (well, sort of a battle) that leads straight into the opening chords of "Cirice".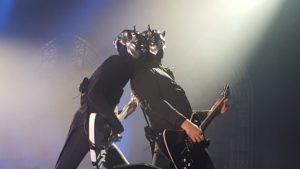 During wardrobe change, the band tears through instrumental "Miasma", with special appearance by Papa Nihil for a righteous saxophone solo. The evening ends with new song "Kiss the Go-Goat", and the discoteque beat of "Dance Macabre". The band plunges into encore "Square Hammer" as the confetti cannons launch an aerial assault..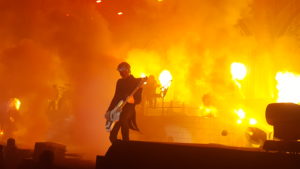 Fragments of paper and "666" Papa Nihil Bills are bombarded into the arena. Cardinal Copia along with the nameless Ghouls and Ghoulettes take a bow, all while satisfying the crowd with goodies such as picks and drum sticks. Ghost puts on a spellbinding performance. Some things are forgettable,Ghost shows are anything but that.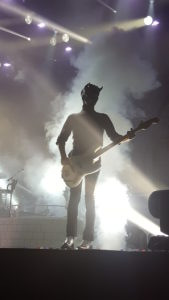 Whether you love them or hate them, You can't deny their success. Ghost pushes the boundaries all while bringing the theatrical rock show back to life. I highly recommend checking them out.