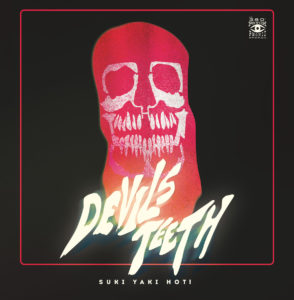 Band – Devil's Teeth
Album – Suki Yaki Hot!
State – Wisconsin
Genre – Surf Punk
Release Date – August 24, 2018
Label – Triple Eye Industries
Author – Mannerheim
Screaming in from Milwaukee, which is Algonquin for "The Good Land", comes Suki Yaki Hot!, the newest album of absolute perfect surf punk from three piece, sometimes four piece, Devil's Teeth. In a show of absolute rock competency, Capt. Jon Canine wrings, no oozes and drips reverb out of every molecule that makes up what looks to be a vintage Mosrite guitar. These guys do the vibe and sound right, and for you youngsters "right" is with a real spring box reverb setup. The Capt. uses it with mastery, and also recognizes just how musical the mechanics of it can be. On many tracks the listener hears the distorted, warbly chaos as they hit and rock the box, making the springs inside explode and decay. Add in an incredible rhythm section with Eric Incisor on bass and Chuck Molar on drums and you get vintage, nostalgia loaded perfection as they bring out the best in what surf punk once was.

The longest song is Party Shark Shake, which comes in at a pretentious 4:20. A great addition to the album that should not be forgotten, is the saxophone work done by Caleb Westphal. He comes in at just the right moments, and at just the right volume to add to the perfect mixture. His parts are almost vocal, in that you want to crowd hum to them like they were shout out parts. A move to make him a full time member is what this reviewer hopes is in the near future. Also I would be remiss if I did not  mention their obvious influence by the surf punk movement in Japan. They even released a limited edition vinyl that had a fake Japanese import cover on it. They are all sold out now, but I bought one and all you sucks are stuck missing out. Make sure to check out their other limited editions, though.
Recommendation – Having a party? Put this on and magically transport that party into a Tarantino film.
Rating – 4/5