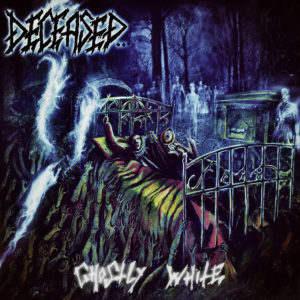 Band –  Deceased
Album – Ghostly White
Country of Origin – USA
Genre -Death Metal
Release Date – November 16th, 2018
Label – Hell's Headbangers
Author – Johnny The Fox
No one could accuse King Fowley of resting on his laurels. The Arlington, Virginia-based Fowley is a bit of a bastion — and not solely eponymous — member of American metal royalty. His relentless dedication to both his own bands Deceased and October 31, as well as to metal music in general, deserves respect on its own merit. Fowley's tireless recording and touring since 1984 in the face of seemingly perpetual obscurity is beyond laudable.
Ghostly White, the latest full-length from Fowley's long-running death/thrash band Deceased, sounds as inspiring as it is workmanlike. Although commonly regarded as one of the pioneer death-metal acts, Deceased's pedigree is much less easily pigeonholed. Their music has always blurred the lines between old-school thrash and extreme metal in ways that generate more universal appeal. For instance, much of Deceased's music plows the terrain of aggressive-yet-catchy bands such as Exodus, Slayer, Dark Angel, Kreator, etc. But the lyrical themes are devoted to the horrifying and macabre — bonafide death metal-style. It's like a Poe and Lovecraft-hosted thrash party.
Much like with a skilled writer, director, or painter, Deceased's songs transition seamlessly from one musical idea to the next. A captivating sense of melody binds all the disparate riffs, tempos, meter changes, and moody atmospheres together. On Ghostly White, as with 1990s Deceased favorites such as Fearless Undead Machines and Supernatural Addiction, the cohesive and catchy song structures create a blissfully-thrashing listen. The musicianship, too — courtesy of guitarist Mike Smith, bassist Les Snyder, and drummer Shane Fuegal — is intricate and tightly-locked without devolving into self-indulgent wankery.
Of course, there's King's scratchy, guttural bark to contend with. His distinctive voice may not qualify as operatic virtuosity, by any means, but it does lend a large dose of iconic charm to Deceased's horrifying musical tales. More importantly, the songwriting throughout is compelling, due in no small part to the thread of melody and catchiness binding the complex arrangements. On opener "Mrs. Allardyce," the briskly-galloping main riff leads the charge, while a cascade of shimmering guitar melodies and harmonies adds enticing spice before an ethereal, arpeggiated interlude. "Germ of Distorted Lore," a ferocious 13-minute epic, takes the listener on a roller coaster of peaks and valleys that never grows tiresome.
King Fowley and co. also don't forsake the all-out thrashers for the fellow speed freaks out there: case in point, blitzkrieging tunes such as "A Palpitation's Warning" and "Endless Well." But Deceased are at their macabre best when they let the hooks take the forefront, as on the jauntily-swinging "To Serve the Insane," as well as the dynamic (and demonic) concoction of varied tempos and moods known as "Pale Surroundings."
After 35 years, Deceased are not seeking reinvention or chasing trends. Luckily, thrashing/shouting out their ultra-crunchy and catchy horror stories is enough for them.
Highlights: "Mrs. Allardyce," "Germ of Distorted Lore," "To Serve the Insane," "Pale Surroundings."
Rating – 4/5