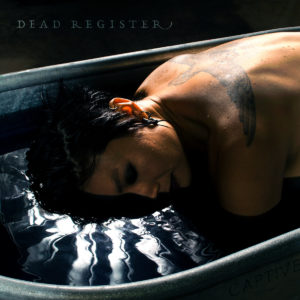 Band – Dead Register
Album – Captive
Country of Origin – USA
Genre – Doomgaze/Death Rock
Release Date – November 2nd, 2018
Label – AVR
Author – Schultzie
From Atlanta, Georgia comes bleak, doomy three-piece Dead Register. Their latest album, Captive, set to be released in early November, explores fistfuls of varying genres, from dreamy shoegaze, to a more post-gothic sound, to a slightly refined atmospheric metal. Dead Register blends M. Chvasta's clean, warm vocals and the stark, musing keys/bass synth of Avril Che with Danny Ryann's impactful drumming. Together, an entrancing sound emerges.
Captive captures a nice, full sound while remaining uncluttered, and a thoughtful consistency can be found throughout.
The title track can be defined with a single word – brooding. The lyrics Chvasta sings and the sounds that emit around him both feel very despairing and downcast. There's a chugging heaviness that slams the song into motion, set apart with soaring tones from the keys and bass alike. The drumming feels pensive and contemplative, and the vocals feel grief-stricken and inconsolable. An overall hard-hitting song, but in the most thoughtful and tender ways. There's a consistent dispirited mood found throughout this album, yet the hopefulness neatly tucked into the songs isn't completely lost to the listener. It's a difficult combination to express with words, but it's there. 
My personal favorite song from this album is the third track, Heresy. There's a twinkly distortion beneath the verses and an addition of soft, undeniably pretty vocals from Che in the background that add a remarkable depth to the song. Chvasta's voice comes off powerful and soars above the dismal emptiness, and Ryann, a driving force, leads this dark shoegazy song to its climax and beyond. A mighty hurrah for dynamics!
Recommendation: Perfect for staring at the ceiling while contemplating life choices. For fans of the moody sounds of Miserable, King Dude, Windhand, Deafheaven, and SubRosa.
Rating: 3.95/5