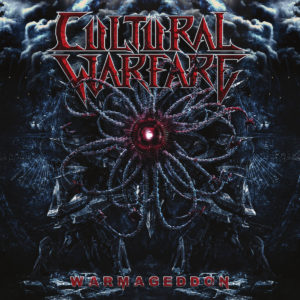 Band –  Cultural Warfare
Album – Warmageddon
Country of Origin – USA
Genre – Thrash
Release Date – September 14th, 2018
Label – M-Theory Audio
Author – Johnny The Fox
When Metallica coined the immortal phrase, "No Life 'Til Leather," one wonders how prescient they were. Could they actually have known that 35 years later it would remain a battle cry for thrashers everywhere? Regardless, thrash metal is alive and thriving in 2018. From the care-free "party thrash" of Warbringer and Municipal Waste, to the technical wizardry of Hatchet, to the socially-consciousness bite of Power Trip, new acts are leading the way alongside the old guard.
Case in point: Oakland, California's Cultural Warfare. Bridging the best of the classic Bay-area sound with occasional modern tones, Warmageddon is one electrifying doozy of a thrash record. Of course, Cultural Warfare delivers all the musical elements diehard rivetheads would expect: breakneck tempos, galloping and stuttering triplet-infused riffs, wicked lead breaks, and enough angst to incite a massive wall of death. Fans of early Metallica, Exodus, Death Angel, and Testament (particularly in reference to the splendid guitar harmonies) will eat these songs up; those into the darker and more modern/downtuned riffing style will enjoy that added spice, as well.
But Cultural Warfare's music offers thrash fans much more: a fantastic sense of melody, and a consistent infusion of that most precious and rarefied intangible — soul. Vocalist Jacques Serrano exudes that innate soulfulness through his versatility; not only can he belt it out with a throaty rasp — ala Metal Church's David Wayne or Annihilator's Randy Rampage — but he also legitimately sings with a powerful and pristine tone, as on the beautiful quasi-ballad, "Eyes of the Land." This infectious tune also personifies the band's socio-political consciousness, reflecting on the depredations of our natural environment through the natives' eyes.
Cultural Warfare interweaves this humanist spirit of thoughtful protest throughout these 12 tracks. The thing is: the songs here are much more than intelligent lyrics spewed over an arbitrary collection of fast-and-brutal thrash riffs. Indeed, the band — Serrano, guitarists Billy Garoutte and Kevin Doughty, bassist Pete Aguilar, and drummer Bones Padilla– have created songs that are expertly-written, melodic, and invigorating to the maximum extent. That's a recipe for some killer thrash, and Cultural Warfare are one promising band to look out for.
Highlights: "Divided We Crawl," "Eyes of the Land," "Scars Left Cold," "Witches Prayer."
Rating – 4.5/5