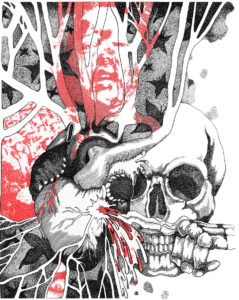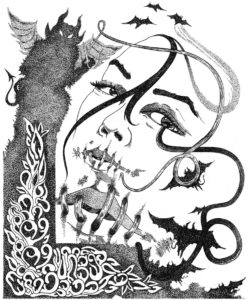 Band – Cloud Rat
Album – Clipped Beaks/Silk Panic
Genre – Grindcore (?)
Release Date – October 11, 2018
Label – Independent
Author – JGilbert
It's difficult to do justice to Cloud Rat. Ever exploring new musical territory, Michigan's most unique grind punks have been pushing envelopes and making records since 2010. In that time they've earned the attention and accolades of critics and fans around the world all while turning the word "grindcore" on its greasy unwashed head. Cloud Rat are one of the most daring bands in music right now and nowhere do they exhibit their creative breadth like on their numerous splits with other artists. In an effort to raise money for a 2019 full length, the band has compiled five of their recent splits into a double album, Clipped Beaks and Silk Panic, out now as an independent release. Being hailed by many these days as one of the "need-to-know" bands shaping the future of grindcore, this compilation is the perfect opportunity to sink teeth into one of Michigan's most special bands.
Clipped Beaks
The first four tracks off Clipped Beaks are from a split with German dbeat punkers Crevasse. Cloud Rat's contributions are short, frantic grinders that burst forth from a background atmosphere of dark urban synths. A flurry of drums and panicked shrieking follow in crunchy sub-2-minute bites. "Fangs upward, over the lip" as the violence powers on. Rising out of a sample of industrial noise (that I believe actually came from Star Wars…), split closer "Fish in a Bowl" has a distinctly peppy punk feel that I'm not used to hearing in Cloud Rat's music, but certainly seems to work here.
The next four tracks are from a 7" with Brazilian "nomadic deathgrind" band Test. The influence of their collaborators is evident in the heavier downtuned sound compared to the songs at Clipped Beaks' beginning. The difference is made even more stark by the way they dive into the drop-tuned abyss in such proximity to the fun but out-of-character "Fish in a Bowl". The standout track from this section, and indeed from the first half of Clipped Beaks, is the track "Hollow Bones", which explores some of the more adventurous sounds on the album. Every re-listen, when I found myself thinking "this just got really interesting all of the sudden," it was on this track.
Tracks 9 through 12 are from a split with Drugs of Faith, a "grind-n-roll" band from northern Virginia. These songs would make a great standalone EP, as they show off an impressive diversity of sounds and influences while maintaining the base-level ferocity that one expects from Cloud Rat. In a surprise turn from their mostly original material, the side finishes with a bombastic grind-punk cover of Alice in Chains' classic "Them Bones". It's an odd choice, like most things Cloud Rat do, but it works; affording listeners a good ol' familiar romp before proceeding to the final and most epic chapter of Clipped Beaks.
"Epic" is an overused term, but it truly is fitting to describe the final split on Clipped Beaks. Cloud Rat's single-song contribution to their split LP with "extra heavy metal" Chicago sludge mand Disrotted. Disrotted's songs are long and ponderous, and so is Cloud Rat's massive 18-minute behemoth they laid down in "Holding the Picture". The song is worthy of its own write-up and would make a good flagship song for the band if any grind fans had the patience for something that takes its time like Cloud Rat do on this beast of a track. Commencing as the band is wont to do with dark synths and disembodied cries, "Holding the Picture" shifts into gear with Cloud Rat at some of their most "art rock", as whole-note chords dripping with effects suspend over flailing drums. Tempos shift often, as expected. Moods shift often, too, but stay within an emotional arc that sweeps from "gloomy brooding" to "frenetic destruction". A particularly noteworthy moment is when the vocals take on a sound as if they were recorded from another room. Cloud Rat is usually alien and "othering" but the effect makes for a feeling of being even further removed. Were "Hanging the Picture" taken as a standalone single-song EP, I would call it a perfect 5/5 and strong AOTY contender; it's that good.
Silk Panic
The second album of Cloud Rat's double release is only two splits instead of the three featured on Clipped Beaks. The first seven tracks come from a collaboration with New Orleans shadowculture goths The World Is A Vampire. TWIAV wake for a good pairing with Cloud Rat, both featuring some similar recurring sonic elements. Though they come from different scenes, they two are a natural fit and the goth influence on Cloud Rat is immediately apparent in the albums somber piano and vocals opener. "Wish Maid" is so far removed from the group's typical material that it catches listeners off guard, which is the point of a good Cloud Rat split. Within seconds of follow-up "Nago", any uncertain listeners are reassured that this is still a Cloud Rat record; with feverish drumming and hysterical shrieks over strange and unsettling guitar work. Over the rest of the split, the group incorporate many sounds all jumbled together, sometimes repeating a riff multiple times to establish a groove just so they can break it a moment later. A peak example is in the song "Refraction" with its memorable riff that gets shifted and changed throughout the song. In addition to the goth influence from TWIAV, once can also hear an audible "noise rock" edge to the guitar tones and riffs, and of course, there's powerviolence. The final track of The World Is A Vampire Split, "November" becomes unexpectedly synthetic and trippy as it closes; providing something of a twisted bookend to the more traditional piano sound of the split's beginning.
The final group of songs, a split with sludge punkers Moloch from Nottingham, UK. These songs are apex grinders, showing that despite their experimental tendencies, Cloud Rat have their grind-punk fundamentals in spades. "Sueno" and "Perdiak" are highlights of the band's heavier material. The band gets more experimental and sludgy on "Baby Sling Balloon Born", its pitch-shifted alien vocal outro giving way to the churning riffage of "Biting the Air". Between those two tracks, there are hints of the more progressive moments of Leviathan-era Mastodon; when Cloud Rat take influence from others, they incorporate the best parts. The penultimate banger "Pit" ends in a wall of digitized sound that gives way to a chillingly delightful dark synthwave feel for album closer "Amber Flush"
Overall, Clipped Beaks/Silk Panic is a formidable work of art. Huge in both its tracklist, run time, and time spent incubating in production (some of the earlier splits the albums are compiled from date back to 2017), the albums benefit from the changing of time and collaborators to the effect of an impressive and eclectic soundscape. The same factors also hurt the albums in some respects because, being a compilation of splits, there isn't a lot of coherency or continuity from one song to the next and ideas that deserved more space to develop and come into their own are denied that opportunity. With that the album's only real limitation, I can't wait to hear what daring new ideas Cloud Rat brings to their upcoming full-length.
Recommendation: Throw things around the room and tear your hair out in fist-sized chunks as you wonder if this is even really grindcore anymore.
4.75/5