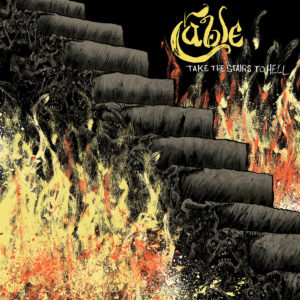 Band – Cable
Album – Take the Stairs to Hell
Genre – Atmospheric Sludge
Release Date – July 26, 2019 
Label – Translation Loss Records
Author – JGilbert 
2019 will mark twenty five years in the business for one of New England's most underrated bands. Cable had all the promise and potential to be as big as their contemporaries in Isis, Botch, and Cave-In, but a series of unfortunate setbacks and frustrations around the turn of the millenium denied Cable the climactic success they seemed on track for. The band never truly called it quits, however; continuing to release albums, a dvd and a reissue throughout the 00's. After a long silence following 2009's The Failed Convict, many fans began to think there would never be another Cable record. One month shy of a decade from their last release, Cable are back with Take the Stairs to Hell. This monument to the depression, negativity, and frustration the band has experienced over the years comes with a star-studded cast of features and guest appearances from members of Palms, Isis, Empty Flowers, Tombs, and more. 
Take the Stairs to Hell starts off as a neanderthalic stomp-n-romp with standout tracks "It Cost Me Everything" and "Black Medicine". The sound is congruent with the classic era of northeast noisecore that Cable originated in plus a healthy scoop of Electric Wizard-style stoner fuzz. The tempos dial back to the low-mid range for the middle of the LP, with "Rats on Fire" making maximal use of the plodding, drawn-out pace. The album closes even slower with the title and outro tracks taking on a doomy Nick Cave vibe. After a quarter century of practice, Cable would rather perfect their style than expand it, and Take the Stairs to Hell doesn't display very much musical variety. That's not really the point of this kind of music, but it does make for a slightly diminished listening experience. At the same time, I'd prefer an artist show me what they can do well rather than attempt something beyond their scope and fail.
Fans of any of the bands mentioned above should check this out. I'd also recommend anyone who likes stomp-n-fist pump hard rock like Clutch give a spin to Take the Stairs to Hell. It lacks the subtlety of Isis and the sinister dread of Neurosis, but all the essential winning elements are present and performed with an experienced dexterity that modern sound-alikes can't seem to match.
Recommendation: Add this album to your favorite sludge or hard rock playlist; the highlights would make great heavy metal drinking party material.
3.5/5