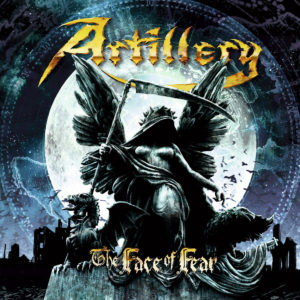 Band –  Artillery
Album – The Face of Fear
Country of Origin – Denmark
Genre – Thrash Metal
Release Date – November 16th, 2018
Label – Metal Blade Records
Author – Johnny The Fox
Old-school thrash fanatics still have plenty to mosh to these days. Between consistently stellar work from the old guard (Megadeth, Overkill, Testament, Death Angel, Flotsam and Jetsam, etc.), to promising offerings from newcomers such as Power Trip, the old Exodus enticement for "good friendly violent fun" rings as true as ever.
That's just covering the scene here in America. Let's not begin to leave great European trailblazers out of the equation. Case in point: Danish power/thrash stalwarts Artillery. Many lifelong thrashers will be familiar with the band's name if only due to their longevity — they formed in Copenhagen way back in 1982. Despite a rollercoaster career rife with setbacks and numerous lineup changes, the core Artillery battery of guitarist brothers Stützer (Michael and Morgan) have persevered brilliantly. Their latest barrage, The Face of Fear, offers a refreshingly refined and melodic take on the classic speed/thrash formula.
Now, Artillery have always employed catchy riffs amid their raw and rather bellicose thrash attack; this is epitomized here by their re-recording of 1985's irresistibly galloping, "Mind of No Return." But Artillery circa 2019 — featuring vocalist Michael Bastholm Dahl, bassist Peter Thorslund, drummer Josua Madsen, and the brothers Stützer manning the guitars — have amplified the dose of melodicism by several Howitzer rounds. While old-fashioned, blistering speed metal still holds sway on The Face of Fear (the title track, "Sworn Utopia," "Preaching to the Converted,") a plethora of tempos, moods, and melodies create a balanced listening experience. Additionally, the clean, powerful tenor voice and melodies of Bastholm Dahl contributes to a stunning blend of power metal and thrash.
This is one of those rare albums where it's all killer and no filler. In fact, the sheer quality of the songwriting displayed makes choosing favorites damn-near impossible. But hey, one can't go wrong with the driving title track, which showcases some truly infectious vocal melodies. "Crossroads to Conspiracy" deftly shifts between blues-soaked, doomy groove and frenetic speed metal with finesse; "Through the Ages of Atrocity" offers telltale, mid-paced crunch seemingly trudged from the archives of Accept and Saxon. The stirring "Thirst for the Worst" employs a magnetic stomping groove and some of Bastholm Dahl's most compelling vocal melodies. He especially shines on the fantastic quasi-ballad "Pain," in which he emotionally belts out the primordial cry of existential crisis: "Pain, pain/it runs through my veins/I'm only waiting here to die."
No, this may not be the exact 1980s battery of Artillery that wiped out the trenches and barbed-wire entanglements of hair-metal posers. But this more refined brand of pure Danish power/thrash is satisfying indeed.
Highlights – "The Face of Fear," "Through the Ages of Atrocity," "Pain," "Mind of No Return"
Rating – 4.5/5