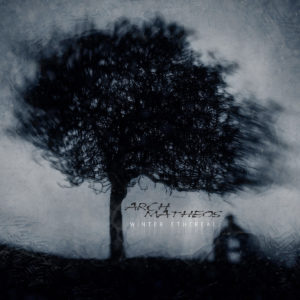 Band –  Arch/Matheos 
Album – Winter Ethereal 
Country of Origin – U.S.A.
Genre – Progressive Metal 
Release Date – May 10th, 2019
Label – Metal Blade Records 
Author – Johnny The Fox
Winter Ethereal — the phrase and also the title of this second and latest Arch/Matheos album — conjures a myriad of images to the mind. It bears heavy emotional connotations, such as both literal and psychological deep freeze, complemented by a mystical and magical sense of lightness and rebirth. The title promises the innate hope of spring beyond winter's psychic darkness. 
John Arch and Jim Matheos — the legendary original voice and founding guitarist/principle songwriter of Fates Warning, respectively — here have delivered a modern progressive metal record equal in both ambition and quality to its emotionally-resonant title. Much like with 2011's Sympathetic Resonance, Winter Ethereal is a technical, dense, and dynamic slab of melodic brilliance (with nine tracks clocking in at over 65 minutes). But the duo also offers some welcome surprises this time around, including an all-star cast of supporting players and some more streamlined and bonafide metallic moments. The result is some of their best and most satisfying work outside of FW. 
Unlike with Sympathetic Resonance, this time around Arch and Matheos penned nine tracks without Fates Warning in mind. They wisely invited the contributions of a myriad of metal luminaries: bassists Joey Vera, Joe Dibiase, and Steve DiGiorgio (of Armored Saint/Fates Warning, FW, and Death/Cynic/Testament); and drummers extraordinaire Bobby Jarzombek (Riot/Iced Earth), Sean Malone of Cynic, and Thomas Lang. This veritable prog-metal all-star team weaves spellbinding soundscapes throughout, propelling us forward on a roller coaster that often crash lands into a carnival funhouse. Take opening cut, "Vermillion Moons," for instance — jagged, palm-muted guitar riffs segue into mystical arpeggios amid complex time signatures, capped by a driving pulse and captivating vocal melody in the chorus, and Matheos' tender lead melodies.
Throughout Winter Ethereal, Arch, soaring atop the nocturnal treetops, sounds as pristine and piercing as ever. His flawless vocal melodies evoke natural affairs of the heart through a pervading mystical air. But as impressive as these performances are, the songs strike true with an Arch(er's) precision. The haunting "Wanderlust" captivates with some mellow, chiming harmonics, followed by a pounding, accented riff; the intro to "Tethered," with its lilting arpeggios, serves as an über-memorable foundation a remarkably-dynamic tune. "Straight And Narrow," by contrast, is a double-bass driven, proggy shredfest; "Pitch Black Prism," riding groove and syncopation, swings and crushes simultaneously. 
Ultimately, the closing epic, "Kindred Spirits" reminds us — in the most plaintive, gorgeous, and headbanging manner possible — that we are all brothers and sisters of the human family. Simply stupendous. 
Highlights – "Vermillion Moons," "Wanderlust," "Pitch Black Prism," "Kindred Spirits."
Rating – 5/5