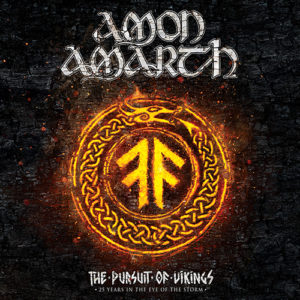 Band –  Amon Amarth
Album – The Pursuit of Vikings: Live At Summer Breeze
Country of Origin – Sweden
Genre – Death/Power
Release Date – November 16th, 2018
Label – Metal Blade Records
Author – Johnny The Fox
Spring may finally be upon us, but in some ways the glorious Nordic winter lives eternally. Telltale stories of brave Viking warriors, invincible gods, and vanquished enemies have spread thoroughly throughout the realms of metaldom. They proffer strength and solace in our times of greatest strife; they comfort us and motivate us to fight and conquer our enemies, both from without — and within.
Swedish melodic death-metal gods Amon Amarth are still stoically guarding the Gates of Valhalla, 27 years after their inception. A stalwart bastion of stylistic quality and consistency, the hugely popular quintet has successfully avoided the identity crises and inconsistencies of some of their Scandinavian melodeath counterparts. Indeed, Amon Amarth's natural amalgamation of black metal, death metal, power metal, and European folk music remains as potent and undiluted as ever.
Their 2018 live album, The Pursuit of Vikings, stands tall as a near-perfect overview of their storied career. It also serves as a nice stopgap for diehard fans waiting in anticipation for their next studio album, Berserker, due out on May 3rd. At 30 tracks spanning most of Amon Amarth's 11 studio releases, The Pursuit of Vikings is the full meal deal. Not only are the performances and song choices top-notch, but the production sounds powerful and crystal-clear throughout. This allows the band — comprised of longtime members Johan Hegg (vocals), guitarists Olavi Mikkonen and Johan Söderberg, bassist Ted Lundström, as well as new drummer Jocke Wallgren — to inspire and decimate the listener in equal measure. These songs offer a tantalizing blend of extreme-metal brutality and innate melodic sensibility that is nothing short of brilliant.
For instance, Amon Amarth perfectly juxtaposes  ubiquitous extreme-metal elements — blast beats, blitzkrieg tremolo picking, and deep vocal growls — with harmonized, intricately-melodic guitar parts, and singable choruses. But the Viking gold here exists in the sheer, irresistible catchiness of the overarching song structures. From the blistering, black metal-esque tunes such as "Twilight of the Thunder Gods" and "With Oden On Our Side," to the blazing ode to sweet vengeance "For the Stabwounds in Our Backs," to the rousing "As Loke Falls" and pounding groove of "Raise Your Horns," The Pursuit of Vikings is relentlessly impressive.
In fact, there's so much greatness on display here that it may be best to try to digest this massive Nordic metal tome in a few sittings. For as great as this live album is, one can't help but feel that the best of these berserkers is yet to come.
Highlights: "Twilight of the Thunder Gods," "The Last with Pagan Blood," "For the Stabwounds in Our Backs," "As Loke Falls," "The Fate of Noorns," "Raise Your Horns."
Rating – 4.5/5