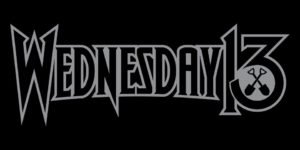 Music is known to encompass the mind and connect to the audience, and here to enhance it further is the band Wednesday 13.  By igniting the audience's imagination, Wednesday 13, like a painter, has used music as the canvas for the stories being portrayed both on stage and in the albums. To create music and make it a story for the audience to experience both aesthetically and creatively and entrance their audience on another level. 
Wednesday 13 is currently on the 20th Anniversary Wisconsin Death Trip Tour. The tour is also serving as a memorial for the late Wayne Static, and includes the bands Static- X (of course), Devil Driver, Raven Black, and Dope. The versatility of the bands playing on the tour has drawn a large fan base, allowing new fans to take in the ethereal, cinematic experience that is Wednesday 13. Upon asking  front man Joseph Poole, about touring he responded with, "We are playing in front of a lot of new people, so the point for us is to infect a lot of those new people so they know who we are." Joseph reminisced about his encountes with Wayne Static over the years and commented, "To see Static-X come back to life, it's strange and it's powerful and it's feeding what the kids miss. It's like Wayne's there, and you can see it in the audience."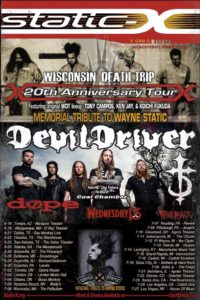 While on tour, the band is in preparation for the next stage of artistic metamorphosis with a new album entitled, "Necrophaze", expected to be released this September. Wednesday 13 has been driven and dedicated to their art and will be invading the music industry. Extending beyond music, they try to provide their audience with a picturesque story, whic encompasses the senses and takes the exquisite horror rock genre to another level while maintaining their own unique sound. 
When asked about the artistic process of Wednesday 13 and what has helped shape the band, Joseph responded with,  "I try to paint a picture or visual; I don't want you to just feel the music, I want you to see it. I want you to be part of it. So, I tried to bring this very theatrical, cinematic sort of vibe to our show, where people are just entranced and into it. Like, I look out [at the crowd] there's nobody moshing, jumping, or pitting to our songs, they are watching it like it's a movie, and that's a really cool thing to see. And it's something I have really engaged in the past couple of years, and I literally just put it into full throttle on this new one [Necrophaze]. People are going to see that in September, and this is my masterpiece."
Joseph references the genre of Wednesday 13 to Horror Rock and will pursue his end goal of making Wednesday 13 a household name. After maintaining sobriety from alcohol for a year and a half, although very much 420 friendly, Joseph references his sobriety and how it has directly affected his creativity as an artist. "I re-discovered the whole reason why I started doing this. It's been my path, and it's all making sense to me now." Joseph expands upon on sobriety stating, "It has been the biggest and best change in my life. It was like a veil that was blocking a signal for me to connect, and once I got that out of the way, I got back to me."
When asked about the future plans for the band after the new album drops, Joseph replied, "To dominate the whole planet is what we're doing. Just show people that we have a show and an album that's next level for us. And I think it's next level for our music genre."
"Necrophaze" is much anticipated with a release date right around the corner. Poole himself, also the vocalist of Murderdolls, has been involved in multiple projects and has been a part of numerous bands, so it was natural to ponder if Wednesday 13 had any future plans of collaborating with other artists. Upon asking Joseph of any plans for working with other artist, he responded with, "I can't tell you about it, because you will hear about it on our new record."
Joseph offered to up and coming artists, "Get in to stay, or just stay out of it. It's my advice, if you aren't here to do it to the end, get the fuck out. If you aren't willing to lose everything around you, get out. Rock and roll is not an easy world to survive in, especially if you are not following the rules."
As a shout out to both new and old fans of Wednesday 13, Joseph states, "Get ready for the next phase. The next phase is the Necrophaze."
      The Wisconsin Death Trip 20th Anniversary Tour makes it way to Grand Rapids where Moshpit Nation will be in attendance on July 16th so do not miss this amazing line-up. The mysterious masked singer going by the name Xer0 will be fronting Static-X onstage. There are rumors and guesses who is behind the mask but there has been quite a bit of hype about his performances on the tour so far so do not miss your chance to catch the show at the Intersection in Grand Rapids.  Be sure to find pictures of the show here and on Facebook after. Doors are at 6PM, this is not a show to be missed. For more info check out Sectionlive.com. We will see you there!!
https://officialwednesday13.com/
By Shantelle Thornton