Band – Tryptamyne
Album – Tryptamyne
Country of Origin – USA
Genre – Avante Garde Deathgrind
Release Date – March 23, 2019
Label – Vargheist Records
Author – Hayduke X
Let me start by getting something off of my chest. Tryptamyne is a weird EP by a weird band. Let me assure you while this is 100% true, it's not a bad thing. I'm actually unaware of another release that takes you on such a strange journey in only thirteen minutes. The self titled release actually feels much longer in a wild 'What just happened?' kind of way. Don't believe me? Check out Unlearn below to hear a taste of the strange lounge grind that is a part of the overall picture here. I suppose the track is as representative as any on the EP, but certainly doesn't give the full picture.
So who are Tryptamyne? They are a California based quartet featuring Mikey Pruzensky (bass, guitars, backing vocals), Brad Dodd (drums, lead vocals, backing vocals), Sarah Richardson (backing vocals) and Aika Zabala (lead vocals, backing vocals). It's not a huge surprise that everybody sings. Vocals are all over this thing. There's various styles of extreme vocals, screams, harmonics, clean swinging, and more. Musically, the riffs are aggressive and angular, when they are not swinging as much as the vocals. The bass gets into the action with some catchy lines dragging the music forward boldly at some points. As far as drumming, Dodd runs the gamut here as well. From blasts to jazz and back again, so to speak.
Lyrically, the band seems to have something to say at points, with commentary of the damage done to the world by humanity. At other points, the lyrics seem almost stream of consciousness. They are a puzzle I have not yet solved, which just adds to the intrigue.
This brief EP marks the debut of new extreme label Vargheist Records and a worthy debut it is. The bizarre, yet gripping nature of this initial offering gives hope for a bright future for the young label. Already they are not playing it safe. Already they are finding quality. My advice? Dig in!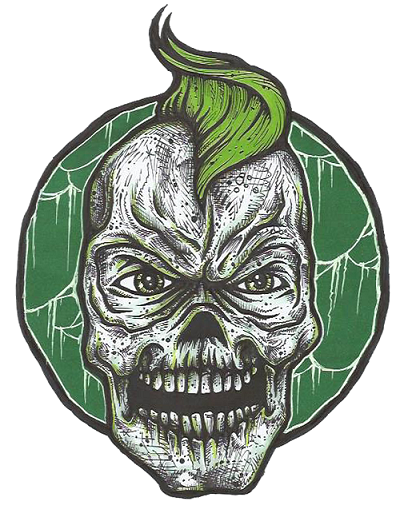 Biography: Hayduke X has been writing for MoshPitNation since June of 2016. Prior to joining the MoshPitNation team, Hayduke published reviews on his own blog Rage and Frustration. In addition, he has DJ'ed an online metal radio show of the same name as his blog, written for TOmetal.com, done interviews for Metal Rules, and collaborated with The Art of B Productions to create video interviews with a wide variety of bands.