With the summer festival season upon us, concert-goers get fewer tours through Michigan, but here are some of the upcoming highlights. Find the entire list atwww.MoshPitNation.com.
July 12
Tru-Burn, 6 Prong Paw and more @Louie's Rocket Lounge (Grand Rapids)
Tru-Burn features dirty and heavy stoner rock and is paired with the hard-rocking 6 Prong Paw.
July 17
Mayhem Tour @ DTE Amphitheatre (Detroit)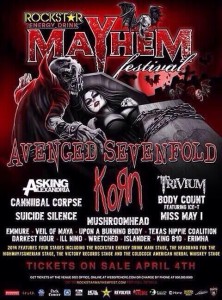 Avenged Sevenfold, Asking Alexandria, Korn, Trivium, Cannibal Corpse – you already know these guys. But, did you know that Body Count is also playing the tour? Ice-T, motherfuckers!
July 18
FLAW (original lineup) @ The Music Factory (Formerly Planet Rock – Battle Creek)
Like Deftones? You'll like Flaw.
July 20
Skid Row and Kill Devil Hill @ The Music Factory
Skid Row needs no introduction. Kill Devil Hill is the new band of Rex from Pantera. Groovy hard rock.
July 21
August Burns Red, Wolves at the Gate @ The Intersection (Grand Rapids)
This show features metalcore at some of its finest. Riff-y, breakdown-y goodness.
July 24
Scale the Summit, Glass Cloud @The Stache (Grand Rapids)
More amazing metalcore here. Glass Cloud is the shit. Check out their cover of Everybody Wants to Rule the World.
Aug. 6
Summer Slaughter @ The Crofoot Ballroom (Pontiac)
THE metal fest of the summer! Morbid Angel, Dying Fetus, The Faceless, Thy Art is Murder, Goatwhore, Origin, Decrepit Birth, Within the Ruins, Fallujah.
Aug. 7
Eric Johnson @ The Intersection
An OG of the metal guitar world. His colleagues are Steve Vai and Yngwie Malmsteen.
Aug. 8
Sebastian Bach @ The Machine Shop (Flint)
No additional words needed. This dude can STILL sing.
Aug. 9
Dirt Fest @ Birch Run Expo Center
Killswitch Engage, Sid Wilson of Slipknot, Battlecross, Chimaira, Psychostick and tons more. This is an all-ages metal fest.
Aug. 24
Les Claypool's Duo De Twang @ The Intersection
Les is finally coming to Grand Rapids again! Although, this time, he takes his tunes and those of others, and does just what the name says…he twangs them up. Check it out. I'm hoping it's going to be better live.

Sept. 13
Clutch @ The Orbit Room
The return of the almighty Clutch! They are masters at blending heavy, stoner rock with bluesy elements to create fantastic-ness like none other. If you've never seen them live, you're missing a helluva a good time.
Sept. 15
A Day to Remember, Bring me the Horizon, Chiodos, Motionless in White, Capture the Crown @ The DeltaPlex (Grand Rapids)
Modern metal fused with electronic edginess that all the cool kids like.
Sept. 21
Five Finger Death Punch, Volbeat, Hellyeah, Nothing More @ The DeltaPlex
You probably already know FFDP — they play on the radio every hour and do horrible covers (i.e. "House of the Rising Sun"), but do you know Volbeat? They're like Elvis meets Danzig meets rockabilly.
Oct. 5
Agent Orange @ The Pyramid Scheme (Grand Rapids)
One of the first bands to infuse surf and punk. They started in 1979 — that's probably before you were even born. So, discover some of your roots and go see this show.
Nov. 20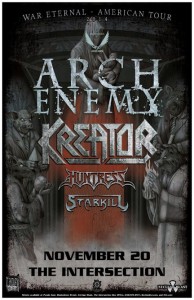 Arch Enemy, Kreator, Huntress @ The Intersection
The new singer and guitar player for Arch Enemy will make their debuts in Grand Rapids for this show. Will they be as good?? Also, Kreator! This is Another OG metal band. Check out their thrashy, German awesomeness.