I won't say too much here. On of the things I'm learning as an ally is to step back. The world has many enough white male voices. Many of the artists on here include at least some black members. That's intentional, as those are voices which need to be centered right now, in this moment. I think, right now, I'm better off listening, and when I do use my voice, use it to speak to other white people about becoming allies. So, my message today is that purchasing this compilation full of 46 tracks of amazing punk, metal, hardcore, and more is the least we can do as white allies. Let's do that, and then go beyond by listening to how we can become allies in all movements against oppression, and then following through. I'll leave the rest to some quotes which came in the promotional materials, and then the interviews I did with several of the involved bands. For most of them, I asked the same five questions. I went a different route with Mani of Racetraitor, since he is the organizer. I'll present that interview first, below the music.
Check out The Movement For Black Lives (Click the name).
From Mani Mostofi singer of RACETRAITOR and organizer of SHUT IT DOWN:
 Like so many others I felt a rage at seeing the video of George Floyd's death but when Minneapolis rose up, I knew we entered one of those historical movements that require all of us to do whatever we could to fight racist policing and defend black lives. This compilation is just one small contribution to that struggle.

Nearly everyone my friends that I contacted wanted to participate in the comp, so we ended up with so many more amazing bands taking part than we anticipated. We also had engineers donating mixing and master, illustrators donating artwork, and publicists donating PR. It was a community effort all around.
From Sacha Jenkins writer, filmmaker, and guitarist of THE 1865:
Black people are the personification of rock n roll—as originators and as beings. It was born as a reaction to and reflection of oppression, and in many regards that spirit remains. As Americans, this is our way of lickin' shots at a cornball cult leader and his spineless lackeys. Plus…shit sounds and feels good.
From PRIMITIVE MAN/MANY BLESSINGS front man, Ethan McCarthy:
We wanted to do this because it is an election year and Black people are still running…for their lives. Any movement that supports uplifting black lives – we have to back that. No peace without justice for all people, no peace without justice for black, indigenous and all people of color.
The Interviews
Racetraitor
HX: I'm hearing from other bands that you the one who put all of this together. How and why did this all get started?
Mani: Well the purpose of our band has always been to challenge the institutions of white supremacy, chief among the criminal justice system. George Floyd's tragic murder was one of those historical moments when you are asked to take a stand and words are not enough. This compilation, and raising some funds for the movement, is one small way to show solidarity.
HX: There are a lot of bands involved. How hard was it to put all of this together?
Mani: Coordination was a bit tricky.. but actually it was pretty easy to recruit bands, and audio engines, and illustrators . We wanted about 20 bands and got 46. I asked my friends and they asked theirs and it snowballed. We planned to make sure black artists were substantially platformed, but even that came organically. All the bands we worked with really believe in this cause, some came out of COVID quarantine to record. It was a community effort in many ways.
HX: I guess that's a microcosm of how real change is brought about. Community, solidarity, friends working with friends, working with friends. Do you see any possibility of this serving as a kernel for more?
Mani: I am sure in our little underground scene, we will all continue to fight side by side. In the world at large? In the country at large? I can only hope this moment will shift power and bring justice and dignity to black people. Really the world feels like it's being subjected to an old testament fold. Literally, we've got rising sea levels. We've got rising fascists. It's all scary, but it is up to all of us to MacGyver an ark big enough for everyone. Can we do it? I believe so. Black Lives Matter is a wake up call.
HX: Outside of music, what are next steps? Any ideas for a couple of tangible and manageable ideas to get started and then build from?
Mani: I know no secrets. I just know we have to keep the pressure up and get organized. We are getting there. People are trying to stay in the streets to not allow normalcy ro return.  Normalcy is violence. Black Lives Matter started as a hashtag. Now you've got groups like the Movement for Black Lives or Black vision Collective. And we need more. Local groups, mutual aid efforts, unions, and collectives that have working class black folk and other marginalized voices at the center. We need to build new forms of power, media, politics, art, and mutual aid. Try and fail and then try the next thing. That is all I know.
HX: Tell me about the Racetraitor track.
Mani: I guess it is about Kyle Rittenhouse. It was written before his crimes in Kenosha obviously, but is generally about far right male vigilantes and lone wolf terrorists. I wrote it just after the Christchurch killings. I come from a Muslim and immigrant background. The dead could have been members of my family. So that one felt close to home.  That song is me trying to explore where these killings come from. I see all these failed young white guys are trying to prove themselves and their manhood through fascist violence. Their confusion and self doubt is weaponized. But when writing it, I really felt they are going to lose, because we are coming together. Look at Christchurch, a Maori biker gang protecting a Mosque is exactly what these fascists fear. They fear us coming together the most.
Amygdala
HX: What do you think this Comp means in this moment?
Amygdala: This comp is against police violence on black lives. This comp is FOR black lives. 
HX: What do you know about the organization that will be receiving the proceeds?
Amygdala: The org the proceeds are going to is called M4BL. Movement for Black lives. I know it's an important organization that focuses on education, organizing and taking action. 
HX: Tell me about the track Amygdala is contributing.
Amygdala: The track we contributed is an old song recorded on a tour at our friends Shawn's house four years ago, that's been re-recorded just for this comp. 
HX: Other than your own, which track are you most excited to hear?
Amygdala: I'm very excited to hear contributions by Solarized, Disembodied, With War, Neckbeard Deathcamp, Sunn 0))),  Terminal Nation, and Redbait. Honestly the whole comp is heavy and I'm looking forward to it. It's 40 something songs for $10.
Terminal Nation
HX: First of all, how did Terminal Nation get involved with this Comp?
Stan: A couple of months back, right after the death of George Floyd, my friend Mani from the band Racetraitor hit me up about doing a benefit comp. That's really all I needed to hear and we were totally in.
HX: What do you think this Comp means in this moment?
Stan: I am always big on using the platform that you've got. As we all know, historically the metal scene hasn't always been the most progressive of movements, but it's about time that we make things change, not just on a micro scale in our music scene, but in as big of a macro level as possible.
HX: What do you know about the organization that will be receiving the proceeds?
Stan: I know Mani has been researching for a couple of months now a trusted organization for the comp. It is M4BL, The Movement for Black Lives that provides a space for black organizations across the US to connect and help invoke change.
HX: Tell me about the track Terminal Nation is contributing.
Stan: For the comp, we re-recorded an older song from our first EP. The song is called Cop Drop. It's always been a song that's had a pretty crazy reaction in a live setting, we have always wanted to rerecord it to beef it up a bit and kind of replicate the energy it has in a live setting. When approached about this comp, we figured it was the perfect time to make it happen. I am doing vocals for the first half of the song, but at the mid point the vocals are taken over by Tommy, our guitarist. As a black dude, it's important for him to be the main voice in the band to be heard right now and that foo crushes it on his vocal part. It really has a bit of a Body Count / Biohazard / Downset vibe, but it's still Terminal Nation all the way. I think it came out great.
HX: Incredible! I can't wait to hear it. Other than your own, which track are you most excited to hear?
Stan: Wow, that's a tough and great question. My mind is blown looking at the track listing and the vast number of quality acts on there, but for me, I'd say the new Rwake track has me most amped. It's their first recorded output in like 9 years, I believe. That's a phenomenal band and Arkansas metal music heroes and they can do no wrong. I hear it's almost 10 minutes too, so that has me even more pumped.
Cloud Rat
HX: First of all, how did Cloud Rat get involved with this Comp?
Rorik: Hey! Mani from Racetraitor approached us via email about it.
HX: What do you think this Comp means in this moment?
Rorik: I think it shows what can happen when everyone unites for a good cause, and the sheer amount of musicians and others involved in this (and many other recent comps!) is another example of how huge the movement is right now.
Brandon: I guess for me personally it's an important intersection between punk / extreme music and actual real outrage coming together for a common cause of (hopefully) change and action. I think lots of us for a long time fall easily into the 'make art not action' category, which there is absolutely a place for, but it's important to also raise some funds and put resources into areas that need to change.
HX: What do you know about the organization that will be receiving the proceeds?
Brandon: From what I've looked into, it's somewhat of an umbrella distributing resources (money, information, communication in terms of legal advice etc.) for the BLM movement. There's a pretty cool breakdown of their five year plan and changes that are wanting to be made from a local to nationwide level, including plans to diversify government and give underprivileged folks a real voice. Or at the very least, give and distribute knowledge and resources to put some of these things in motion.
HX: Tell me about the track Cloud Rat is contributing.
Brandon: It's a deranged jammer that could've only come from quarantine. Rather than our 'usual' recipe of guitars / drums / vox – this track came out of forced distance and isolation. Sound sources were obtained from field recordings of our respective workplaces and arranged and dissected into a modular synth and computer. A violent, electronic composition that I think feels about as manic and angry as the current American atmosphere.
HX: Whoa! I can't wait to hear that! Other than your own, which track are you most excited to hear?
Brandon: Damn yo that's hard – I'm a huge Sunn O))) fan, so I'm always excited to hear what they do, but honestly the whole roster is sick and I think everyone is gonna drop something a little different – I think creativity at this time has felt both stifled and absolutely necessary these days, so I expect some cool new things to happen and come from a lot of these bands.
Rorik: The Thou/Silver Godling track is fucking amazing.
Brandon: Oh god that's right. I heard an early version and it's insane. Beautiful.
Burn
HX: First of all, how did Burn get involved with this Comp?
Burn: We are friends with Mani from Racetraitor.  He approached us about it.
HX: What do you think this Comp means in this moment?
Burn: This comp is a good means to raise both funds and awareness for this cause.
HX: What do you know about the organization that will be receiving the proceeds?
Burn: There are a few organizations that funds will be allocated to for this.
HX: Tell me about the track Burn is contributing.
Burn: We are contributing "Mountain" which is of the EP of the same name that we self released for a European tour.
HX: Other than your own, which track are you most excited to hear?
Burn: The unreleased Absolution tracks should be really awesome. They were mixed by Urian Hackney.
Primitive Man
HX: First of all, how did Primitive Man get involved with this Comp?
Ethan: Mani from Racetraitor asked us to be a part of it. 
HX: What do you think this Comp means in this moment?
Ethan: I think it is just another puzzle piece trying to assemble equal rights and change in this country through art as a medium.
HX: What do you know about the organization that will be receiving the proceeds?
Ethan: That it supports Economic, social, and political justice for black people.
HX: Tell me about the track Primitive Man is contributing.
Ethan: It is a left over from when we recorded our side of the split with HELL.  We had no intention on releasing it, but this seemed like a worthy enough cause to do so.  
HX: Other than your own, which track are you most excited to hear?
Ethan: The SUNN 0))) track.
Kaonashi
HX: First of all, how did Kaonashi get involved with this Comp?
Kaonashi: A few years ago, we got the opportunity to play with Racetraitor at this venue in Philly called The Fire, and that's when we met. Mani of Racetraitor approached us a few months ago and immediately agreed to do it.
HX: What do you think this Comp means in this moment?
Kaonashi: I think this compilation is a testimony and an act of solidarity in the "heavy" music community. A lot of voices taking charge, 46 whole acts. I think this compilation can and will mean a lot to many many people out there.
HX: What do you know about the organization that will be receiving the proceeds?
Kaonashi: The Movement For Black Lives (M4BL) is an anti-capitalist, pro-abolition movement to educate and uplift the socio-economic and political status of black communities and organizations. Focusing on the radical change and transformation of our current system of power, that is currently openly oppressing its most marginalized people.
HX: Tell me about the track Kaonashi is contributing.
Kaonashi: It's a song called Look Like Me….fuck Alternative Press.
HX: Other than your own, which track are you most excited to hear?
Kaonashi: Cold Shoulder, Amygdala, Jesus Piece, Terminal Nation
Rwake
HX: First of all, how did Rwake get involved with this Comp?
John: Mani from Racetraitor reached out to CT this summer. Racetraitor played CT's Mutants of the Monster last year and they became friends.
HX: What do you think this Comp means in this moment?
Jeff: It means everything. To quote James Baldwin, it's not about making things equal, but about removing the white man's sense of superiority over the black man. The coronavirus has stopped time in some sense, to where we as white people and decent human beings can find our way forward. We've always expected our black brothers and sisters to hold our hand and lead us. But that is not and never should have been their burden. It should be our main goal. To fight for their rights and their children's rights as we do our own. There's no going back.
HX: What do you know about the organization that will be receiving the proceeds?
Jeff: M4BL is a great organization! It's more than just a money raising charity. It's a large multifaceted collection of social strategies designed to improve the social structure for all of our brothers and sisters of color. Definitely check out m4bl.com and see all the great services they do. It feels really good to be a part of something like that, not just a "give me your money and we'll send ya a sticker" type organization. Kudos to Mani for selecting them!
HX: Tell me about the track Rwake is contributing.
Jeff: We are honored to contribute the first new song we've released in 9 years for this! It's a demo version of a new tune called "Infinince".  We are deep in the pre-production phase for our next record, so we were already set up to track this song when we were invited to be a part of this awesome comp. Our band mates are spread out all over the covid filled land, so we just sent all the tracks here to my home studio in North Little Rock, and I mixed it all here. It sounds pretty good for a demo I think!  Lyrically the song is based around the concept that all humans are essentially physical living musical instruments, vibrating as one over multiple dimensions.  We hope y'all dig it!
HX: Other than your own, which track are you most excited to hear?
Jeff: I'm stoked to hear the release as a whole! I'm an album dude, so I'm excited to hear it in its entirety. There's quite a few bands that I haven't discovered yet, and that's what I'm most looking forward to hearing. Of course, we're ready to get shredded by our friends in Terminal Nation, Racetraitor, Thou, Redbait, Rebelmatic, and Cloud Rat. Kinda scared of that Primitive Man track! Those dudes tear my brain apart! It's too gottdang heavy! Jesus Piece and Cult Leader are gonna rip as well!
Thou
HX: First of all, how did Thou get involved with this Comp?
Bryan: I know Brent from when he briefly lived in New Orleans, and we met Mani and the rest of Racetraitor in Little Rock on a show. They asked us to get involved, and we were happy to do it. I think contributing material like this is probably the smallest thing artists can do to help raise money and awareness for social justice issues.
HX: What do you think this Comp means in this moment?
Bryan: Compilations like this one are a great way to raise some quick cash for the organizations and movements at the forefront of people's thoughts. While there are a variety of social justice issues that could benefit from the influx of some funds, I think it can be helpful to throttle an issue that's en vogue; it's a lot easier to galvanize folks to action–even if that just means opening their wallets. It's also been great to see a compilation in the realm of heavy music with so many people of color. I just wish more of the media reviews of this thing were highlighting their voices rather than talking to dinguses like me!
HX: What do you know about the organization that will be receiving the proceeds?
Bryan: I'm actually not sure where we landed on that; I think originally we were looking at the Freedom Fund, but shifted gears to more of a collective (which is awesome!). I think we're in the best hands with Mani and Brent. Those guys have completely dedicated their lives to social justice both inside and outside of Racetraitor, so I trust them completely on this. I think that being in that nexus point of Minneapolis also gives access to a wide variety of organizations that can have a direct impact on the community and, hopefully, set an example for the rest of the country.
HX: Tell me about the track Thou is contributing.
Bryan: We did a cover of "Kerosene" by Bad Religion. I essentially commissioned Emily McWilliams (aka Silver Godling) to do the bulk of the work, and we added some embellishment (though the pre-Thou version of this stands just as well on its own!). It's been on the back of my mind to try convincing her to cover it, so this gave us the perfect opportunity. Emily has been a huge contributor to Thou over the years, and she really did all the creative heavy lifting with this one and deserves the lion's share of the credit.
HX: Other than your own, which track are you most excited to hear?  
Bryan: Changeling, Cloud Rat, Racetraitor, Redbait, Primitive Man, Amygdala, Dawn Ray'd, Rwake, Vile Creature. Fucking DISEMBODIED. There are a ton of stellar bands on this one. Though to be perfectly honest, I'm in the middle of a Yasiin Bey binge/obsession, so it might be a minute before I dive back into anything like this. 
Changeling
HX: First of all, how did Changeling get involved with this Comp?
Changeling: We jumped in last minute, we were suggested by another Minneapolis band that Mani asked.
HX: What do you think this Comp means in this moment?
Changeling: We think it's encouraging to see so many excellent bands participating- using our platforms to promote radical politics is a responsibility of having those platforms. 
HX: What do you know about the organization that will be receiving the proceeds?
Changeling: M4BL is a collective of a bunch of different activist groups from across the country with a goal of intersectional collective action to accomplish a long list of needed changes, including prison/police abolition, an end to the war on drugs, supporting various mutual aid efforts, establishing reparations programs, and overall ending the war on Black communities in this country.
HX: Tell me about the track Changeling is contributing.
Changeling: Our track is an edited down chunk of a longer piece that we're working on for an upcoming split. It's the first of three "movements" in the longer piece.
HX: Other than your own, which track are you most excited to hear?  
Changeling: Cloud Rat? Vile Creature? So many sick bands and cool folks on here.
Dawn Ray'd
HX: First of all, how did Dawn Ray'd get involved with this Comp?
DR: We were asked by Mani from Racetraitor; we played with them last year and have a strong connection with them, because of the similarity of our approach to politics in music. There are some huge bands on that comp too so honestly we were honoured to be included!
HX: What do you think this Comp means in this moment?
DR: I think it's a way for the politics that a lot of us sing about to have an impact in the real world. I think it raised over £18k, an amount of money that can have a good impact when used in the right way. Also it's a visible show of solidarity from a very exciting music genre, which is important too I think. Now is the time for bold and brave statements, not hiding behind irony or shying away from the difficult realities of life.
HX: What do you know about the organization that will be receiving the proceeds?
DR: We had a load of information sent to us about the comp to make sure we were happy to be part of it, but living in the UK we maybe don't have as quite as deep an understanding of the situation as people on the other side of the Atlantic living that reality. I respect Racetraitor and the rest of the people involved a lot though, and I am happy to trust their judgement on it.
HX: Tell me about the track Dawn Ray'd is contributing.
DR: It's actually a live track from Roadburn festival, the first song from our first EP. It's a song called Black Cloth, and it's about the basics of anarchism vs liberalism, and was meant to nail our colours to the mast from the start in as bold a way as possible. It was an awesome show, the room was over capacity and security were turning people away, I looked down and right at the front was Kim Kelly and Austin Lunn, two very influential figures in this scene, and people who would go on to be close friends of ours. At the time though, I felt very honoured that they were there.
HX: Other than your own, which track are you most excited to hear?
DR: The Terminal Nation track rips, as it's so direct and explicit in its hatred of cops. Now is not the time to be shy or subtle I think! Sometimes, especially at the moment, I want people to really spell out their politics in a bold way. It affirms what I believe and is also cathartic to make you feel like you are part of something bigger than just yourself. You can live on the other side of the world but there are anarchists everywhere, and you all believe in the same struggles, even though you have such different lives. Thou covering Bad Religion is obviously sick too!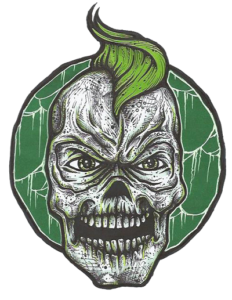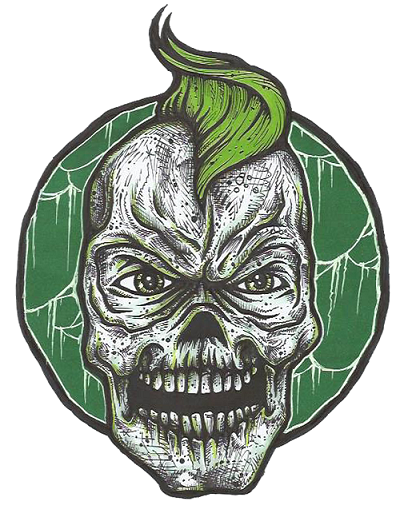 Biography:  Hayduke X has been writing for MoshPitNation since June of 2016.  Beginning in 2018, he also began writing for VM Metal Underground. Prior to joining the MoshPitNation team, Hayduke published reviews on his own blog Rage and Frustration. In addition, he has DJ'ed an online metal radio show of the same name as his blog, written for TOmetal.com, done interviews for Metal Rules, and collaborated with The Art of B Productions to create video interviews with a wide variety of bands.