Social media can be a pain in the ass, always trying to tell you what new things you should check out. After being hounded online with ads for "other products I may be interested in," I realized that none of them were for metal shows. I wished they were. So, I wrote my own version.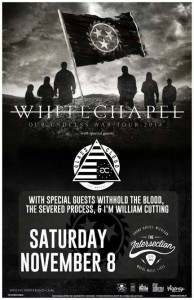 METALCORE
Whitechapel & Glass Cloud
11/8 at The Intersection
A kick-you-in-the-jugular kind of Metalcore. Blast beats are encouraged.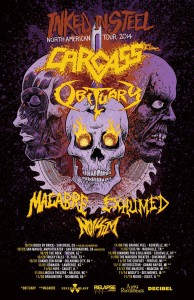 OLD SCHOOL METAL
Carcass, Macabre
11/11 at The Intersection
Yes, it's that Carcass. They are on tour to support
the new album.
GORE METAL
GWAR, Corrosion of Conformity
11/23 at The Intersection
GWAR has a new front WOMAN. Her blood-squirting nipples are a must-see.
TRIBUTE METAL
Sext Farm: A Spinal Tap Tribute
11/8 at The Pyramid Scheme
Check them out because everyone loves Spinal Tap (and not just because my boss is in the band).
MORE METALCORE
Kublia Khan, Gideon, Barrier
11/13 at The Stache
If you like Parkway Drive-type metalcore, check out this show.
HARDCORE
Hatebreed
1/24 at The Intersection
With locals Sin Theorem, Withhold the Blood and Society Kills, this show will destroy you.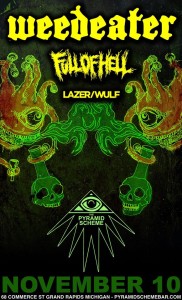 DOOM METAL
Weedeater, Full of Hell
11/10 at The Pyramid Scheme
The doom-iest of metal that will vibrate your bone marrow.
OLD SCHOOL THRASH METAL
Kreator, Arch Enemy, Huntress
11/20 at The Intersection
Yes, Kreator is stopping in the U.S. after conquering Europe.
HEAVYWEIGHTS
Jan. thru Feb. at The Intersection
The 14th annual battle of the heaviest bands will again alleviate your winter boredom. Details coming soon!
IF YOU'RE DOWN FOR A ROAD TRIP YOU MIGHT BE INTERESTED IN THESE SHOWS…
Devin Townsend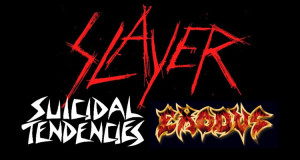 11/28 at Saint Andrews Hall in Detroit
Slipknot and Korn
11/29 at The Palace of Auburn Hills
Slayer, Suicidal Tendencies, Exodus
12/5 at The Fillmore in Detroit
Opeth, In Flames, Red Fang
12/3 at Riviera Music Theatre in Chicago