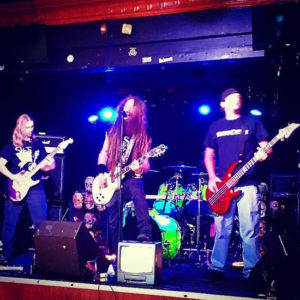 Do ya dig local metal? Here is some required listening. For information on these, and other bands, check out MoshPitNation.com
Blackgate: Power thrash-tastic-ness from Grand Rapids, Blackgate is anchored on bass by Zach Flora (Flood the Desert) and drums by Ryan Lunsford (Drawing Down the Moon), with Roger Winright and Matt Cremeans on shredding duty and David Cuffman screaming and singing his soul out.
Flood the Desert (new line-up): This Grand Rapids group's heavy progressive awesomeness has been around for a while, but now has two new members, including Jeff Kollnot on riff-age and Joe Bustanji on full-time vocals and part-time keyboards. Zach Flora is still on bass and Jeremy Hyde on drums. I wasn't so sure about these changes, until I saw them live. Joe's vocals are fantastic and Jeff's got a riff-y style and technical skill that fit the bands sound surprisingly well. They've reworked some of their old songs (check out "Redemption") and are currently finishing up an EP.
Essentia: A technical progressive two-piece from Grand Rapids, Essential is Chase Dunkelberg, winner of the Ultimate Shredder contest in 2014, and Dylan Brow, who makes some of the best drummer faces this side of the Mississippi. Together, they have a raw talent for writing and playing that will definitely take them places.
Skinjacket: Old-school groove metal from Grand Rapids, this band consists of Joe Kroondyk on vocals and guitar, Steve Borskie (Dirt Chili) on bass, Joe Arnold (From Hell) on drums and Ian McKinnon also on guitar. If you like horror movies, go see them! They play one on stage during the show for a double whammy to your senses. Do you watch the band, or the movie?
Look Left Swing Right: American metal with a hardcore twist, LLSR is a Grand Rapids outfit with so much energy on stage, it's contagious. The group's talent travels from Carson Eggerding's searing vocals to James Townsend's guitar awesomeness and Ethan Eggerding's bass work. Drew Kunkel keeps shit on time and on point from the drum kit.
Harry Manback: This Tool tribute band from Grand Rapids is the closest thing you'll get to a Tool show in the foreseeable future — Tool's next album and tour are perpetually postponed. And you won't regret it. They're not a bar cover band — they take Tool's songs and kill each and every one, with an ever-evolving video show to go with it. You will not be disappointed, I promise. Kurt Bares on vocals, James Falkowski on guitar, Daniel Zandstra on bass and Neil Postema on drums are all amazing at what they do.