It's been a couple of summers since there was a good outdoor, local metal music festival, and people miss it. I hear all the time: "When is MoshPitNation going to do a festival?" They want to enjoy the fun and freedom of an outdoor show. "Let's get drunk, listen to awesome music and camp outside so no one has to drive!"
Finally, there are some festivals with some potential this summer: The Naughty Donkey in Belding (which I'm heading to as soon as I get this article written), as well as Dalefest June 21-22 and DM3 Fest in September in East Michigan. And because I'm a sucker for heavy metal peer pressure (and think it's a fantastic time), MoshPitNation is throwing the Hard Rock 'N Metal Fest June 28 and 29 and MoshPit Boot Camp on Sept. 13 and 14, both of which will take place in Stanton.
But we're not doing shit the same way everyone else has. If you know me, you know that's kind of against my religion. We're doing it different – and doing it right.
It's a party, not just a music fest! Of course, the music is front-and-center. To start we invited some of the best bands from all over Michigan: Sin Theorem, Tru-Burn, Flood the Desert, Bury the Silence, PotatoeBabies and about 20 more.
Then, add good food on site from the chef at Bartertown Diner, so you won't be left starving. Or thirsty; bring your own booze and roam freely with your fifth in hand. Kick-ass vendors, MoshPitNation tshirts and gear, and an awesome glass blower will be there too.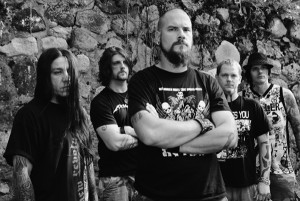 Plus there will be stuff for you to actually do. We don't want you to just sit there and watch other people perform. You need more. So we're hooking you up with a disc golf course, dodgeball, beer pong and other stuff too.
Tickets are $25 for a weekend pass, or $30 at the gate, which includes free camping. A day pass for $15 is available at the gate Saturday with easy motorcycle parking. Buy tickets at MoshPitNation.com or from most bands. You can also get them at local ticket outlets all over the state (mpn.com has them all listed). Check out the ad on page 14 of Recoil magazine for details about the Hard Rock 'N Metal Fest.