For over 30 years Lords of Acid have been mixing electronic, metal, rock, pop, industrial…hell pretty much every type of music there is together, and giving it their own twist. Sin Quirin(guitarist) told MPN "If you took the soundtrack to every strip joint, Mardi Gras, New Years Eve and swinger party and made a house band it would be Lords Of Acid!" With their tongue-in-cheek attitude and sexual overtones behind their music Lords is not meant to be taken seriously, but they seriously bring the party and the fun to every show they perform.

Lords is led by Praga Khan (Maurice Engelen) out of Belgium and was formed in 1988. With many band members changing over the years Lords has kept a solid and loyal fan base and their style and attitude seem to bring in new fans no matter what decade it is. Following up the release of last year's album "Pretty In Kink" Lords of Acid is taking the show back on the road for a tour to be remembered accompanied by Orgy, Genitorturers, Gabriel and the Apocalypse and Little Miss Nasty (Rock and Roll Burlesque for the 21st Century).

Returning to the group for this tour, and hopefully longer is guitar sensation Sin Quirin. Known mainly for his work with the industrial metal pioneers, Ministry, Sin has also played with bands such as Revolting Cocks and American Head Charge. He's currently on the road with Lords of Acid as the "Pretty in Kink" tour makes it way across the country but Sin made time in his schedule to talk to us about the tour and other stuff.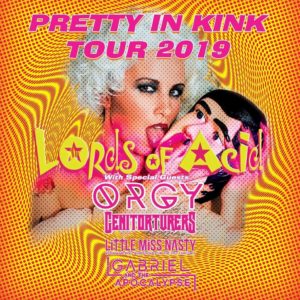 "On tour with Ministry there usually isn't blow up dolls everywhere," Sin began explaining about touring with Lords. "It's a different vibe, and not as serious. It's more of a party vibe and every night I get to see people dressed up in outrageous and outlandish costumes. The bands sound amazing and the shows and crowds are great so far in the tour. Everyone is having a lot of fun out here." When asked if he could elaborate on "fun" Sin replied, "Not without getting arrested!"

When Sin was asked what the fans could expect to get from the "Pretty In Pink" tour and his response was "A lot of facials! The first few rows should come protected," he says with a laugh. "Everyone is just having a blast. The band is having such a good time on stage and it translates to the crowd. We're playing old stuff and new stuff and getting a good overall positive and happy vibe."

The Michigan stop of the tour hits Flint and the Buick City Events Center. Sin reminisced about a previous visit with Ministry to Harpos in Detroit when their trailer got shot up and they had to hit the deck. After dodging bullets he joked about possibly wearing a bulletproof vest but hopefully the only thing they'll have to fear in Flint is the water.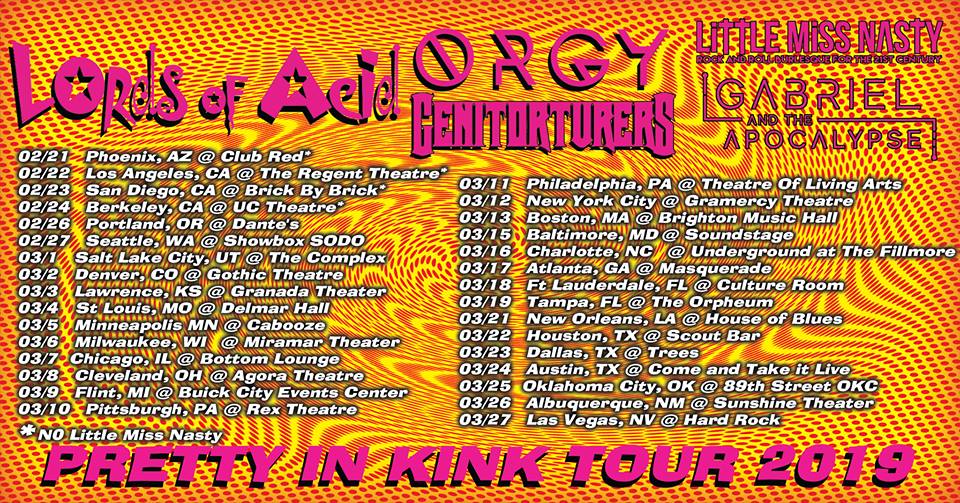 "I would like to thank the fans for welcoming me back after all these years. The fans are great and always come out bringing us gifts and goodies and it's great." Sin concluded the interview with. The Michigan show in Flint is on 3/9 so don't miss it if you can help it. For more info, merch or music from Lords of Acid check out www.lordsofacid.com or www.facebook.com/lordsofacid. Sin will also be doing a limited engagement tour with Ministry in the spring before they head to Europe and then he will be back on the road again with his side project, 3 Headed Snake. Keep tuned in to Moshpit Nation for more info on these events as they draw closer.

-Brian Benn