If there ever was such a thing as a kaleidoscope of music, Detroit's own Kaleido would fit that description. With a style of music described as alternative, punk, pop, indie, rock and metal…they are ever changing and evolving keeping listeners on their toes waiting to see what Kaleido comes up with next. Fronted by the beautiful and talented Christina Chriss who describes their music as, "Emotional high energy rock, mixing all those genres together to make our signature Kaleido sound. We write our music about our personal experiences so it's very relatable and will both tug on your heart strings and help allow you to get your frustrations out. Our live shows are very explosive and in your face making our shows really exciting with songs people can relate to."
After over a decade of playing together, The band has played many festivals, shows and toured with some legendary rock and metal icons. Christina talked with Moshpit Nation about some of her most memorable moments over the last decade. "We've been a part of so many tours and shows and have made friends with artists we have looked up to our whole lives. The Warped Tour 25 year Anniversary show in Atlantic City in 2019 was a stacked, unbelievable line up and we got to be included in that. It was the last warped tour ever and we had played Warped Tours over the years and it was always a high point for us to be a part of but to be included in the 25 year anniversary line up was awesome!"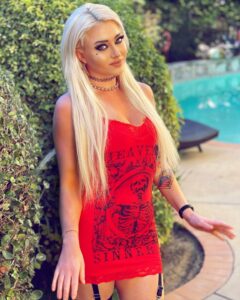 Christina lives for her band, Kaleido. It is her number one passion in life but her talent as an artist includes a lot of solo stuff as well, including some great covers and rap songs and stuff she describes as "not quite Kaliedo".  She did promise that someday she would release more of her solo stuff but at the moment her focus is on Kaleido. She is actually living in Los Angeles at the moment but spends her time between LA and Detroit. Born and raised in the D, the one thing she doesn't miss is the Michigan weather. "The weather in LA is amazing. Being raised in Michigan you get used to bad weather most of the time. It's nice every single day in LA! I personally love being in the sunshine and nice weather and I will always love Detroit and Michigan in general but I really love California."
One thing Michigan does not have a shortage of is great venues though even if our weather can be a bit temperamental. Kaleido has been shown love by so many different places in Michigan that Christina had a hard time picking a favorite. "The Machine Shop in Flint has an amazing staff and the owner Kevin has always been cool to us and the music community there is incredible. The Diesel Concert Theater is a favorite and the owner MIke has been awesome to us over the years. Then there's the iconic venues like St. Andrews and The Fillmore plus the Music Factory in Battle Creek. There's just so many that have been great friends and supporters to us over the years."
After the pandemic shut the world down the band was happy to be on the road for five months at the end of 2021, including a three month stretch with the legendary Sebastian Bach. Now they are focusing on new music with hopes of releasing an album in the fall. For now though there is a taste of what's to come with the release this Friday, May 27th of the new single and video Run. "I'm going to go ahead and say this is one of the coolest songs we've ever created with the coolest music video we've ever shot as well." Christina boasted. "This is next level taking it up a notch both musically and visually!"
Kaleido is accompanying the release with not one but two shows at two of their favorite venues we mentioned before. On the same day that Run is being released on the world Kaliedo will be doing a hometown show at the Diesel Concert Theater and on the 28th they will be at the Music Factory in Battle Creek. "We can't wait for the reunion with our Kaleido fam and to unveil the first live performance of Run." Christina commented about this weekend's shows.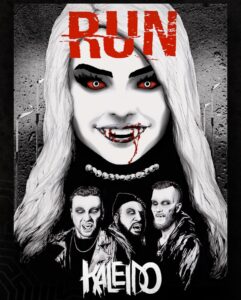 With plans for an album later this year the band will be releasing singles along the way keeping a fresh supply of new music for their fans. "We have such a cool and supportive group of fans and it's like a community and I would like to say thank you to everyone that has supported us over the years. I'm proud of our fans and I love them a lot!" Christina concluded the interview with.
Be sure to check out the new single, Run, which quickly became one of my favorite Kaleido songs the first time I listened to it and I loved the video as well. Edgy rock/metal sounds with hard hitting guitar accompanied by Christina's voice showing the range of her vocals from beginning to end. The video has a dark and sexy overture grabbing your attention right from the start.
You can find Kaleido (Facebook, Instagram, Twitter) and Christina Chriss (Facebook, Instagram, Twitter) on all social media platforms and can get merch, tour info and news at www.kaleidoband.com
Fans can show their support by joining the Kaleido Patreon at www.patreon.com/KaleidoClub
Friday May 27th you can see them at The Diesel Concert Theater and on the 28th at the Music Factory.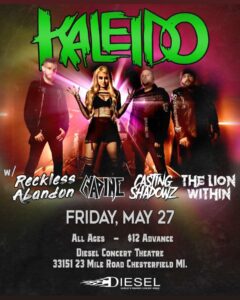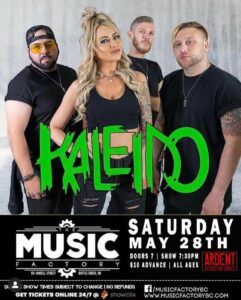 -Brian Benn