Joyous Wolf, Recharged
By Shantelle Thornton
Soulful vocals permeate the air and powerful vocals provoke the imagination; this is Joyous Wolf. The music of Joyous Wolf encompasses the listener, compelling them to sway rhythmically as the lyrics unravel into a story. Joyous Wolf is comprised of four members with Nick Reese on vocals, Greg Baccio on bass, Blake Allard on guitar, and Robert Sodaro on drums. Equally compelling on stage as they are in recording, you can find Nick Reese engaging in acrobatics during performances. There is never a dull moment when Joyous Wolf hits the stage, and their show is one you will not forget. This charismatic band maintains a down to Earth attitude despite the acrobatic theatrics of their live shows and takes the time to interact with their fan base on social media and in person. 
Moshpitnation had the pleasure of interviewing the singer, Nick Reese once more to talk about touring, quarantine, and new music. The band had recently finished their tour with Dirty Honey and is in preparation for their upcoming performances on July 14th at Rockfest and July 16th at Upheaval Fest in Grand Rapids, Michigan. Staying true to nature, Joyous Wolf remains driven and energetic even during the quarantine. Known for touring nearly constantly, the band utilized the short respite to focus on writing more music and perfecting their musical prowess. The band also released an EP with four versions of their song, "Mother Rebel" after the song made its way onto the radio. Their most recent release was in early 2020 with the song entitled, "The Odyssey".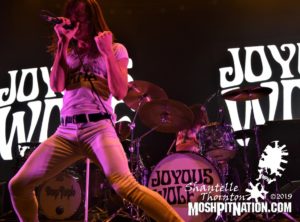 When asked about the effects of quarantine on the band, Nick responded, "I wrote a lot of music with the guys, that was honestly the best thing about it." After quarantine ended, the band began touring once more, most recently with Dirty Honey. Upon asking about returning to tour again, Nick replied, "It felt surreal. You know, it was like riding a bike, business as usual." The band has certainly returned to the stage more powerful than ever with refined acrobatics, vocals, and new music on their set list.
Being on tour again means more tour stories. "The first day we were at the place where we park our vehicle when we're not using it. The gate closes at 7 and we had to purchase a new ball mount for the RV we were using to tow our trailer. It was like a movie, we had the countdown and we had to get this thing outside the gate, or we would be locked in until morning…" Nick laughs and continues, "So it was just really funny. You know it was not funny in the moment, it was stressful as fuck, because we were like, 'Oh crap we are going to be locked in here with all of our stuff and be late'. Thankfully, we came up with a plan to use our original, old tour van to pull the trailer out of there and drive the RV out. Then leave the car there for someone to pick up later. It ended up working out very well, it was down to the wire. Very funny, and very appropriate for our first day back. Like oh, ok, it's tour again. You know just random bullshit tends to happen and you got to deal with it."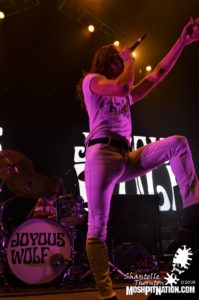 In a slight turn of irony the singer, Nick recently posted a cover of Tony Bennett's song, "I Left My Heart in San Francisco", showing how much heart the band really has. It was in lieu of raising awareness Alzheimer's via AFA. While not in partnership with AFA, Nick posted a link in the video to help support the cause after Tony Bennett became public about his battle with Alzheimer's. When asked about the video, Nick replied, "Tony Bennett inspired me, he continued to play even in the early stages. I lost my grandmother to that disease and it was really inspiring. It resonated with me personally and I just felt that I should do something. I have a platform, maybe I can raise a few dollars, maybe I can do something good with this thing that I have built and continue to do so."
Joyous Wolf continues to inspire and consistently pushes to be the absolute best they can be. Upon asking Nick what the future of Joyous Wolf looks like he stated, "We are just a very different band now, then what we were prior. The new record will be coming out next year and we will have a new single soon." 
The music industry can be rough on musicians of all genres and presents its unique set of struggles. Upon asking Nick if there was one thing that they could change about the music industry he replied, "Pay us for our music. You know, these streaming services are absolutely bending bands and musicians over for fractions of a cent." He continues to add, "Pay the Artist!" It is a well-known fact that major streaming platforms sit back and make bank while their bread and butter, the artists, struggle to make a name for themselves. 
In parting, Nick came with a message for their fans stating, "I love you, thank you so much for everything. I can never ever truly give my thanks for the support and the affection you show for us, and I love you always."
You can catch Joyous Wolf at Upheaval Fest on July 16th in Grand Rapids MI. Upheaval Fest is in it's first year and is looking to be the largest rock festival Michigan will have to offer and runs July 16th and 17th. For more info goto https://www.upheavalfest.com/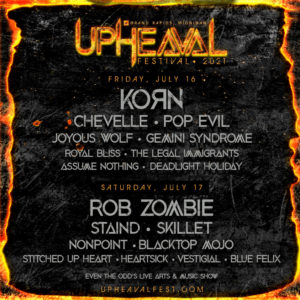 Joyous Wolf  can be streamed on YouTube, Pandora, Spotify, Deezer, Apple Music, Play Music, iHeartRadio, and TuneIn. 
For the latest news check out their personal site:
To view photos, fan posts, and videos you can join the Joyous Mob fan page on Facebook. You can find Joyous Wolf on Facebook and Instagram