It's a hell of an era for the Dayglo Abortions to deliver Hate Speech
By Colin Burrowes
In an era when we hear people, predominantly aging white men, whining about cancellation, it might just be a case of younger people pointing out that they are clinging to their right to be assholes. Suppose you want to be an asshole, fair enough. Just don't expect people to want to deal with all the messy shit that dribbles out of you. One might say, "cancel culture" in this era, but it would be fair to say their hurtful shit is finally getting wiped away.
So, in this climate of social change, one of the greatest Canadian purveyors of offence, the Dayglo Abortions, released a new album, "Hate Speech." Before pressing play on the first track, one may wonder where Murray "the Cretin" Acton's razor-sharp wit would cut into this modern world, especially with such a provocative title.
Acton is 62, so it would have been easy to see him taking that reactive cancelled approach at this point, digging in his heels to remain a strawman of offence. That's not where these songs hit the audience, and they hit hard.
The first three songs wrap together like fingers into a fist to strike with thought-provoking potency. If they were a single, it should have been nominated for a Juno or a Pulitzer.
"White People" cracks the seal on the album with a critique of, well, white people. As the first verse points out, it's a critique of people who don't take well to critique.
Those white people, they have done had enough. They keep getting in shit every time they fuck up. They can't figure out where it all went wrong.
Religion is a significant target on this album, and the first shot is in the final verse.
The white people, running to their angry white god, come and save the earth because it's going to the dogs. But it turned out that god wasn't white. And she laughed as they all got dragged off into the night.
Not only is the second song fierce, but it encourages the listener to "kill, kill, kill" in a catchy singalong. It's two minutes and twenty-one seconds of primal scream therapy, and in a world with bodies of Indigenous children recovered from church-run residential school sites, it feels pretty good to belt out a verse like
We'll kill all the priests and burn down all the churches. We're sharpening the stakes to stick their greedy heads on.
And that sets up the ninety-four second criticism of the general hypocrisy of religion, "God is Love."
Death to the infidel, Death to the apostate, Death to the atheist. God is Love, God is Love
The album turns towards what could be the angriest pro-vegan song since Vegan Reich's debut EP. "Smart Food" comes off as a song about eating children's brains but ends with a verse that Morrissey would have been proud to have written. It's the type of message that would make Morrissey's cat switch to a plant-based diet.
You should take time to consider the animals that suffer to make your dinner. I will treat you just as good as you have treated your own food. You will all be skinned alive, so you feel the pain of the tortured lives. Maybe then you'll learn respect for all living things if there is any of you left.
In "Sacks of Meat," the band slows down and channels Black Sabbath through their instruments as Acton lays down a eulogy lyrically putting people in their place, amounting to nothing more than sacks of meat.
You will own nothing, and you will be happy.
It's time for some role-playing as Acton steps into the character of one of the many sociopaths that "built this fucking system."
We're a special kind of over-achiever. Some will kill you. The rest will leave you. You all walk around with your head up your ass, baby, you are ruled by sociopaths.
"What's for Breakfast," is reminiscent of some of the classic offending for the sake of offending pieces from their back catalogue. It's a fun romp of heroin for breakfast, but the kids want synthetic opioids now, and Fentanyl would be more in step with the times.
The next song twists the language and stokes the fires of contemporary world problems, asking, "where is the love in this world of hate?"
The album has about run its course when anything that people could construe as their racist uncle complaining that he can't even talk about politics anymore without getting in shit comes up in "Raised on Chest Milk." It's a Dayglo Abortions record. How seriously should you be taking it when you don't even take your local politicians seriously enough to cast a vote in an election.
You say everyone's a racist and everyone's a Nazi. You even tell the gay people that they are homophobic. Someone filled your head with some really stupid shit, and you'll throw a tantrum if we disagree with it.
"Calling All People" ends the album with a call for unity and looting as only the Dayglo Abortions can until Acton's voice cracks, and he ends the listener's experience with a laugh, "That was me giving up on it."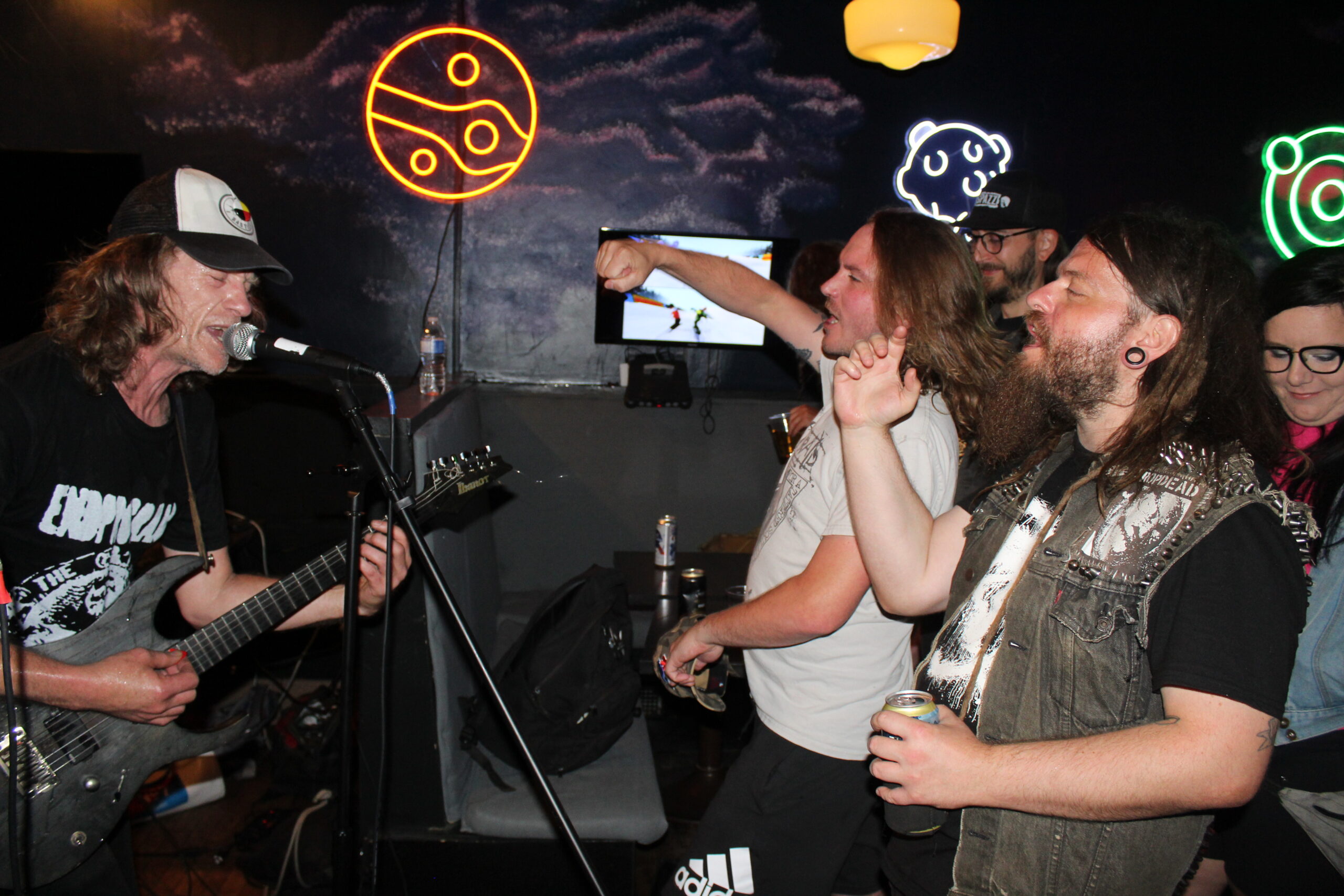 On July 10, the Dayglo Abortions finished their recent tour to support the release of Hate Speech with an intimate show at Revive Game Bar, a venue in the ghost of Harmony Lunch in downtown Waterloo. As the Dayglos were growing, morphing, changing and maintaining over the years, so has this building. It was once the greasiest of greasy spoons, a diner that offered affordably priced, some might say cheap, food and coffee to a crowd of regulars in the heart of a university town. But it wasn't the sort of restaurant you would see hipsters and students frequenting. If you were local to the Waterloo region, you would have understood that it was out of place in the heart of Waterloo, yet it was comfortable. It felt more like it should have been across the street from the bus station in Kitchener or a blue-collar neighbourhood surrounding one of Kitchener's dirty old factories.
Times change, fast forward twenty years, and the hip had hit Harmony. Heck, there were even vegan options on the menu, and at night punk rock bands would be thrashing the hell out of that space. It was small, but when the right combination of bands pulled in the fans, it was mighty, even if the sound quality could be hit or miss. But who cares? It was a diner, not a concert hall. Some of the most incredible concerts happen in alternative venues, not venues catering to alternative music, but venues that are legitimate alternatives to prissy concert halls – basements, living rooms, backyards, record stores, bookstores, and restaurants.
Then COVID killed the action at Harmony. The diner closed but was revived, as, well, aptly enough, Revive Game Bar. Revive isn't hosting as many shows, but on Sunday, there is live music, and on July 10, the Dayglo Abortions brought their ageless energy to this snug setting.
Bad Egg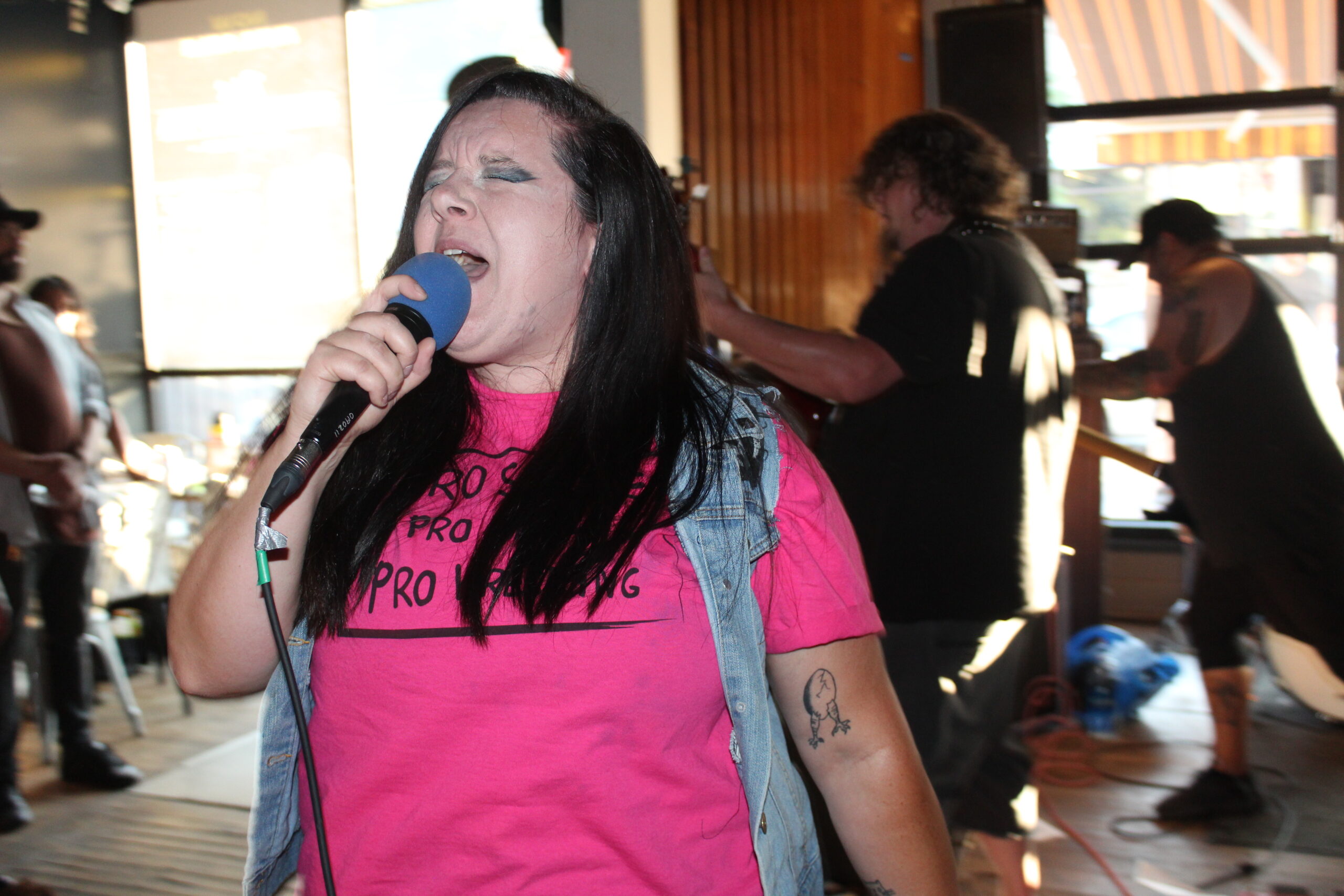 The night started with a couple of heavy-hitting local bands, Bad Egg and Laager. Both bands blend sludgy, heavy sounds with punk rock ferocity, and they set the mood with their rumbling reverberation and lubricated the sold-out crowd.
Laager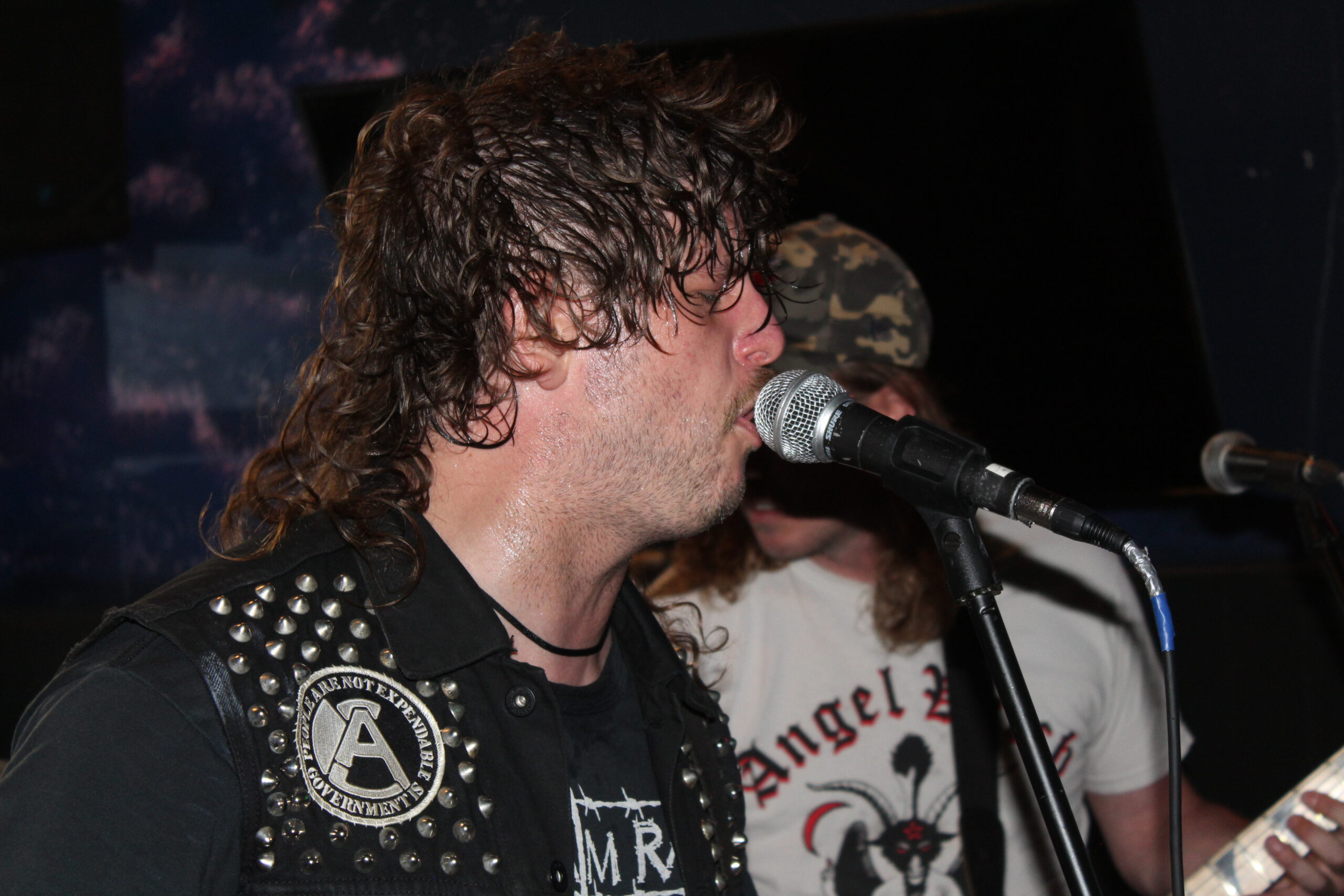 Dragged In, which features members of Brutal Youth, pumped up the audience with more melodic punk rock you could almost sing along to, even if the songs were new to you. It was familiar, frantic, and fun with a leopard-skin loincloth kind of intimacy. You knew what you were in for, and it sort of surprised you as well when it bonked you on the head. Bonk, bonk – bonk on the head.
Dragged In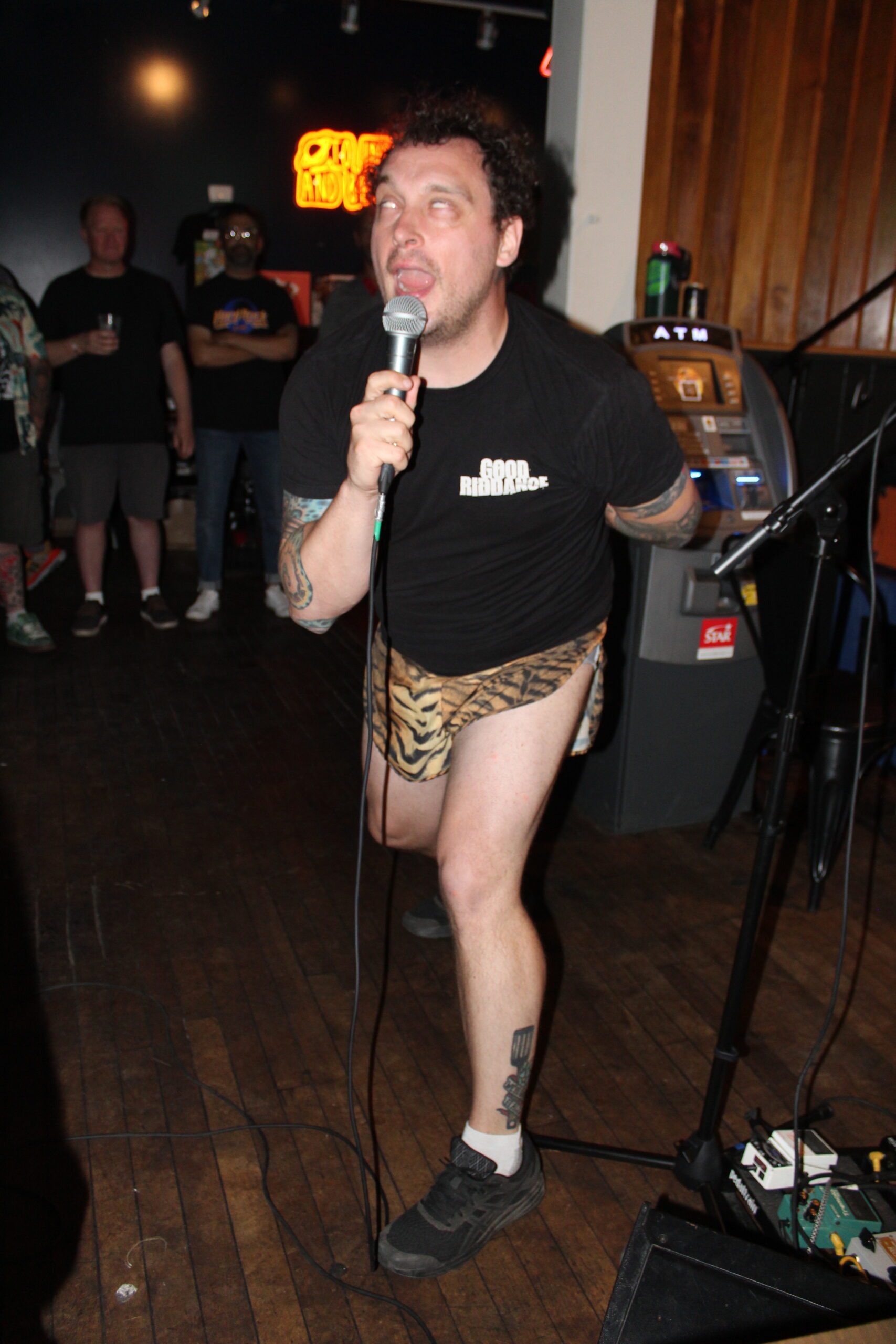 Then it was time for the main event.
While the openers were heating the room, Acton and Bassist Matt Fiorito put fresh strings on the guitars in preparation for the beating they would receive. Roadie Jack said even with that preparation and hammering on the fresh strings to warm them up. They've played so hard in the past that they snap the new strings. The Dayglo Abortions may still be playing in small intimate settings, but their dedication to their fanbase shows.
The energy generated on that stage, well, on the floor in the front corner of a restaurant, was equivalent to the power the band had played with just up King Street at Phil's Grandson's Place thirty-five years ago when this reporter was in high school.
Dayglo Abortions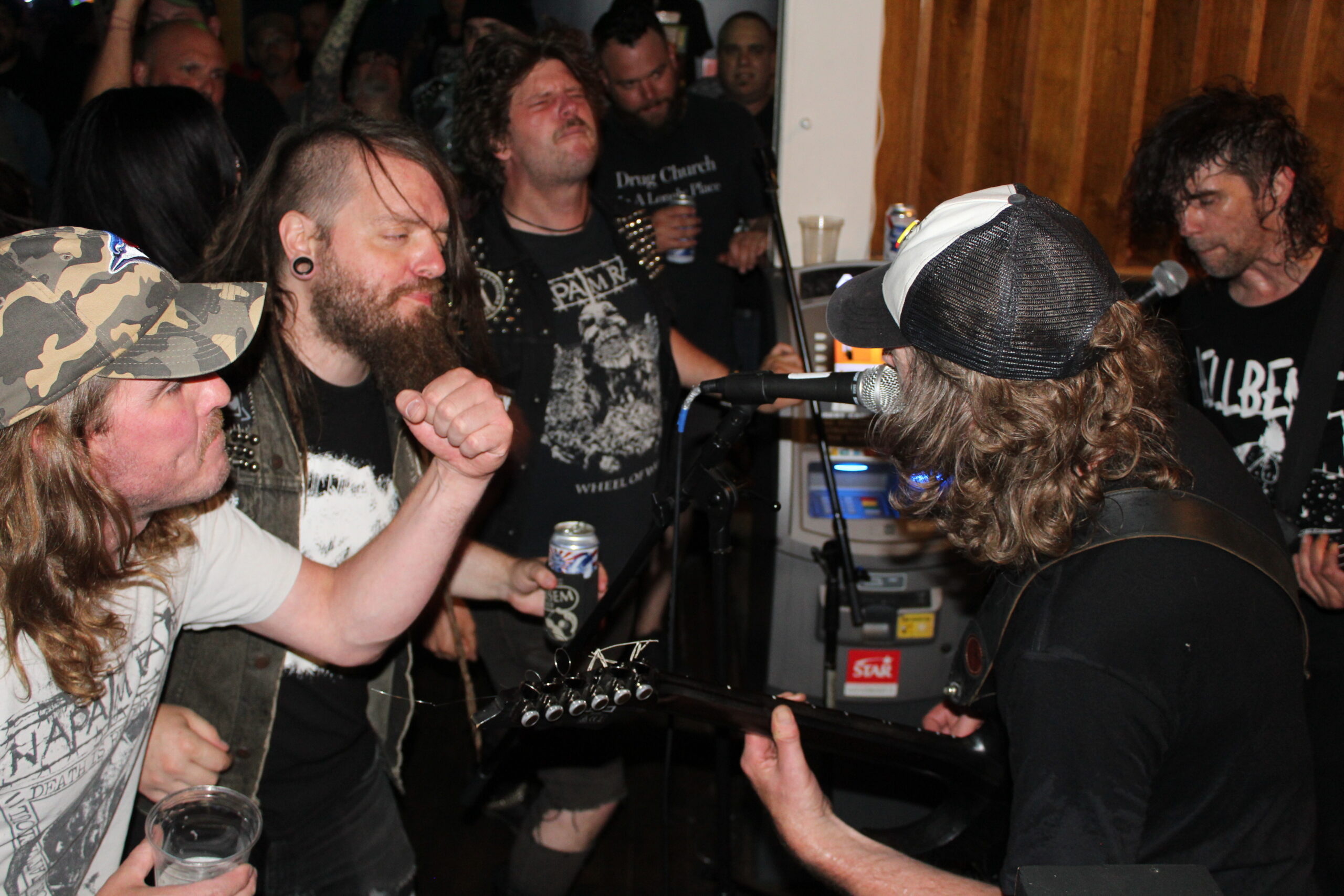 With a history of questionable content in their songs, the diversity of the current audience proves a wide swath of Canadians still supports the Abortions.
The set hit hard with classic songs from the albums that shocked the country enough to cause notorious legal issues for Fringe Products in the late 1980s to a half dozen songs from the new album, and they were all ravenously sucked up by the voracious audience. Following two years of being denied live entertainment, audiences seem to be eager for exciting concerts, and the Dayglo Abortions did not disappoint.
Bio
Colin Burrowes is an award-winning independent journalist and the mastermind behind wood-stein.ca, media that aims to deliver journalism that validates and empowers. When he isn't doing that fancy writing, he can be found making noise and performing with his punk band Chachi On Acid. He won't be winning any awards for that shit. However, he is currently considering his chances of winning a seat in municipal politics. What the hell eh?