What follows is an interview between our own Baker and Clode, the vocalist of Italian Death Doom band Tethra.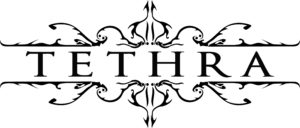 MPN: Empire of the Void was released March 20. In this unprecedented time, what does Tethra have planned to support the new album release?
Clode: To tell the truth, we would also have concerts planned for after the summer, but both we and the promoters involved are taking time to try to understand the evolution of the emergency linked to Covid-19. We are in the situation of having released a new record during the days of the beginning of the pandemic and, therefore, we could not promote as we would have liked for this album on which we poured most of our resources and hopes. Only the future can tell us if we will have the opportunity to be able to carry around the new songs, or if we will have to seriously reorganize the band by equipping ourselves properly to be able to offer quality live streaming.
MPN: Who in the band writes the lyrics/music?
Clode: Basically, in this new album, I dealt with all the lyrics, as well as the idea on the concept and on the cover, while Federico was the greatest composer as regards the musical part. Also, the whole band rearranged the songs, adding their personal touch during the endless hours of rehearsal room served to perfect the sound.
MPN: Where do you get inspiration for your songs?
Clode: Unlike what happened with the previous "Like Crows for the Earth" where the lyrics helped us to elaborate the mourning that occurred between people close to the band, for "Empire of the Void" I wanted to talk mainly about those feelings that they can make us feel like empty shells. The sidereal space seemed to me an excellent metaphor to be able to dissect these delicate themes in a not too direct and traumatic way. For us the music plays a cathartic and purifying role, and by passing through it, we try to best process our negative thoughts by transforming them into positive energy, I hope that our listeners will have the same effect.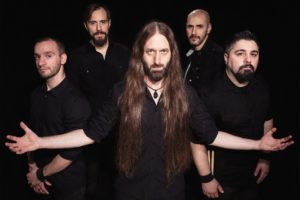 MPN: Your songs feature themes of the void of humanity. My favorite track of the album is Dying Signal. What was the process involved in creating this masterpiece?
Clode: Thank you for the compliment. Dying Signal's lyrics are a metaphor for the progressive deterioration of human relationships in modern society. The models imposed by TV, social media and consumerism brought to excess is taking away the ability to stop and reflect, because nowadays we are all so interconnected that each of us expects almost immediate feedback from the other, and for this, it's not always easy to be able to argue properly about a personal opinion. Sometimes it is easier to shout your own reasons without listening to the others. From these assumptions, the idea for Dying Signal was born.
Federico: Concerning the music, I would like to have a structured answer of what I did etc etc, but the truth is that I was just simply playing around my guitar, and I came up with the intro riff of the song. Then it evolved in something really different from the mood of the start, but sometimes you simply have some ideas popping up in your mind and a urge to realize them. I thought that a heavier and "in-the-face" song was to fit in the record, always keeping our melodic and doomy side, so that's the story of the song.
MPN: The early release we reviewed had a cover of David Bowie's Space Oddity. Does this song have a certain special meaning for the band?
Clode: We chose this song because, in addition to being very important for our personal musical growth, it has within its lyrics some elements in common with the lyrics of Empire of the Void. We are aware that we have taken a great risk by proposing in a personal key a timeless classic song known by everyone, but we believe we have won this challenge, because the result was very appreciated by those who listened to it, as it pays pledge to Bowie's genius while using, at the same time, a very personal arrangement.
Federico: Actually I came up with the idea of recording a cover song, because I like when other bands try to re-work someone else's art in a very personal way. When Clode proposed "Space Oddity" I admit I was terrified, because of the importance of the song in the music history and because I was afraid to make a big mistake… But, at the end of the day, after some days of thinking, trying, re-thinking and re-trying, I think I proposed a solid doom version of the song. Clode interpreted it very well and this was very important for the integrity of it. I think it's a good job and we hope you like it!
MPN: What is the band's favorite song to play from this LP?
Clode: Also in this new album, like all the previous ones, you can find that variety that makes our musical proposal our greatest strength. Each of us has his favorite song but we all agree that the three-part suite called Gravity contains most of the characterizing elements of our sound. There are melodic progressions and harder parts close to other more progressive ones. Composing that song was a great and exciting challenge with ourselves.
Federico: I confirm Gravity (in its entirety) is, in some ways, the one I like the most to play. Probably because it has all that a death doom band needs to have: melody, melancholy and heaviness.
MPN: What kind of online presence does Tethra have? 
Clode: The band has been present since 2008 with an official Facebook page which, over the years, has become the point of reference for those who want to know us better and discover news about upcoming releases and future concerts. Years ago, we had a website, but we preferred to close it because we like much more the involvement we can have with our fans on social media. We also have an Instagram account that we try to update whenever we find ourselves having beautiful images related to us and our music. As far as YouTube is concerned, we prefer to rely from time to time on the accounts of the labels we work with, we find this to be the most effective way to convey the visual part of our music.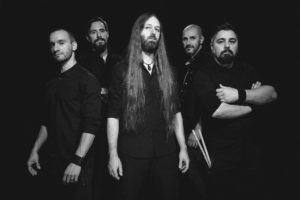 MPN: Do you have any live stream concerts planned with your label?
Clode: At the moment, we don't have plan to play live streaming concerts. We're perfectionists and we know that in order to do such a thing better you need great planning and a huge economic capital. Rather, we prefer to give to those who love our music short clips from the rehearsal room, this allows us to always be close to our fans and allows them to be virtually with us throughout the creative process. In 2017, we were the first band to play an entire live streaming concert in a venue open only for us for the occasion. It was a very particular and, at times, destabilizing experience because we lacked that exchange of energy between us and the audience that only a classic show can give.
MPN: Any online music or videos available for the fans?
Clode: Of course! Since the band was born more than ten years ago, the visual element has always been very important for us, so we have tried to transport our music as much as possible in evocative images that could bring the listener in the right mood to enjoy at best our songs. From the Everyone Must Die video, shot inside the monumental cemetery of Milan, to the one for Sense of the Night where the location was a splendid theater, to the disturbing images of Like Crows for the Earth and to the spectacular natural elements that can be admired in the video clips of Cold Blue Nebula and A Light Year Breath, our journey to convert our feelings into images was an amazing kaleidoscope of faces, colors and arcane forms that we can really be proud of.
MPN: What are some goals that you still haven't reached as a band?
Clode: In these uncertain pandemic days our expectations have greatly diminished. We know that the music industry is experiencing an extraordinarily difficult period and that it will take some time to return as before. We had the misfortune to plan the release of the new album during the days of the lockdown, where people were busy thinking about the survival and well-being of their families and, in all this, the music was put aside a bit. We hope that in a few months this health emergency will have passed and that we can finally promote Empire of the Void by playing as much as possible around Europe. This would be an excellent starting point for us.
Federico: As a band, I think that the most important goal is to have a fanbase and play as more gigs as possible, eventually in important venues or festivals.
As a person (not even a musician) I guess that reaching as many people as possible with your art. Knowing that in 2020, living with only music is very difficult. I live this as the realization of our work, rehearsals and sweat to put our feelings in something very meaningful as the music.
I really can't wait to play live again…
MPN: Is there a moment(s) throughout the band's history that really defined your direction?
Clode: The sound of the band is always evolving, we started playing a very violent Doom Death, even if already from the first album you can hear elements that were then used more frequently and incorporated into our music, such as the progressive component. I don't think there is a particular moment where the band has consciously decided to follow its own musical path, but there have certainly been a great many moments that have changed us and, consequently, our music. Each of our albums was born following the emotions and experiences of the moment, so it is no wonder that there can be more than one difference between them. To give you an example, our second album "Like Crows for the Earth" was composed in a period where the band suffered several bereavements, so the sound became more intimate and the singing was mostly clean. For us, making music is a form of collective therapy that helps us understand better and, therefore, have more awareness of what happens to us in everyday life, as a sort of filter that we use to transform negative events into positive energy.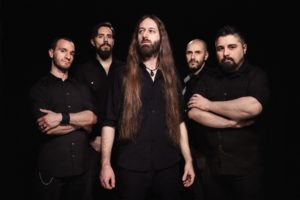 MPN: What are some bands that have influenced Tethra?
Clode: More than a particular musical trend, we like to be inspired by all those groups that, with their music, are capable of transmitting strong emotions. This is certainly the highest goal we pursue every time we compose new material. In any case, we can't deny that we're big fans of the English Death/Doom scene, bands like Paradise Lost, My Dying Bride and the early Anathema are, I think, the main reason if we love Doom so much. Even the northern European scene, has released some fundamental bands for our musical growth: Swallow the Sun, Doom Vs, Tiamat, Amorphis and Katatonia are just some of them.
Federico: I agree with Clode, but I also think that every musician should listen to many many many albums, different genres and different styles. You need to get in touch with ideas from every source possible, in order to give your brain the feeding needed to create new music.
MPN: Since everyone was a startup once, can you give any smaller or local bands looking to get gigs and airplay some tips?
Clode: I think one of the most important things, in this period, is to try to create a scene and support each other as much as possible. Often I hear little-known bands complaining about not having enough exposure and to struggle to find concerts even if their musical proposal it is very good. Furthermore, we cannot expect someone to do something for us just because we are "Artists". We must remain humble and remember to always thank those who deal with different sides of our music, when we're not ourselves to do it because now the role of pure musician it no longer exists (or perhaps never existed). Each of us must be able to manage a large amount of different aspects of the music business, must be a manager of himself, a good communicator, a good enough graphic designer, a social media manager, etc…
MPN: Thank you for taking the time to answer our questions. We hope to have you tour the United States supporting your latest release.
Clode: Thanks for the nice chat, we also hope to be able to come one day in the states to bring our music, until that day take care of yourself.