Hailing from Spain, Empty are a black metal duo focused on despair and emptiness. Awhile back we reviewed Vacio, their 2018 full length. Read on for our interview with the band.
HX:  First of all, congratulations on the release of Vacío in 2018. As you know, I enjoyed it a fair bit. Tell me about the writing and recording process that went into the album.
Drizzt:  Thanks for your words! The reviews are surpassing our predictions. All the scores in the reviews are high, and the reviewers found the specific point we wanted to transmit. 
We looked for a unique and personal sound and we wanted the listener to perceive EMPTY as a unique entity inside a saturated scene overwhelmed by tendencies and clichés. If we think about the long path of four years to make the album and big effort, we really feel exultant to see that the perseverance and work are fruitful. 
The truth is that the album is partially recorded there… The recording was laborious and it was made by parts. Drums were recorded in b2v estudios (b2vestudio@gmail.com) by Brais Barreiro. Guitars and bass were recorded in Moontower Studios by Javi Felez. The mixes were made in Moontower as well. Vocals and keyboards were recorded in Zaragoza by Sergio García (Zulo productions) and the final touch was made by the mastering of Patrick G. "Darkhyrys" at W.S.L. Studio (France). All this make that the album is the most professional by far.
Javi has his idea of how things should be done. He always find the specific point where everything sounds properly without loosing rawness and atmosphere. I must say that due to the tons of hints and different lines sounding at the same time, sometimes it was really hard to go the path to follow, but finally we found it and the result can´t be more satisfying. It´s important to underline the work of Patrick G. "Darkhyrys" and W.S.L. Studio who put the sound of Empty to a different level.
HX:  Your Bandcamp page says you are working on another full length to be called Etica Profana Negativa. Give me an update on that. When are we likely to see release?
Drizzt:  You are in a mistake my friend ETICA PROFANA NEGATIVA is our previous work and was released by Osmose Productions four years ago. Let me talk about it.
In "Etica Profana Negativa" we wanted to link Negative philosophy and Music in one concept. EMPTY philosophy deals with showing the most negative side of real life in our music and lyrics. A proper description about it would be "Life is full of bad moments, Empty is the soundtrack for all of them". All those of feelings of death, wrath, desolation, bitterness, sadness, frustration… are portrayed in the music and soul of the band. We exorcise all the inner dramas of our lives through our albums… in every album you can find some moment of our lives represented in funeral litanies. Life, for me, most of the moments have been and will be a torment. I can´t explain why all the lights are fading away in me and how this dementia came to me.  I think, life, on the contrary that they make us believe, is negative and painful. Only in some brief moments we can find small hints of joy and hope. I use, personally, our music as a shock therapy to survive in this repugnant life. 
HX:  Right now, Empty is a duo, but there have been several others involved over the years. Tell us a bit of the history of the band.
Drizzt:  EMPTY started circa 1995 with members that are no longer in the band. I formed part of it in 97, when I was 17 years old. That time were amazing years for those who were able to be part of that second wave of BM, even though it was not easy for a band playing BM in our country. 
The band has been always evolving towards the only goal, which is to find a way to explain the darkest and negative side that all human being has inherent through our desolated art. So, every album deal with all those moments we lived… moments that one has inevitably to face … There are many people that use to hide this maybe due to fear of feeling weak… We make negativity our best value. 
HX:  Your last two full length releases have been with Osmose Productions. How did you end up signing with them? Do you feel they are a good fit for Empty?
Drizzt:  What happened to us with Osmose was curious. Many people don´t know that Etica Profana Negativa was finished when we sent it to Hervé (Osmose). He listened to the album and he said "It´s amazing, I want to release it!" as simple as that. One of the people who made us to know so many classic bands was amazed by our album!. This fact obviously attracted many people to the band and since we kept loyal to our sound, our old fans loved the album as well…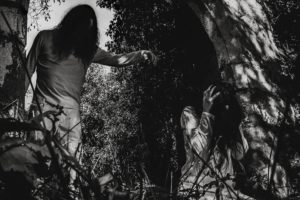 HX:  Spain is not necessarily known as a hotbed for black metal. Tell me about the black metal scene there.
Drizzt:  It´s true that the Spanish bands have been set aside and we have had to work much harder that any other Scandinavian band In order to gain some attention. However, nowadays and focusing in Black Metal, I think that things have changed  a little… specially thanks to long running bands like ours. I could say that TeitanBlood or Proclamation have been tremendously recognised in their respective styles worldwide. Empty signed with cult company Osmose Productions. And Foscor signed with Season Of Mist (although it´s a more commercial style). So, in that way talking about big labels and big names, the things changed. 
Personally, we live a great moment as far as a new rise of underground Black Metal in a more dismal way with the bands belonging to the Southern Lodge. Don´t miss the opportunity to check bands such as Cryptic Wanderings, In The Shades, Bulturnos, Yersinia Pestis, Pollution chamber, Cantos de Muerte and Black Spirit. Moreover, we have really good labels here such as Nebular Carcoma, A Fine Day to Die, among others… and the big fanzine Pantokrator zine!! Of course, there are many more bands of other veins that are making things really good… you only have to look for in order to find them. 
HX:  What are your main influences?
Drizzt:  I see "Vacío" as our Black Swansong. Something like a culmination after 20 years… the most poetic and honest that we have made. So, using the word "Vacío" is like paying a kind of homage to ourselves since we have had to overcome lots of issues in order to release this album. I wanted to name an álbum as homonymous long ago but now everything concurred to do it. 
Also it´s very important to understand the lyric concept behind since, as you know, it deals with the last dwellers of the forgotten and abandoned towns in Aragonese Pyrenees (Spain) and how, when they die, all their remembrance will be EMPTY (Vacío).
So, calling this álbum as "Vacío" in our mother tongue instead of using English, it would give more visual impression for those who see the cover for the first time.  
I also wanted to call EMPTY as the second track of the album because this song is one of the most representative sound of the band throughout all the releases. So, just the mere fact to make the listener think about it, it means that it´s the proper choice. 
HX:  What is an Empty live show like?
Drizzt:  Currently we are interested in bringing to live an image that fits with the desolated and mortuary spirit of the album. We use black and  white funeral shrouds as a contrast between life and death because light is darkness and darkness is light. Also we accompany the show with images of abandoned places, old graveyards…. All this make the Empty show as something more than just a metal concert… it´s more like a theatre dark performance through Black Metal… I think it will let no one indifferent.  
HX:  You've played some shows with some pretty big names. Which was your favorite to play with? What was that like?
Drizzt:  One of the nicest places we played was the Boat of Terror in Oporto at the Extreme Devotion Fest in 2010.. that place was really  magic! And specially we played in the middle of the forest at "Under the Black Sun 2006" was amazing! 
This year we will travel to USA for the first time. We hope people have interest in our band and write us if they want to feel the black flame of the ancient cult burning… We will playing in two exclusive shows in New York and in Satan Unholy Abominations in Maryland in October. We hope people knows how to value the opportunity to see us  because we have always had big support from USA, as we also worked with a label called Blackened Moon from Michigan. 
HX:  Your Bandcamp states: "Empty plays negative pessimistic Black Metal." Tell me what this means.
Drizzt:  Time ago my life became extremely fatal and negative due to some deaths and tragedies around me which marked me and it can be seen in the evolution of the band. 
There was a time that I spent more time in cemeteries envying the dead than living the grim existence.
This marked deeply the musical aspect and lyrical concept as well. We constantly look for distancing ourselves from the clichés or influences from the past in order to get a sound of EMPTY and having a pessimistic and negative philosophy of life. Sometimes I look back and I realize how sick I was when I listen to the music I created … but I´m proud that I survived to all that and get up to make nowadays what is the most pure sound of EMPTY; Lugubre, decadent and somber… funeral litanies  for this torment called life. 
HX:  Any final words for our readers?
Drizzt:  Thanks a lot for give me the opportunity to be able to express myself in your zine.. I hope you can take a listen to the album and experience the same sensations we had when we recorded it. 
Shadow follows you from birth, only growing longer and more inescapable (and black) as the years pass. Optimism is for those who have lost touch with reality; the curve of time becomes the cutting scythe sooner or later!
STAY DARKNESS! STAY NEGATIVE!! HAIL SOURTHERN LODGE
Drizzt