Band – Sacrilegious Crown
Album – Plenilunium Cult
Country of Origin – Italy
Genre – Raw Black Metal
Release Date – March 5, 2021
Label – Xenoglossy Productions
Author – Hayduke X
Today, it is our pleasure to introduce the world to Culto II: Under The Blasphemous Spirits, which is taken from the upcoming Plenilunium Cult by the enigmatic Sacrilegious Crown. The EP will see a limited cassette release on March 5th through the stellar Xenoglossy Productions. Press play and then jump below for my full review plus an interview with kénos, the lone entity behind this project.
Sacrilegious Crown has been active since 2015, with three demos, two full lengths, and now this upcoming EP to their name. There is also a compilation available, which (based on the timing of release) is likely the first two demos. In that time, the project has rightly made a name for themselves in the underground, discussed in the same circles as Black Cilice, Obskuritatem, and the like. 
On Plenilunium Cult, kénos presents four tracks of the rawest terror. Wails of anguish torment the listener behind the wall of careful tremolo riffing. Percussive oblivion, in the form of mid paced drum work, creeps steadily in the background. In the final track, kénos allows the music to deconstruct into dungeon synth oblivion, leaving the listener unsettled. 
As with everything on Xenoglossy, this Sacrilegious Crown release is a difficult listen. As with most everything I listen to, that's the way I like it. The production hides many gems of sound that are revealed through repeat, careful listens. Plenilunium Cult is not for those who like their art spoon fed to them. If, like me, you prefer the payoff that comes with the effort of seeking deeper, then this release is absolutely for you. I highly recommend it.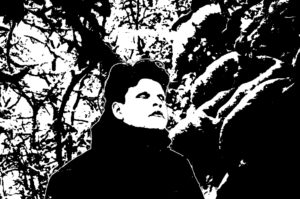 Hayduke X: Thank you for taking some time to answer a few questions and congratulations on the imminent release of the excellent Plenilunium Cult. How do you feel about the final product?
kénos: Greetings! Thanks for the interview. Plenilunium Cult has been recorded after a long time of inactivity, and I'm quite satisfied with the final result. I especially liked the sound of it. It might seem weird, but I think sound and atmosphere are essential in raw black metal.
HX: What is this release about, thematically?
kénos: In this new EP, I tried to go back to the concepts and the kind of atmospheres that spurred me to create Sacrilegious Crown in the first place. Ancient and blasphemous esoteric rituals are the primary themes.
HX: This interview will be published with a stream of "Culto II: Under the Blasphemous Spirits". What should we know about this track in particular?
kénos: This track in particular is the first one I recorded for this EP. The inspiration for it came to me after visiting the ruins of an ancient watchtower located in some woods close to where I live.
HX: Your music for this project is very raw, which is not a bad thing to me, but it really limits the audience. Why do you make music in this style?
kénos: Raw black metal is not for everyone, of course, but its strength lies in its ambiguity. Sometimes you can't actually distinguish vocals, keyboards or guitars, so it's difficult to tell if it's a genre closer to ambient, noise or actual metal music. For me this is raw black metal's real peculiarity: the ambiguity of its sound stimulates the imagination of both musicians and listeners, allowing for an immersive experience.
HX: How and why did you start Sacrilegious Crown?
kénos: Sacrilegious Crown formed in 2015, right when several similar sounding projects were starting to surface almost simultaneously. I've always played black metal, but I've never succeeded in recording something as truly spontaneous as this particular project. This doesn't necessarily have positive connotations, but it allowed me to express myself without limitations. Sacrilegious Crown also came to be because I was getting through a difficult and lonely period. This project helped me to release some stress and negative thoughts that were crowding my mind.
HX: Is there a deeper meaning to the work that you do with this project?
kénos: In my opinion, the continuous search for meaning behind some artistic projects can be misleading. I'm often influenced by my studies (I'm about to graduate in philosophy), and I've always been interested in the relationship humans have with oblivion and the afterlife. With my music I tried to convey feelings of estrangement and anguish, and the attempt of liberation from both through ritualism.
HX: The project, like many in this style, is very secretive. Why do you think that's important?
kénos: I think it's important to keep a low profile in times of compulsive narcissism and obsession for celebrity. The difference between public and personal spaces is very important for me, and music speaks for itself more than enough. 
HX: What is the scene like for black metal in Italy?
kénos: I think it's impossible to talk about a real "Italian scene". Of course, there are a lot of great bands and interesting collaborations between several projects (I like to do those myself, after all). It's not enough for defining a specific scene, though. There have been some unsuccessful attempts at forming one over the years, partially because Italy is a culturally fragmented country and this impacted music both positively and negatively, partially because some attempts were often influenced more by certain political ideologies than actual music. 
HX: Who or what are you influenced by when making music (not necessarily other music)?
kénos: I listen to a lot of music, of course, thus it's not easy to think of a specific influence. There are some genres and projects that impressed me and spurred me to form Sacrilegious Crown, obviously. Dark ambient music, religious litanies, and some past and current raw black metal acts especially.
HX: This EP will be released by Xenoglossy Productions. How did you end up working with them?
kénos: I've been friends with the founders of Xenoglossy for a long time. I appreciate both their musical vision and the projects they released for all these years. I hope our collaboration will be long-lasting and fruitful.
HX: What else would you like to say to our readers?
kénos: I don't have much more to say other than thank you to everyone who supported me and will continue to do so. There's nothing more satisfying than knowing I've been able to let listeners get lost inside the atmospheres I created. Thank you again and keep up the good work.
Order through Bandcamp below:
Biography:  Hayduke X has been writing for MoshPitNation since June of 2016. He is also a contributor to The Metal Wanderlust. Prior to joining the MoshPitNation team, Hayduke published reviews on his own blog Rage and Frustration. In addition, he has DJ'ed an online metal radio show of the same name as his blog, written for TOmetal.com, done interviews for Metal Rules, and collaborated with The Art of B Productions to create video interviews with a wide variety of bands.