All right head bangers, are you ready to have all your faces melted? Hailing from the Los Angeles area, Fate DeStroyed is a female fronted metal band you do not want to miss! With lilting vocals, soul piercing screams, and lyrics that will reverberate within your soul, Fate DeStroyed is hitting the music industry hard. 
Fronted by the breathtaking Franccesca De Struct, Fate DeStroyed's sound is raw, powerful, and intoxicating. Comprised of four members with Franccesca leading the way with Jonni Laww on guitar, Nathan Youngblood on bass, and Cameron Franklin on drums.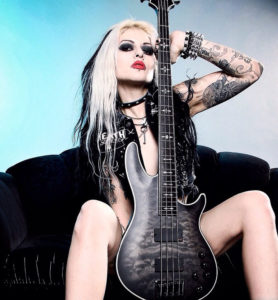 Grinding relentlessly even in these trying times, Fate DeStroyed is set to release an EP, "Two Toned Heart", and an album entitled, "Within These Walls", later in 2021. As if releasing an album and EP was not enough, the band just dropped a music video for their recently released single, "This Crown". The band just released another single this month called "The Need That We Kill For". A preview and a small taste of what is yet to come this year.
Franccesca took time out of her busy schedule to sit down with MPN via video for an up close and personal conversation. Watch the video below for the full interview where we will be discussing up and coming music, collaborations in the works, and news on new Fate DeStroyed music coming soon.
You can stream Fate DeStroyed on most music platforms and find more info and merch at:
https://fatedestroyed.bandcamp.com/
By Shantelle Thornton