As heavy metal music gets less and less media coverage these days, metal radio stations get murdered (R.I.P. WKLQ), and clubs and bars go out of business, metalheads are left with no designated home for metal in Grand Rapids. Our heavy music scene has been about as epic as a Pantera riff played on a banjo. It's time to take things into our own hands.
We're metalheads and we will love the music no matter what anyone else thinks or how much radio play it doesn't get – no matter what kind of stigma and judgment is placed upon us. After all, one does not simply cease being a metalhead; its' part of our soul. We won't let our scene go, period.
And it's starting to come back. It belongs here! Grand Rapids is an "art city" these days, right? Music is definitely a part of that.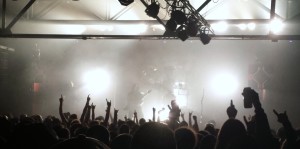 So with this new column, I'm going to give you a dose of local bands, shows, news and everything metal in West Michigan.
Some of the ways I see things getting better are all because of local people making a difference for the benefit of the entire local music community.
Vertigo Music's local metal CD rack
The Intersection's annual Heavyweight Battle of the Bands (which drew near-record crowds and involved more local businesses than ever this year)
The Pyramid Scheme regularly brings in regional metal bands
Crickets Pub has been integral in building the Muskegon metal scene
And finally there's MoshPitNation, a grass-roots effort of metalheads all over Michigan designed to connect metalheads with metal bands and metal venues. We put all the big national concerts and local band shows on one website so everyone knows what's going on, promoting everything metal in Michigan.
It's awesome to see how people have connected and are working together to bring heavy music to those who want to bang their heads. Metal will never die. \m/ \m/