Band – Antiverse
Album – Under the Regolith
Country of Origin – USA
Genre – Death Metal
Release Date – October 19, 2018
Label – Seeing Red Records
Author – Hayduke X
I woke up yesterday morning to learn of the passing of bassist Jason Bauer. He apparently passed away peacefully in his home after losing his battle with colon cancer. Aside from his obvious musical talent, I'm sure he will be missed by all who knew and loved him. I didn't know Jason, but I know guitarist Carl Skildum a bit through the online metal world, and am certain that Jason had an impact on those around him based on the ripples I am seeing in that world. Go to the band Facebook page to read the full statement from Antiverse. May he Rest in Power and those around him find some comfort.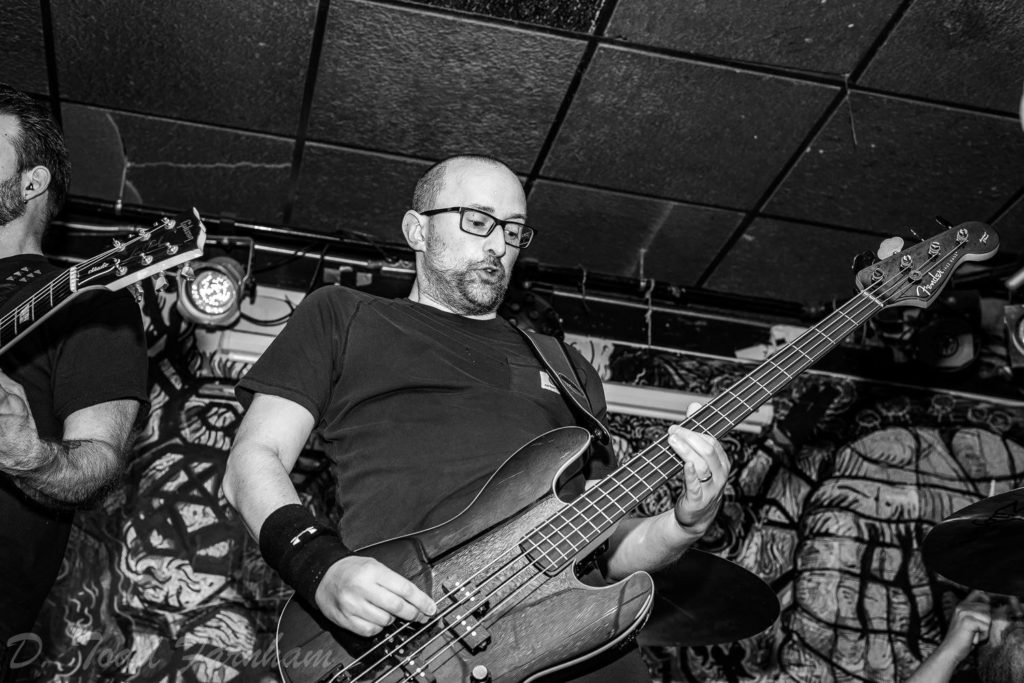 Over the past five years or so, the strength of the Minnesota metal scene has become crystal clear to me. Through my (rather small) connection to Skildum, I learned about Antiverse, I believe mostly from the interview I did with him regarding Inexorum, his mostly solo black metal project. About a week later, Seeing Red Records dropped this album in my inbox. Fast forward past life's delays, big and small, and here I am finally finding the time (thank you snow day) to finally try to spin some words about this album.
Let's start with some basics. Under the Regolith is the second release (both full lengths) of this Minneapolis quartet. The first, Cosmic Horror, dropped in 2014. The band plays death metal with some thrash influence and melodic leanings. On the back end, Mike Paradise handles drums, and as stated above, the late Jason Bauer took care of bass duties. Carl Skildum and Matthew Kirkwold share both guitar and vocal duties. The album was released last year through Seeing Red Records.
Musically, Under the Regolith is a masterwork in slightly progressive death metal. Dynamic is the name of the game here, with a fairly straightforward attack bar by bar, but one that moves through an entire landscape of pacing, riffs, and rhythms. Bauer and Paradise place these nine tracks on a mountain path – that is, their playing is rock solid, but innovative with many ups and downs, twists and turns. On this foundation, Skildum and Kirkwold fill in the (rather intense) landscape with waves of riffs, chords changes, and tight vocal maneuvering that lead the charge.
Antiverse deserves to be mentioned among the heavy hitters of the modern US scene and Under the Regolith gives ample testament as to why. The sonic landscape is rich, dark, and powerful. If you have not yet done so, give this one a spin…then another spin…then a few more.
Biography: Hayduke X has been writing for MoshPitNation since June of 2016. Prior to joining the MoshPitNation team, Hayduke published reviews on his own blog Rage and Frustration. In addition, he has DJ'ed an online metal radio show of the same name as his blog, written for TOmetal.com, done interviews for Metal Rules, and collaborated with The Art of B Productions to create video interviews with a wide variety of bands.